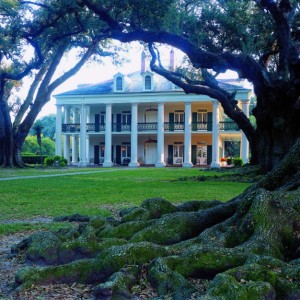 The Great River Road runs on both sides of the Mississippi River between Baton Rouge and New Orleans, Louisiana. In its heyday, sugar cane plantations lined the waterway, and today this stretch of the river is known as Plantation Alley. One of the grandest of these plantations is Oak Alley.
Oak Alley Plantation is located north of Gramercy and takes its name from the quarter-mile of stately old live oak trees (planted in 1837) that form a canopy leading up to the big house. The house was built between 1837 and 1839 for Jacques Telesphore Roman, brother of Andre Roman, who served twice as governor of Louisiana. Over the winter of 1846-47, Antione, a slave gardener at the plantation, successful grafted pecan trees for the first time. Newly planted pecan trees on the property commemorate Antoine.
The mansion was restored and adapted to modern times during the 1920s by owners, Andrew and Josephine Stewart.  Mrs. Stewart created the Oak Alley Foundation in 1966 so the mansion and 25 acres surrounding it would preserve a glimpse into the region's past. Zeb Mayhew, Jr., Josephine's great-nephew took over as sole owner of everything except the foundation's 25 historic acres in 1998 and has worked with the foundation to create and maintain the Oak Alley Plantation visitors enjoy today.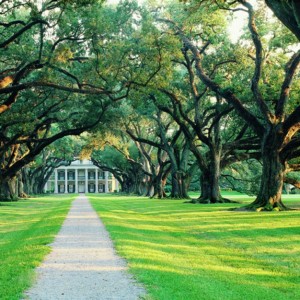 Visitors are transported into the past through the display of personal items, including Mrs. Stewart's tea set and photographs.  A secondary collection focuses on preservation of artifacts recovered from the historical site including antebellum bricks and pottery pieces.  This collection provides a glance into life on the plantation, particularly its enslaved community.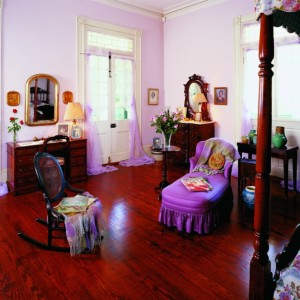 Oak Alley has its share of ghost stories, although eerie occurrences are not common.  A favorite story centers around Mrs. Stewart and her bedroom, known as the lavender room.  One evening, several employees were leaving when they noticed a light shining from the lavender room.  All confirmed that only security lighting was on before leaving, but here was this light.  As they watched, a shadowy figure resembling photos of Mrs. Stewart was seen gazing down at them.  Everyone took off for their cars, not looking back until they were on River Road, and when they did, the light was off and the house was dark.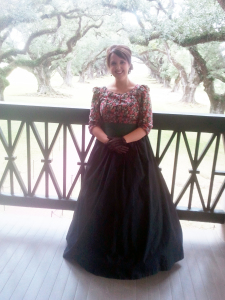 Recently, one of our customers visited Oak Alley.  Both she and her tour guide were pleasantly surprised to learn that Recollections has been outfitting the plantation in historic fashions for a long time.  So, if you have the opportunity to explore the Great River Road in Louisiana, be sure to stop at Oak Alley and see what you recognize from our collection.  They are open daily except New Year's Day, Mardi Gras Tuesday, Thanksgiving Day, and Christmas Day.  To find out more about Oak Alley plantation, please visit http://www.oakalleyplantation.com/
Credits
http://www.oakalleyplantation.com/
http://www.nps.gov/nr/travel/louisiana/riverroad.htm
http://www.nps.gov/nr/travel/louisiana/oak.htm
Tour guide photo provided by Christine Witulski