N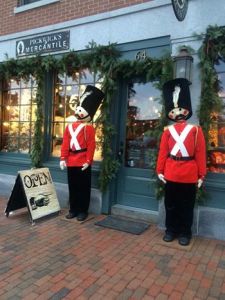 ear the new Memorial Bridge sits an eclectic Victorian storefront.  Situated a comfortable stroll from the center of downtown, not far from Prescott Park on the banks of the Piscataqua River, Pickwick's Mercantile is part of an economic rebirth in Portsmouth, New Hampshire.
Rita Fabbricatore and her staff opened the doors on Black Friday, 2012, when the new bridge was still more six months from scheduled completion and many area businesses were closed.  Since then, the store has grown in popularity because of its unique products and location, and other businesses are coming back to the area.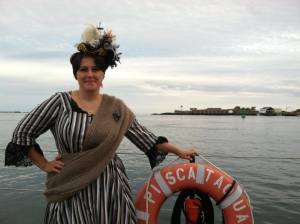 A mercantile is typically a place where items from all over the world can be bought, and  Pickwick's doesn't disappoint.  With a distinctly British flair, the owner describes the store as "modern Victorian chic."  The store is filled with a diverse assortment of domestic and international items in a wide range of prices.  From pouches of tea and 'penny' candy to whimsical products from Italy, France, and other exotic locales, there something for everyone of all ages at Pickwick's.
The 900 square foot store is an experience in itself; transporting you back in time from the moment you open the door.  Fabbricatore's interior design experience is evident throughout the store; in every placement on each display.  Decorations constantly change through the seasons, holidays, and on Fabbricatore's whim.  It's a new experience every time you visit.
Staff are extremely knowledgeable about the products on the locally manufactured cedar shelving lining the walls of the shop from top to bottom.  You are also apt to hear a story or two about the people who make the products they sell.
Staff dress in custom-made costumes reminiscent of the era, some of them from Recollections.  Pickwick's head of advertising and marketing, Thistle, remarked, "We so love our dresses and we want the world to know how great the Recollections team is!"  Thank you, Pickwick's Mercantile, for being one of our customers!
Another experience at Pickwick's is free music and entertainment on Friday and Saturday nights (and staff have been known to burst into song from the stage located inside the store as well)!  So, if you are in the Portsmouth area, stop in at Pickwick's Mercantile, 64 State Street.  You'll be in for a rare treat!  Find out more about Pickwick's Mercantile by visiting http://pickwickssmercantile.com.