What is your favorite Thanksgiving dish? Mine is such a toss-up between mashed potatoes and pumpkin pie. For the last three years, I have enjoyed picking up a very special gluten-free version from a lovely vegan bakery here in Denver. I put in my order this week and look forward to leaving plenty of room for plenty of pieces.

I have been interested in the history of Thanksgiving foods for several years now. A couple of years ago I did a multi-part series on the top ten most popular and discovered that pumpkin pie is one of the oldest Thanksgiving staples. As the holiday approaches, I thought it may be fun for us to explore more about this delicious dessert.

Want to learn more about the background of your favorite dish? Check out the two-part series:
Fun facts about America's favorite Thanksgiving dishes: part 1
Fun facts about America's favorite Thanksgiving dishes: part 2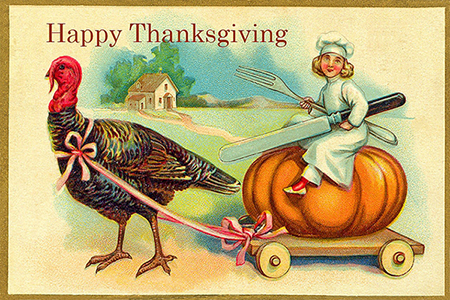 It's older than Thanksgiving itself

Pumpkin pie is perhaps the oldest traditional Thanksgiving dish. This is because pumpkin has been a staple of North American cooking since before the pilgrims landed. Says History.com:

"Few of our festival foods can claim deeper American roots than pumpkins, which were first cultivated in Central America around 5,500 B.C. and were one of the earliest foods the first European explorers brought back from the New World. The orange gourds' first mention in Europe dates to 1536, and within a few decades they were grown regularly in England, where they were called "pumpions," after the French "pompon," a reference to their rounded form."
As many readers will know, pumpkin is in the squash family and was being cultivated by Native Americans well before and Europeans were on the continent. It is part of what is considered the "three sisters;" squash, corn, and beans. These hearty plants grow well together and work well paired together to eat.

Learn more:
How to Grow a Three Sisters Garden
Three Sisters: Companion Planting of North American Indigenous Peoples
Did pumpkin pie cancel Thanksgiving?

I certainly can't imagine Thanksgiving without pumpkin pie and I follow in a long tradition of people who feel the same. In fact, in 1750 New England colonists postponed their Thanksgiving celebrations because of a lack of necessary supplies to make the tasty treat.

As you will see me explore below, pumpkin pie looked at lot different in the 17th and 18th centuries. In 1705 molasses was used to sweeten the pie (it would be many years before pumpkin pie spice would hit shops), along with other traditional festival foods. It was imported from the West Indies and due to freezing temperatures, there was a major shortage. The holiday, set for November 4th that year, was postponed two weeks while the community of Colchester waiting for provisions to arrive.

Learn more:
How the Great Colchester Molasses Shortage Nearly Ruined Thanksgiving
Early pumpkin pie recipes

As I mentioned, pumpkin pie looked a lot different in centuries past. One of the earliest recorded recipes was printed in the 1670 edition of The Gentlewoman's companion. Author Hannah Woolley's recipe for "pumpion Pye" called for layers of currants and apples to be mixed with a pumpkin. You can find the entire original recipe below, though good luck following it.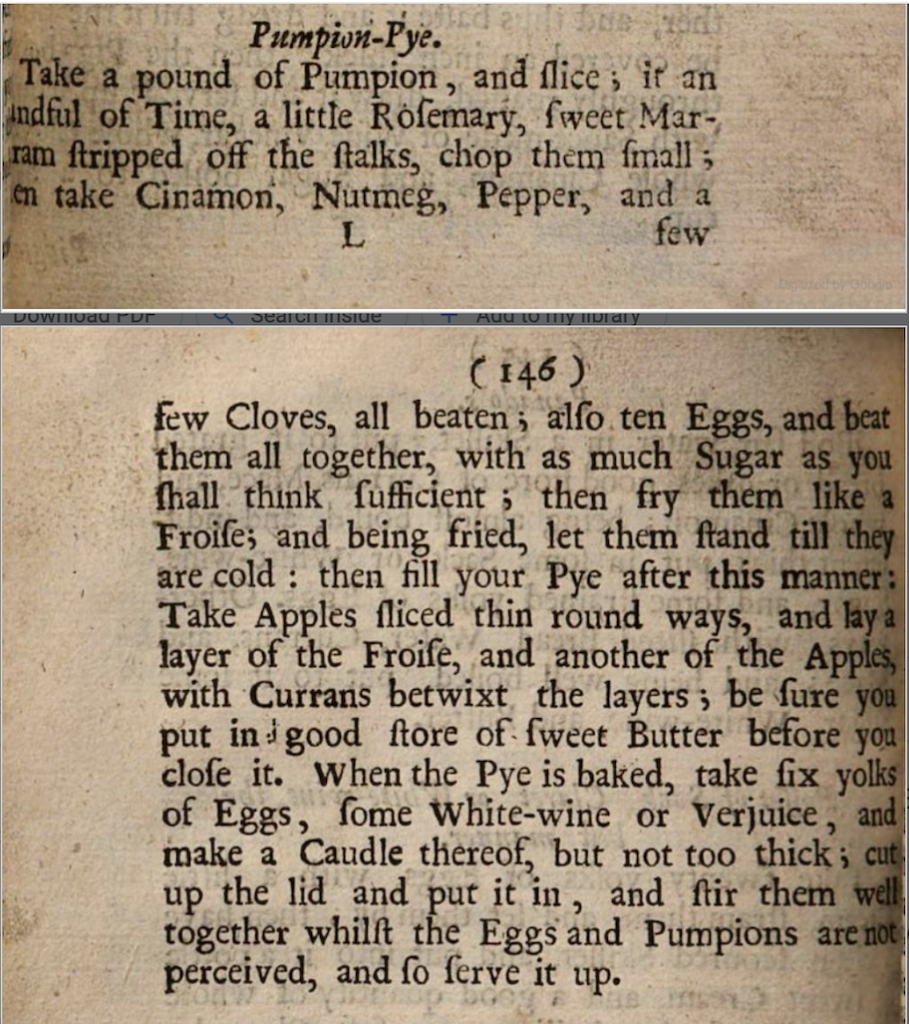 If you'd like to give the 1670 version a try you may want to use this video as a guide instead: Pumpion Pie from 1670.

By the mid-1800s pumpkin pie was starting to resemble what we enjoy today. The 1838 edition of The Virginia Housewife includes the following recipe:

"Stew a fine sweet pumpkin til soft and dry; rub it through a sieve, mix with the pulp six eggs quite light, a quarter of a pound of butter, half a pint of new milk, some pounded ginger and nutmeg, a wine glass of brandy, and sugar to your taste. Should it be too liquid, stew it a little drier, put a paste round the edges, and in the bottom of a shallow dish or plate–pour in the mixture, cut some thin bits of paste, twist them, and lay them across the top, and bake it nicely."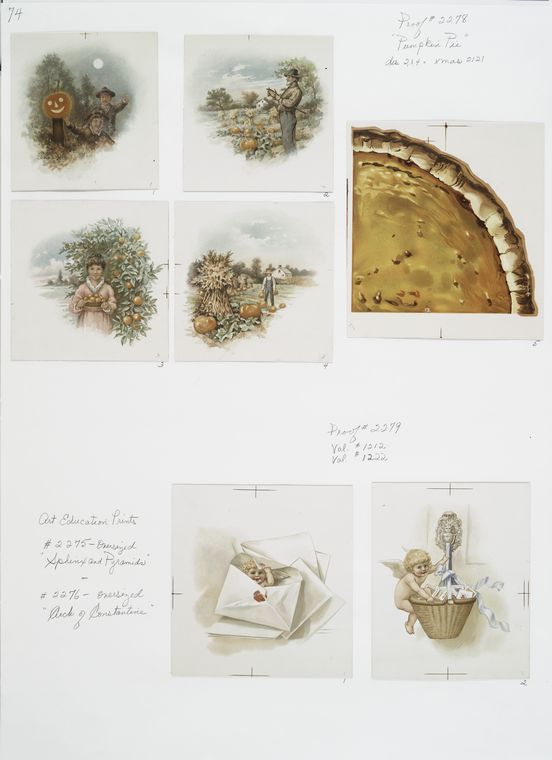 Who invented pumpkin pie spice?

As you can see from the above recipes, spices have always played an important role in the creation of pumpkin pie. Some early (and current) recipes call for allspice, cinnamon, cloves, ginger, and nutmeg. I don't know about you, but I sure don't have much use for allspice and cloves outside of the holiday season. This fact, combined with how laborious it can be to measure out so many things when in the middle of cooking other Thanksgiving foods is what possibly led to the genius creation of pre-mixed pumpkin pie spice.

McCormick & Company, still one of the most popular brands, launched in 1934 and included four spices: cinnamon, ginger, nutmeg, and allspice.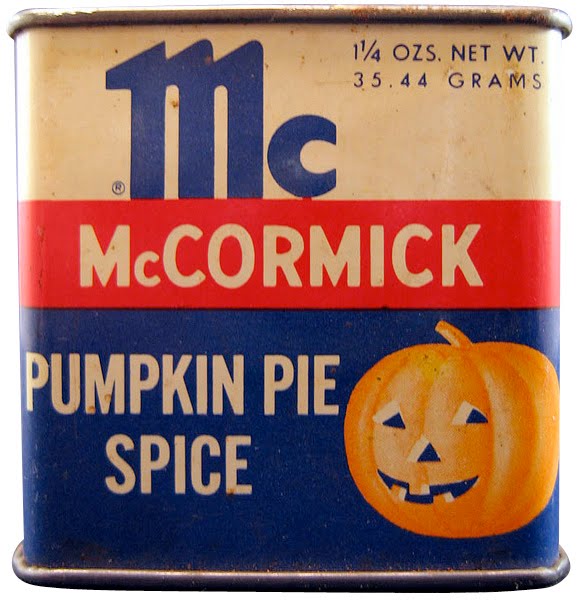 Canned pumpkin

Between pumpkin pie spice and the canned pumpkin we all know so well, we all know what to expect out of the most famous Thanksgiving dessert. Surprisingly, canned pumpkin pre-dates canned spice. Libby's, founded in 1868, had three packing facilities by the 1920s. The company originally specialized in canned meats but would launch its now-famous canned pumpkin in the 1920s.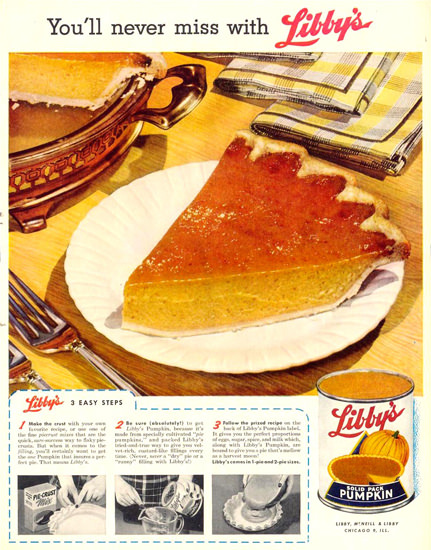 What many readers may not realize is that the pumpkin used by Libby's is much different from the ones we enjoy during Halloween. Those are typically Jack-o'-Lantern Pumpkins, Connecticut Field Pumpkins, or Howden Pumpkins. Libby's pumpkin pie pumpkins, on the other hand, are Dickens pumpkins. AND – they are only grown in one town in the United States, Morton Illinois.

Learn more:
The Little-Known History of Libby's Pumpkin
A Brief and Buttery History of Libby's Pumpkin Pie Recipe
More holiday fun:
A very, merry 1950s Thanksgiving
Please party guests this season with mulled wine