Columbia Stage Society Mission
Developing talent and entertaining area residents has been the cornerstone of the Columbia Stage Society's mission since its inception in June, 1919. Founded by families in area, the productions brought to the Town Theatre have always been a community effort – from stage to audience. Today, upwards of 30,000 patrons of all ages enjoy each season's productions. They are currently presenting their 97th season of family-oriented community theatre in Columbia, South Carolina!
History of the Town Theatre
The Town Theatre building is the oldest building continuously used for community theatre in the United States. It was built in 1924 and is listed in the National Register of Historic Places. The building was renovated in 1993, which opened up the lobby to the second floor, highlighting its famous arched window. Another important improvement was the addition of a weighted rigging system that allows scenery to 'fly' in and out.
A True Community Experience
Every production holds open auditions, encouraging first-time actors and veterans alike. Many current and past performers have appeared on Broadway, network television, and in major feature films. Some of these working professionals volunteer their time to work on productions at Town Theatre, freely sharing their knowledge and experience. For those who prefer to work behind the scenes, there are opportunities to work on sets, backstage, or in the house.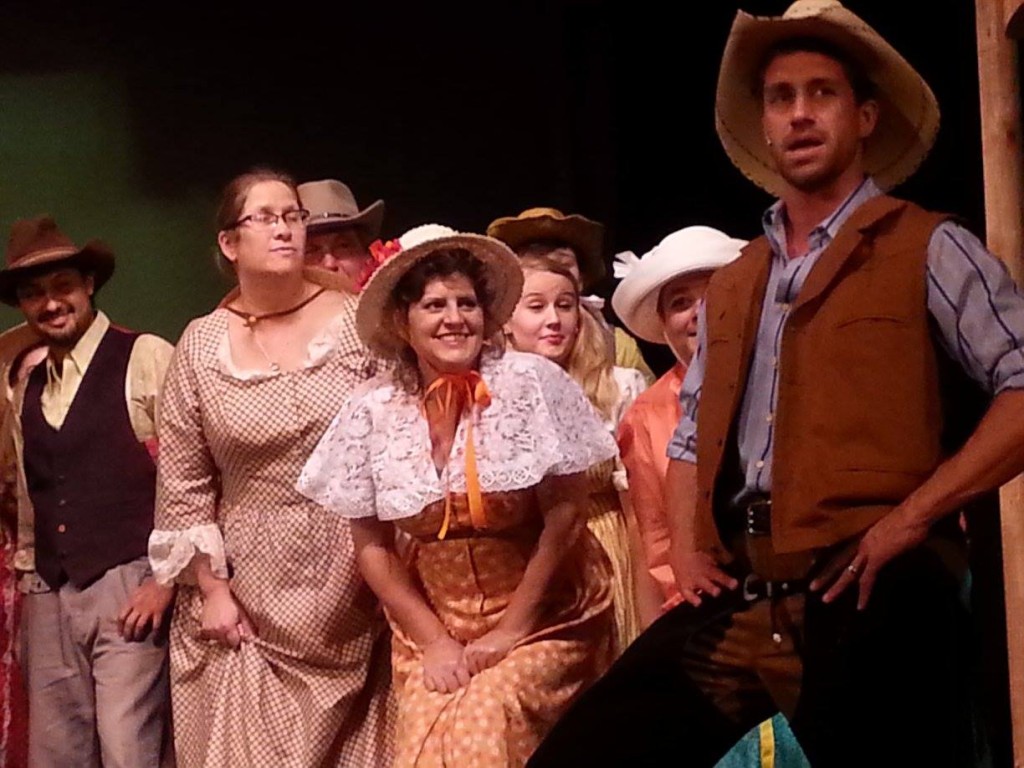 Youth Programs at Columbia Stage
Columbia Stage also has a very successful youth theatre program that presents a spring and fall production. A series of one week camps are offered to youths age 5 to 8 and 9 to 17 over six weeks each summer. A tap dancing camp is held each week in conjunction with the theatre camp. Children can participate in either or both camps each week. What a great way to spend part of your summer vacation!   Whether you live in Columbia or visit the area, experiencing a production by the Columbia Stage Society at the Town Theatre is a must! To find out more about the Columbia Stage Society and the Town Theatre, please visit http://towntheatre.com/.
Credits
Information for this blog article was gleaned from the Columbia Stage Society's Town Theatre website: http://towntheatre.com/
Photos from their production of Oklahoma were found at the following sources:
Featured photo: Krickel, August. ""Notes From an Awkward Ingénue" – Haley Sprankle on Playing the Lead in "Oklahoma!" at Town Theatre." What JASPER Said. 23 Sept. 2014. Web. 21 July 2015. <http://jaspercolumbia.net/blog/?p=5908>.

Cast of Oklahoma!: Krickel, August. ""Oklahoma!" Opens This Weekend at Town Theatre – a Preview by August Krickel." What JASPER Said. 16 Sept. 2014. Web. 21 July 2015. <http://jaspercolumbia.net/blog/?p=5837>.