Recollections' seamstresses are creative souls who enjoy unleashing their inner designer. So recently, we launched an apron design contest.  The eleven finalists' creations are featured on our aprons page, and they are on sale through November 30th!  Each purchase of a featured apron from one of our contest finalists casts a vote for the seamstress who designed and made it.  The contest winner will be revealed at the beginning of December!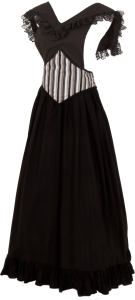 Our first apron in the contest is full-length and is inspired by the Victorian Era. Let the lace trimmed shawl collar and "fitted" waistline bring out your inner romantic.  Imagine you or your favorite someone sharing your favorite holiday traditions wearing this beautifully ruffled apron made of 100% cotton!
Our second apron is sleek and modern, with a hint of a 1950s diner. The napkin fold front panel enhances the style and the rose on the bodice adds a flair that will be a hit at your holiday gathering this season!  This apron is offered in three color combinations to fit your mood.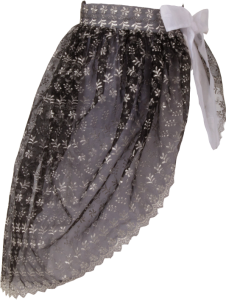 Formal enough for dressing up, and fun enough to wear with your favorite black skinny jeans, this apron will be the hit at the your holiday open house! .  It's made of black and white organza that shimmers in the light.  A hint of scalloping at the hemline complements the white organza bow that ties the apron at the back of your waist.
This apron is ready for your favorite holiday baking! Made of 100% cotton, it is available in fourteen different colors and features a half-moon pocket trimmed in lace.  A ruffle at the hemline adds just the right touch of femininity.  This is an apron that never goes out of style!
Our fifth apron is also inspired by the 1950s. It's made of 100% cotton and comes in your choice of three different motifs.  It features a full ruffle at the bottom hem and two deep pockets with button detailing.  This apron is designed to be as practical as it is beautiful!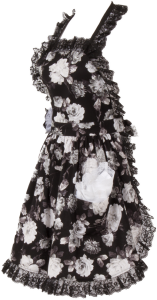 You'll be sweet and sassy in this cotton print bib apron. A sea of ruffles envelope the apron from top to bottom and around your neck.  A lace-trimmed handkerchief is tucked into the front pocket of each apron and a floral and lace rose accents the waist.  This apron is available in ten different fabric patterns.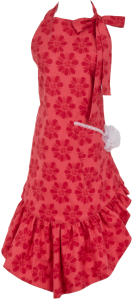 The bib and skirt of this apron will protect you from any kitchen mishap in elegant style. This apron features ties at the neck and waist, a short hemline in the back and an extra long one in the front, a ruffle that starts out short and sweet in the back and extends into a deep swath of swish at the front.  The side pocket is stylishly trimmed and finished with a lace rosette at the hip.  This apron is available in six retro fabric patterns.
This retro apron is available in three different patterns and is inspired by the late 1950s and early 1960s. It features a boat neckline and a gently gathered waistband ties at the back.  The angular style of the bib is repeated in the roomy front side pocket.  This apron is made of 100% cotton.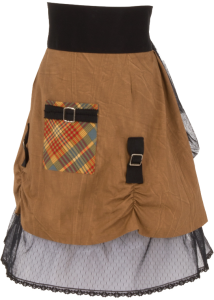 This Steampunk inspired "Old West" apron is made of distressed cotton. It features a wide waistband with a gathered tie at the back that gives the impression of a bustle.  A plaid front pocket features a black strap and buckle.  The strap an buckle embellish each side front where the hem is slightly gathered.  A black net underskirt peeks from below the hem adding style and flair!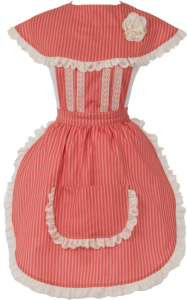 Our next apron is the epitome of 1950s fashion. A matching shawl collar with floral rosette complements the styling in the bib.  The entire apron is trimmed in lace, including the roomy front pocket.  This apron is made of 100% cotton and is available in ten fabric selections.
Our final apron is inspired by the Civil War era. It is a "pinner" design, where there is no strap or ties to hold up the bib.  The bib is pinned to the bodice of a gown, then unpinned to offer a clean lap work surface when seated.  This floor-length apron is trimmed in lace with a wide waistband that buttons in the back.  Made of 100% cotton, this apron is available in ten fabric selections.
The holidays are right around the corner!  Our aprons are the perfect gift for your favorite cook or for yourself.  Whether you love to bake or to cook, let our aprons add style and flair to your gatherings this holiday season!