September 25 marks the 333rd anniversary of the first newspaper published in the United States. As with many of the "firsts" that took place in the early days of our country, it involved interesting characters, a bit of rebellion, and one heck of a story. This is a brief history of Benjamin Harris and his short-lived newspaper, Publick Occurrences, both Forreign and Domestick.

Before US newspapers: broadsides
Publick Occurrences, both Forreign and Domestick was published in Boston, decades after the city was established in the 1630s. The original settlers were an educated and literary people, but Harris would be the first one to attempt to run an ongoing newspaper.

I am a bit unclear as to the reason why none of the industrious settlers took the task of a regular newspaper up as there were printing presses in the colonies and newspapers were being distributed regularly in England. One reason was certainly that printing was a long, tedious process in those days. But perhaps it was also the paranoid attitude that so many individuals had. As we will see, people had a reason to avoid being too innovative.

While there may not have been ongoing newspapers, information on current events was available in Boston and beyond. As seen in plenty of movies and television series, hand-written bulletins were regularly nailed to the doors of churches and other well-trafficked buildings. The same bulletins were also read outloud in town squares. Also frequent were "one-off broadsides to correct rumors."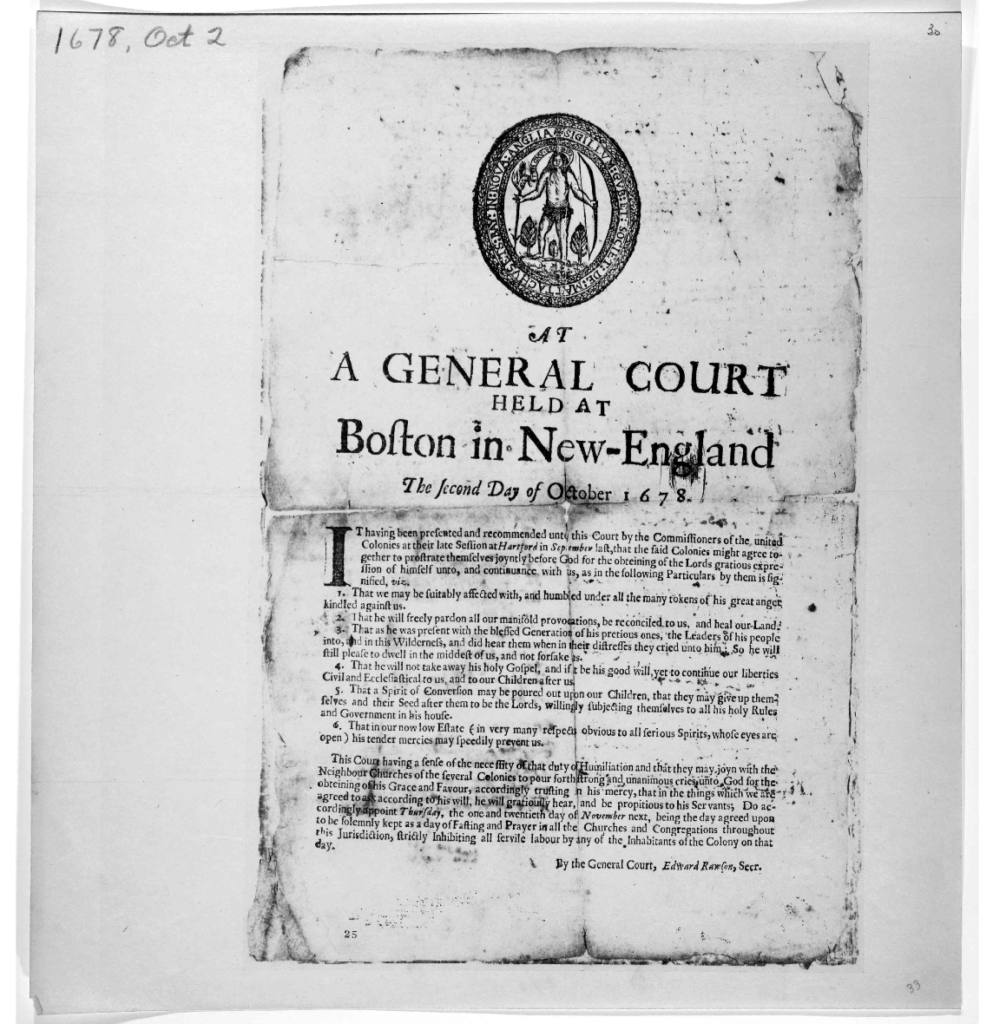 In addition to documents created in the colonies, settlers had periodic access to newspapers printed in England. Before arriving in Boston Benjamin Harris had enjoyed an adventurous career as an English publisher. He would seek to bring his enthusiasm for the trade to his new home, but his new home wasn't ready for it yet.

Benjamin Harris: journalistic rabble-rouser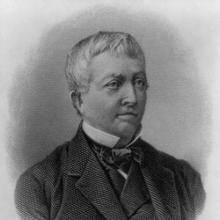 My favorite part of the story of America's first newspaper is the creator himself. Benjamin Harris was the quintessential revolutionary and had the exact qualities that led so many to participate in the eventual war and fight for independence.

It is not known when Harris was born and I was not able to find out much about his early life except that he had adventure in his blood. His uncle, William Harris, was an original settler of Rhode Island and one of the first members of the Baptist Church of America. Benjamin Harris was also a player in the Popish Plot.

What is known is that he had a curious, vibrant mind and a love of journalism. By 1673 he had opened up his own bookshop in London where he published his first book, War with the Devil.
He operated and continued to publish with little hindrance for several years, seemingly becoming more emboldened as he went along. In 1679 he began publication of Domestick Intelligence: or News both from City and Country. It was a tense time in England with heavy monitoring of how people expressed their opinions. He managed to fly under the radar for a while, but Harris's Intelligence was suppressed in 1681.

But Harris wasn't one to be suppressed.

Harris was deeply affected by the increasing lack of free speech in his country and didn't take it with his pen in his pocket. in 1679 he was arrested, tried, and found guilty of publishing a seditious bulletin. When he couldn't pay the enormous £500 fine, he was jailed. Upon release he poked the bear with the publication of "Triumphs of Justice over Unjust Judges," dedicating it to the justice of the peace who had charged him.

Harris would early on get used to having his publications seized. In 1686, he published "English Liberties." The publication was so agitating that 5,000 copies were snatched up by authorities. It was at this time that he decided it was time to make a move to the colonies.
Pubick Occurances

Besides his journalistic endeavors, Harris also operated multiple coffee shops throughout his career, all with the goal of encouraging people to gather and discuss ideas. When he arrived in Boston he set up the London Coffee House. The establishment was highly unique in serving both men and women. What I wouldn't give to have a closer look at the day-to-day activity in that cafe!

The cafe enjoyed considerable success. When combined with the overwhelming popularity of multiple editions of his new book, John Tulley's Almanach, Harris was a content businessman. He traveled back and forth to England as his money trickled in. But in 1690 he was ready to make an impact. Seeing a lack of regular news publications he sought to fill the void.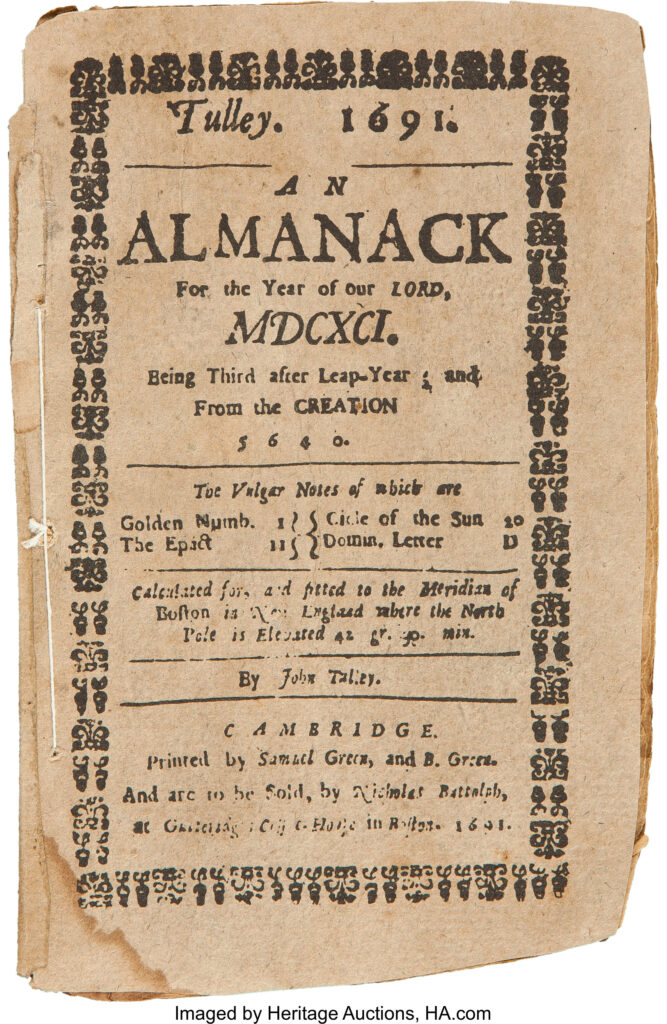 On September 25, 1690 the first, and sadly, only edition of Publick Occurrences Both Forreign and Domestick hit the streets of Boston. It had a format that hadn't been seen in the colonies up to that point. First, it was three pages long, a far cry from the one-sheet bulletins people had been used to. It had two columns on each page and charmingly, the back of the last page was left blank "allowing one to conveniently write a letter about its news that could be sent to another family member or friend."
So, what caused Pubick Occurances to go through the presses only once? Well, if you didn't know by now, Harris wasn't one to publish mere human-interest stories. Interestingly, he didn't report on any current events related to journalism in the colonies, including various efforts by England to suppress the press. Instead, he reported on the following stories:
-The smallpox outbreak
-The recent harvest produced by the local Native American tribes
-Recent sex scandals involving Louis XIV
-The French/Indian War and the treatment of French soldiers
The governor objects

Given the lack of criticism about the local or English leadership, the suppression of the newspaper is a bit of a head-scratcher. Within four days of it landing on Boston streets, Harris received a notice to terminate publication, and all copies were destroyed.

The problem? According to Massmovements.org:
"In truth, the governor was outraged because Harris had printed rumors of incest and immorality in the French royal family and had also criticized the British military for mistreating French prisoners during the first of the French and Indian Wars."

The governor's outrage was fierce. The statement published reads:
"Whereas some have lately presumed to Print and Disperse a Pamphlet, Entitled, Publick Occurrences, both Forreign and Domestick: Boston, Thursday, Septemb. 25th, 1690. Without the least Privity and Countenance of Authority. The Governour and Council having had the perusal of said Pamphlet, and finding that therein contained Reflections of a very high nature: As also sundry doubtful and uncertain Reports, do hereby manifest and declare their high Resentment and Disallowance of said Pamphlet, and Order that the same be Suppressed and called in." [sic]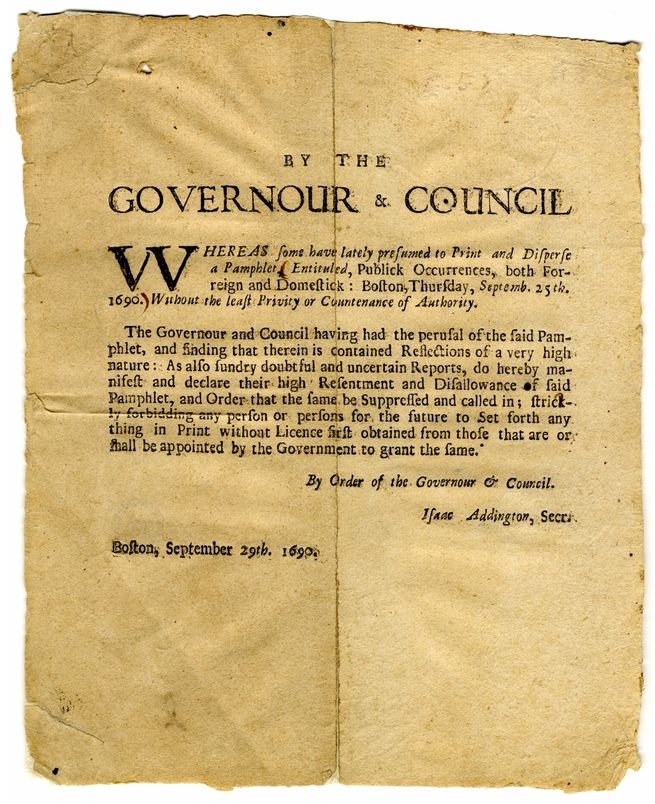 The next chapter
Alas, the reaction to Pubick Occurances would effectively squash any ambition budding journalists may have had to begin a start-up publication. The next American newspaper would not be seen until 1704. This paper, The Boston Newsletter, was founded by postmaster John Campbell, who didn't take any risks when it came to upsetting the powers that be. He was loyal to the government and displayed "Published by Authority" at the top of the first page.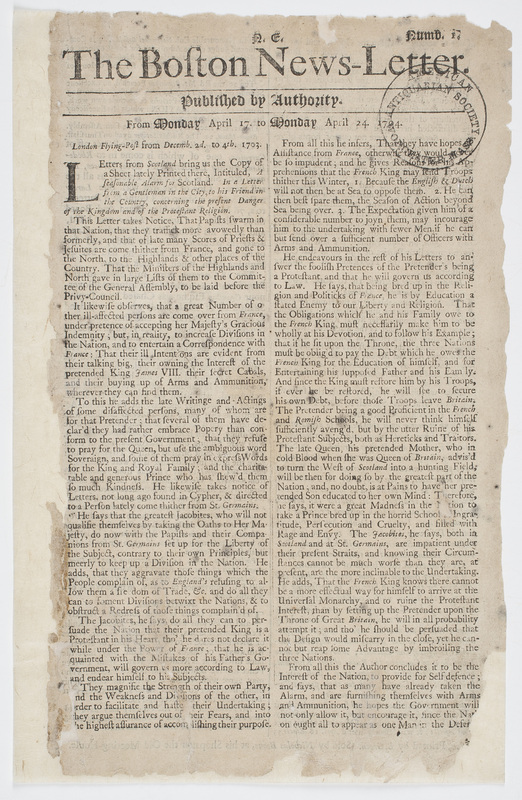 And what about Mr. Harris? He continued his publishing career undeterred. In 1690 he published at least ten books and became co-official printer to the governor. He must have missed his homeland, however, as he returned to England in 1695. There he would continue the business of running a coffee/book shop and started a new newspaper, the London Post, which would last six years.
Read more about the history of American newspapers here.
Do you love American history? You'll love these posts:
A chat with the American Prohibition Museum
The women of the 2024 quarters
Nellie Cashman: Wild West Angel