Edwardian fashion is a fun time from fashion history as there was such a drastic evolution in women's clothing. Movies set in the Edwardian era are often so much fun to watch as the clothing changes are combined with advancements in women's rights and roles in society. Here are five of our favorites, beginning with the oldest and working forward.
Heaven Can Wait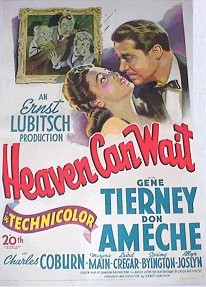 This 1943 Technicolor movie was based on the play Birthday by Leslie Bush-Fekete. It is the story of Henry Van Cleve who has died and believes his destiny is to be sent to hell. However, upon hearing the story of Henry's life, 'His Excellency' decides there is no place for him and he must take the elevator the other way. This movie is a comedy directed by Ernst Lubitsch and is a lot of fun to watch! The story starts with Henry's birth in 1872 and ends on Henry's 70th birthday in 1942. There are a lot of Victorian, Edwardian, and beyond fashions to follow in this delightful movie starring Don Ameche and Gene Tierney. The wonderful costumes were designed by Rene Hubert who worked with noted early 20th-century fashion designer, Jean Patou. Available on Amazon.
The Ghost and Mrs. Muir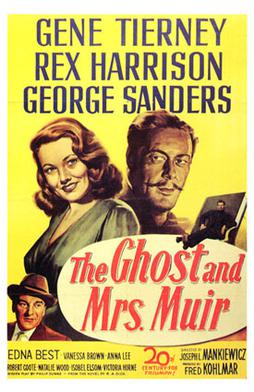 This 1947 film is a real chick flick with some masculine appeal. It starts out in the early 1900s. Lucy Muir (Gene Tierney) is a widow with a young daughter (Natalie Wood) who rents a seaside cottage despite the rumor that the cottage is haunted by a 'rough around the edges' sea captain (Rex Harrison). It is a love story that transcends time, not unlike Somewhere in Time. The story follows Lucy's life at the beginning of the Edwardian era until the captain comes to take her on the greatest adventure they could never share while she was living. Available on Amazon.
I Wonder Who's Kissing Her Now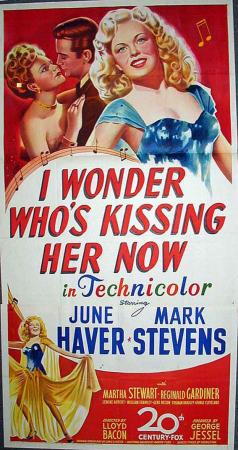 The 1947 film is a biopic about Joseph E. Howard, an aspiring songwriter at the turn of the 20th century. The title is also the name of one of his songs. The story follows his career and that of two of his love interests. It is a delight to see the women in this film in period dress! Don't you know who Joseph E. Howard is? Do you remember the WB frog logo? The frog wears a top hat and twirls his walking stick as he sings the Joe Howard song, Hello, My Baby (but only when his owner is watching) in an old Warner Brothers cartoon. DVD available for purchase on Amazon.
Ragtime
This 1981 film spans the years between 1900 and approximately 1924 and includes a fictionalized storyline following Evelyn Nesbit, Harry Thaw, and the scandal surrounding the murder of Stanford White. The movie marks James Cagney's final performance. Look closely and you will find Mandy Patinkin, Mary Steenburgen, and a young Elizabeth McGovern (Downton Abbey). Available on Amazon.
Coco Before Chanel
This 2009 French film spans the late Victorian era through the Edwardian era and ends around the end of World War I in 1918. It is the story of Coco Chanel's early life, from the time she spent in a Catholic orphanage in the late 1800s learning to be a seamstress, through the Edwardian era as she makes a name for herself as a seamstress and nightclub performer. She followed her own path and earned the admiration of Arthur Capel who helps her start a millinery. Catherine Leterrier's costume design was nominated for an Academy Award in 2010 and won in the Best Costumes category at the César Awards the same year. Available on Amazon.
Love movies set in the Edwardian era? Create a look all your own with one of our Edwardian dresses or ensembles.
More history in pop culture fun:
Are Bridgerton costumes Regency? Fashion historians weigh in
A Very British Romance: Episode One Highlights
The Many Adaptations of Jane Austen's Emma