Summer is here! It is a great time for freshening one's wardrobe, with so many opportunities to be seen and to get creative. This year I am enjoying pairing my light sundresses and skirts with the cowboy boots and Western-style accessories I have been collecting over the past couple of years. I enjoy the fact that simply wearing less is all I need to stay comfortable in the summer, an option that Victorian women would not have even considered. Instead, they choose their layers carefully, using fabrics and colors to create comfort. Victorian summer dresses were just as designed to keep the heat out as winter dresses were designed to keep it in.

And while I sure revel in my short and sweet sundresses, I have to admit, I think I could enjoy wearing these dresses as well, even from time to time.

Note: I will cover Victorian summer accessories in a future post. For now, enjoy this look at Victorian summer dresses.

Wear white
As I combed through my Victorian etiquette and clothing manuals one thing stood out about summer guidelines: women were encouraged to wear white. It was less-discussed than the type of fabric, but overwhelmingly the most popular color of the season. This brief reference from The Ladies Book of Etiquette is a prime example:

"For small social companies, a dark silk in winter and a pretty lawn, bargege or white muslin in summer." [sic]

The rule carried for day dresses.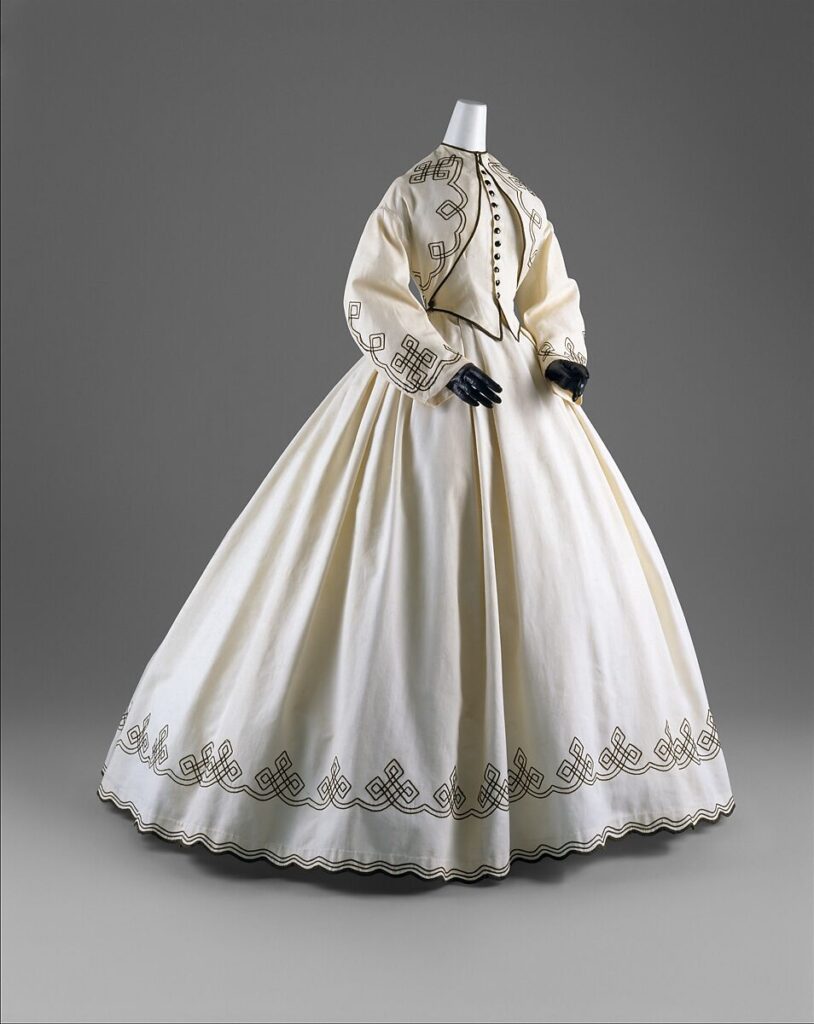 As well as gowns.
Keep in mind that white was still becoming the color used for weddings, so the prescriptive Victorians had yet to relegate it to that occasion, though that would change by the beginning of the next century.
But while the manuals I read didn't focus on many other colors, based on the fashion plates that I have from summer issues of fashion magazines, other light colors and pastels were acceptable as well.
Linen and muslin

The other primary rule for selecting a Victorian summer dress was to be mindful of the type of fabric worn. Muslin and linen were the favorites, for both day and evening dress.
The Ladies Book of Etiquette :
"For small social companies, a dark silk in winter and a pretty lawn, barege or white muslin in summer." ~The Ladies Book of Etiquette

(Note: I have yet to discover the meaning of "barege" despite my best efforts.)
"In summer, a dress and cloak of plain mode-colored Lavella cloth, or any other cool but strong fabric, with a simply trimmed stay bonnet, is the best dress for a shopping excursion." ~The Ladies Book of Etiquette
"A pretty summer evening-dress for a young person is a white book-muslin a lawn or organdie, trimmed with puffings of the same, and finished by bands of French embroidery at the throat and wrists; knots of bright ribbon in the hair and at the throat, and ornaments of polished gold or enamel." ~The Art of Dressing Well:
"Evening call: In summer any of the thin fabrics are in good taste, and a few flowers may be worn." ~The Art of Dressing Well
"One of the most beautiful and useful of summer fabrics is a fine quality of linen lawn, and it has always the advantage of washing well." ~The Art of Dressing Well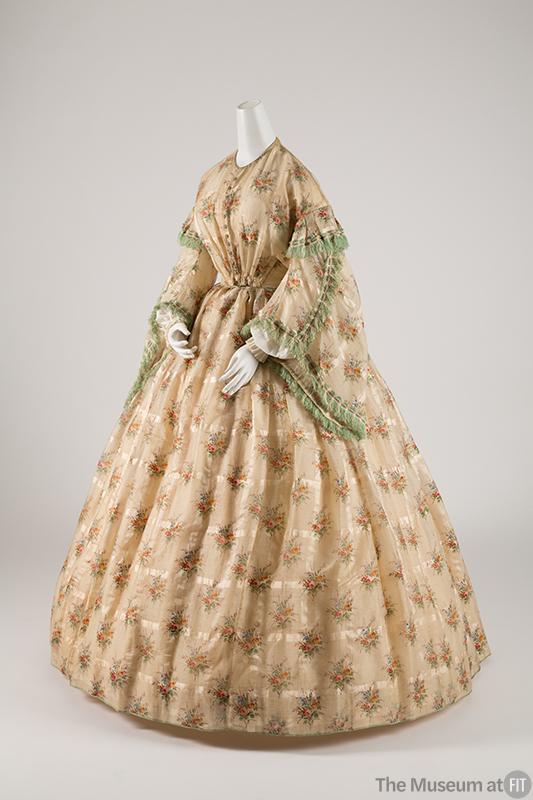 Summer layers

Speaking of washing well, one way that Victorians managed to stay cool and comfortable in the summer months was by the use of layers. This allowed washing to be done more regularly and for clothing to last longer. Says The Art of Dressing Well:
"Cotton-prints for summer wear are not aways lined; but should be protected under the arms and round the arm-holes by a narrow lining of cotton. Lawn, bareges, organdies, indeed all summer fabrics will wear better, be more easily washed and ironed, and look better if the lining is made entirely separate from the dress."

Learn more about how Victorians kept their clothes clean in our post: The Victorian Laundry Day.
"Summer corsets" were also sold, constructed in white, with lighter materials, and sometimes with ventilation. Below are some examples.

As we have seen before on the blog, regardless of the weather a corset was always a requirement that few thought anything about. Says The Metropolitan Museum of Art about the dress below:
"The extravagant silhouette of this day dress with bishop sleeves and pointed boned waist demonstrates the evolution from the nearly amorphous first cotton dresses of the century to the grandest crinoline-supported crystal palaces of the 1860s. It is a dress fit for a heroine in a novel by one of the Brontë sisters–shaped, expressive, tempestuous, and beguiling. And tightly, tightly corsetted on a summer's day."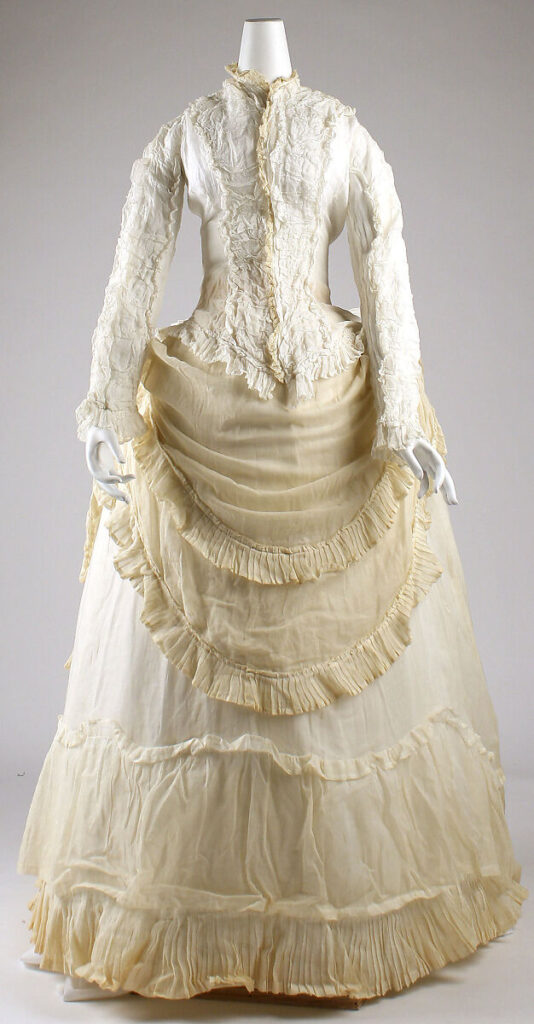 More history-of-summer fun:
The social season: 19th Century's time to party
The history of the sundress in three American designers
Swimsuit Police to the Rescue!