Do you love to wear retro styles? The seemingly always-casual clothing of today hardly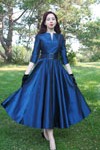 compares to dresses with little capped sleeves, Peter Pan collars, bodices tailored to hug the waist, and swingy full circle skirts. What feminine heart couldn't love a short-sleeved cashmere sweater or a string of pearls to wear with absolutely everything? For many the 50's recalls a time when music was meant for singing and dancing, the soda shoppe was the place to hang out, and designers like Christian Dior, who created the "New Look", were celebrating the feminine form. The signature shape of the House of Dior was a below-mid-calf full skirt, pointed bust, small waist, and rounded shoulder line.
In the 50's, the austerity of the World War II years was just over, and America was enjoying post-war boom. In women's fashion, padded shoulders and mannish styles gave way to rounded shoulders, carefully defined waistlines, and flowing skirts. New synthetic "drip-dry" fabrics made clothing easier to care for. This was also the first time in history that teen-agers were recognized as a separate fashion market, and designers started to make clothing targeted especially for this new group.
Television, fashion magazines, and Hollywood contributed to disseminating the image of those special styles of the 50's that have become iconic and collectible. Witness t
he trend for current celebrities to wear vintage clothing when making their red carpet appearances. There is something undeniably special about those styles. One of the great things about retro styles is that they are recent enough that we have many examples available for inspiration. You can have something casual, dressy, or formal, and still be completely in tune with the period. If you have never before tried wearing a retro style, we encourage you to try it.
At Recollections, we have recently introduced 50's-inspired dresses that capture this special time perfectly. If you haven't already seen them, we recommend you have a look at our glamorous and stylish dresses on our own 1950's Retro page. Each is true to the style and the spirit of the period. They will soon be joined by more dresses, hats, shoes, and jewelry in our 50's collection, so be sure to check again soon!