Why did the Duke Make McLintock!?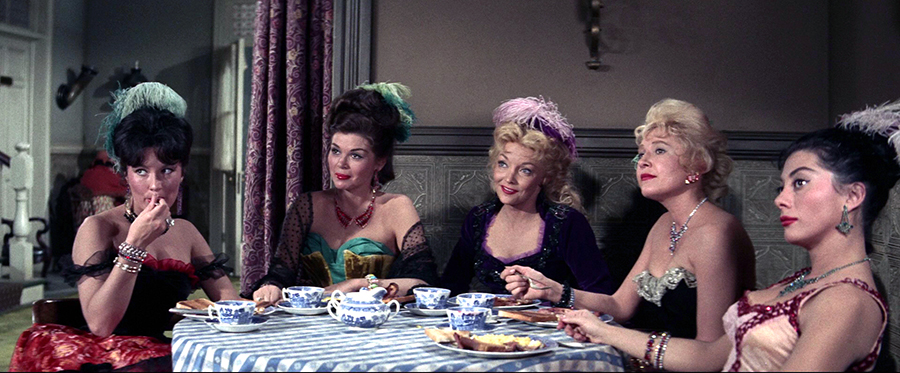 When John Wayne needed to recoup losses on The Alamo, a movie in which he was heavily invested as director and star, as well monetarily through his production company Batjac, he searched for a story that would be easily accessible to moviegoers. He'd had a bona fide hit with the Western comedy, North to Alaska in 1960, and decided to return to Western comedy with 1963's McLintock! The story is reminiscent of Taming of the Shrew, which was also reflected in The Quiet Man, a very successful non-Western he made with Maureen O'Hara 11 years earlier. It scored a big hit with fans and is considered to be one of John Wayne's most memorable movies.
A Brief Synopsis of McLintock!
McLintock! is set in the 1890s in what is now the Four Corners region of the United States and reunites the Duke and Ms. O'Hara in the lead roles of GW (short for George Washington) and Katherine. Set against the backdrop of the Mesa Verde, there are plenty of laughs and a few political statements as the story unfolds.
GW is the main man in the area, and the one people turn to in times of trouble. He has plenty of his own trouble when his estranged wife returns home to claim their 17 year-old daughter (played by a young Stephanie Powers) when she comes home from boarding school. To complicate matters, GW has just hired a housekeeper (a very beautiful Yvonne De Carlo – pre-Lily Munster), making him the only male in a household of three females. Political overtones include land grants to farm land that could hardly sustain cattle, and the relocation of Native tribes.

The Fashions of McLintock!
Costume designer, Ron Talsky handled the task of clothing the cast of McLintock! in stellar fashion. Townsfolk, farmers, cowboys, and saloon girls, were perfectly clothed to complement the movie's stars. And, oh, the fun he must have had in designing for Maureen O'Hara, Yvonne De Carlo, and Stephanie Powers. Their garments are beautifully crafted and lovely to look at on the silhouettes of these three actresses.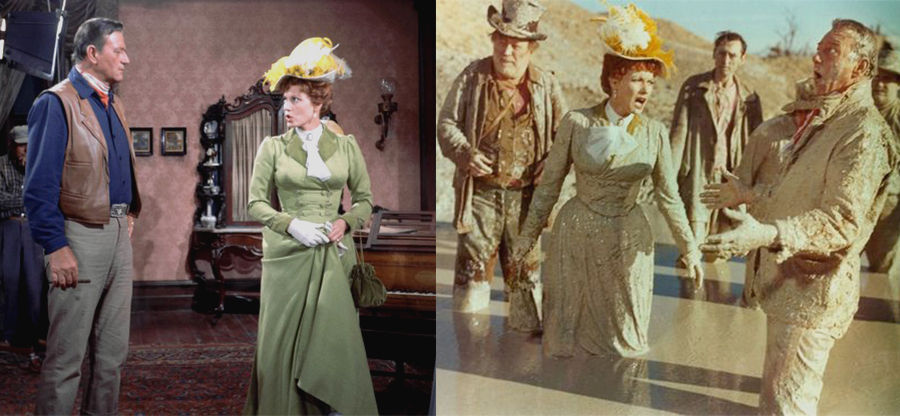 There is no mistaking Katherine when she makes her first appearance in a bright  green traveling suit with yellow feathers accenting her hat. She is also quite the handsome figure in a purple suit. The jacket embellished with white ruffled lace down the left side where it is buttoned, creating movement and interest. Another beautiful dress is made of what appears to be yellow flocked silk. Short, puffy sleeves with ruffles and white eyelet embellishing the scoop neckline complete the look.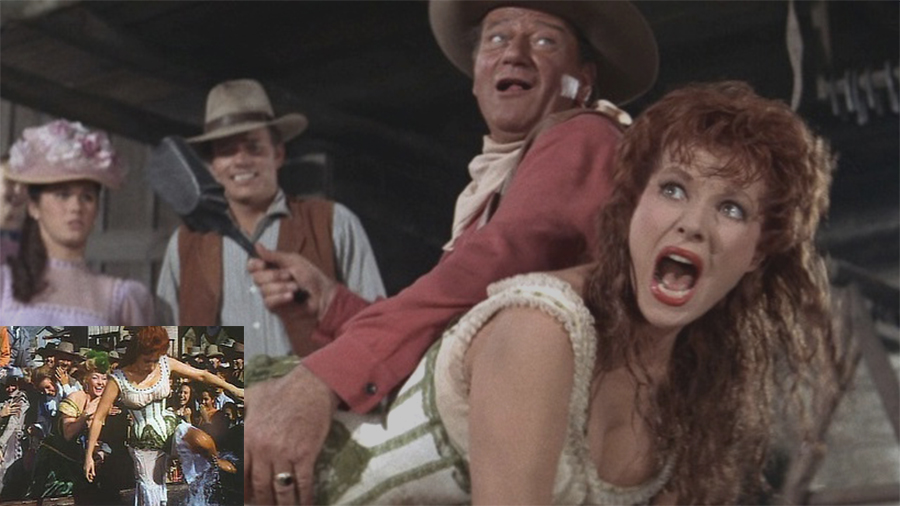 With a figure like Ms. O'Hara's, it was easy to show it off in a delicate chemise. And, when Katherine comes down the stairs in a quilted red robe, you can't take your eyes off her! Perhaps, the best was saved for last; when Katherine receives her comeuppance. She starts out the scene in her chemise, a white corset embellished with green ribbon, petticoat (with ruffles only to the knees, and a split up the side for displaying her beautiful legs), and underskirt. By the time she's run all the way through town dressed this way (with a few comic situations thrown in along the way), she ends up over GW's knee. The comic timing is impeccable and the costume perfect for what was required to make the scene work.
Yvonne De Carlo's character, Louise Warren, was clothed as a pioneer woman and mother of Devlin (played by and early 20s Patrick Wayne). Favorite garments worn by her character include a lavender blouse with pin tucking on the sleeves and bodice. When she has a drinking contest with GW (the only way she can talk to him), she is wearing a beautiful yellow robe with pink floral stripes and embellished with white eyelet on the bodice.
Stephanie Powers as Becky arrives wearing an indigo traveling suit, with a high collar lace trimmed blouse and matching black hat. The jacket features a pleated high collar. She and her friends wear pioneer finery throughout the film.
The colors of this film are as vibrant as its characters and a lot of that is due to the costuming. McLintock! is a fun family film. There's a good chance you'll enjoy it, if you have the opportunity to see it!
Credits
http://www.imdb.com/title/tt0057298/
http://www.rottentomatoes.com/m/mclintock/
http://www.nytimes.com/movies/movie/31964/McLintock-/overviewWes
http://www.grittv.com/movie/mclintock/