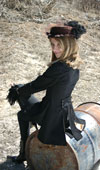 While it is apparent that Steampunk style is rapidly becoming mainstream, we thought it might be interesting to explore a bit of the actual culture a bit more closely. First – let's agree that the premise is based on the "future worlds" created by several authors including, but not limited to, Jules Verne, K.W. Jeter (who coined the word "Steampunk"), and H.G. Wells. Today's Steampunk enthusiasts embrace the worlds created in their writings and often strive to create a persona, invent steam-driven mechanical devices, and write books that postulate worlds where intrepid airship crews journey into undiscovered lands where they have fantastic adventures.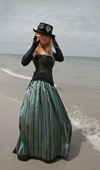 This author recently visited the website for "The Steampunk World's Fair", and a quick browse of the panels and workshops showed a great variety of topics for fair-goers to indulge, including "Airships in Literature",  "Edison vs. Tesla: Is that a Death Ray in Your Pocket?",  and a workshop with the authors of a new book called "Steam Powered Tales of Awesomeness" which was written in the pulp-fiction style of the 30's. These same authors were also hosting a panel on "Creating Believable Alternative Steampunk Worlds". Delving into the persona of an actual person, one workshop explores the life of Emma Allison, a female steam engineer who came into the public eye at the 1876 Centennial Exhibition in Philadelphia. Miss Allison spent six months in the Women's Pavilion of this popular world's fair running a steam engine that powered printing presses and looms, also run by women. As you can see, topics both historical and fictional are incorporated into the elaborate world of Steampunk.
Whil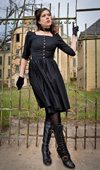 e many of us are simply in love with the romantic style of dress represented in this subculture, we can all enhance our personal look by doing a bit of research into whatever aspect of Steampunk appeals to us. When learning to dress in period attire, it is a good idea to browse through as many fashion plates and photographs from the era as you can in order to develop a good "feel" for what look is period-correct. It is the same for Steampunk dressing. For example, you might want to build an outfit around a particular story – let's say "20,000 Leagues Under The Sea". You might pick a character from the book. Would you be the captain of the submarine? A visitor to the ship from one of the places the ship stops? In addition to your outfit, what accessories would you feel you must carry? Perhaps you might carry a compass or an astrolabe suspended by a chain. Would your hat boast a nautical theme – perhaps a starfish or an octopus? As you can see, there are many options other than the usual goggles (unless you have a clear purpose for the goggles as part of your outfit).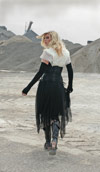 We've embraced Steampunk at Recollections, our buyers are constantly looking for the perfect jewelry and accessories that will compliment your outfit. Some items, like those ubiquitous goggles, have become irrevocably identified with Steampunk style, and we offer these items to help you complete your look. Be sure to browse our Steampunk hats, gloves, and jewelry, in addition to the clothing, so no part of your ensemble is incomplete.