by Sue McDonald
Rooster Cogburn Ostrich Farm Fun Facts
Nestled at the foot of Picacho Peak on Interstate 10 between Tucson and Tombstone, Arizona is an unexpected surprise. Rooster Cogburn Ostrich Farm has been in business since 1987, but they moved from Oklahoma to Arizona in 1993 for the ostrich industry, as ostriches are desert animals and like the Arizona desert climate. The Farm has been delighting the public in Arizona (and providing a welcome supply of ostrich feathers to happy re-enactors) since 1999. Early on, guests could stop and see (and feed) the ostriches, but since that time the Ranch has expanded the variety of furred and feathered critters, and they now have miniature Sicilian donkeys (adorable!), Nigerian dwarf goats, boar goats, and a huge free-flight aviary stocked with hundreds of colorful Rainbow Lorikeets. On weekends, a Monster Truck takes delighted guests on a tour of the huge facility.
Ostrich Plumes
On a recent trip to Tombstone to celebrate Wyatt Earp Days, the ostrich farm was a must-stop on our route. The birds themselves are unexpectedly HUGE, and have a definite tendency to nip, so they might not be as "cute" as one would expect; but to those of us who are always looking for a great source of ostrich plumes, they are simply wonderful. At the Ostrich Farm they offer single plumes as well as affordably priced bundles. In years past, they often had custom dyed plumes as well, but they have become so busy recently, that they now offer only natural feathers.
As is true in so much of the bird world, it is the males who provide the most sought-after plumes. The males have the jet black and pure white plumes every hat-maker covets, as well as some lovely plumes that are a combination of black and white – often white with black tips. The female ostriches are an overall brown, and the plumes are not as grand. However all plumes may be dyed successfully at home.
Get Your Feathers Online or In-Person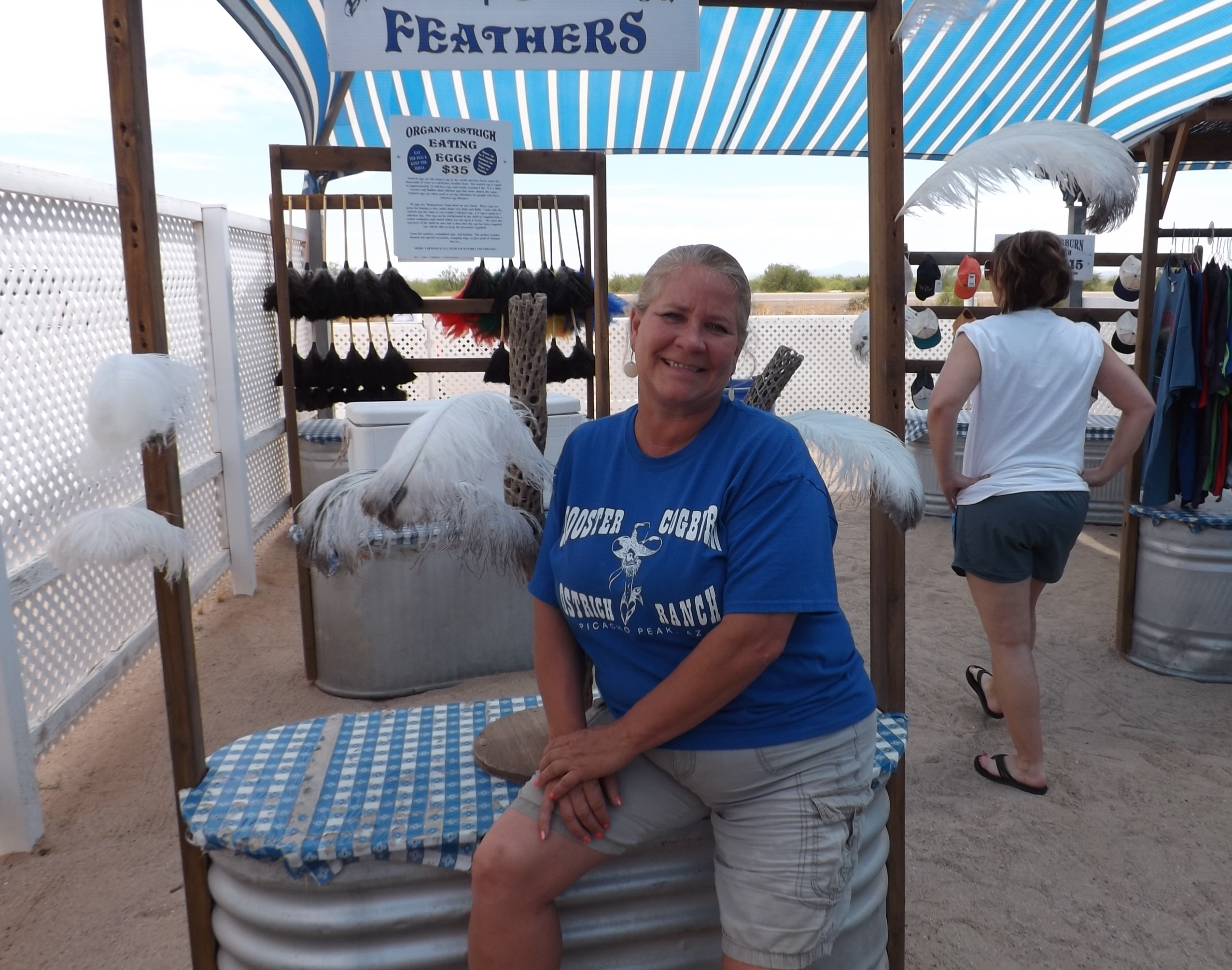 While there, we spoke with Danna Cogburn-Barrett who gave us a brief interview for Recollections in spite of being very busy due to the Memorial Day crowd. With a lovely southern accent, and a warm smile, she answered several questions about the Ostrich Farm for us. First, we asked if people could get plumes via email or the internet, and Danna told us that while they don't encourage mail order sales, they would sell feathers for a minimum order of 20 feathers @ $4 each, plus shipping. These are the fancy wing feathers from the South African Black Ostrich, which have the highest quality feathers.
Ostriches Run Amok!
We also asked what was the oddest/funniest thing that had ever happened with the ostriches, and she responded, "We had a lot of ostriches got out one day when blimp flew over and they panicked and ran through fences. We were gathering them all over the ranchland even up on Picacho Peak. A man that lives in a house about 1/2 mile up the road had chest pains and a medical helicopter was coming to pick him up because of the distance to a hospital. As they were trying to land there were ostriches there that had escaped. The pilot radioed in that he was having problems landing because there were "ostriches on the runway". This was misconstrued as "hostages on the runway" and then everyone really started freaking out. Eventually, they got everything straightened out and got the man to the hospital and he was fine."
Three-Generation Family Farm
When asked if she had any message for the public about the Ostrich Farm, Danna wanted us to know, "This is a 3 generation family owned and operated ranch. We feel like we are doing what God called us to do in life. It is very rewarding to see folks come in and be able to forget their troubles for a bit of time. Families get to have fun together regardless of their age and interact without an electronic device involved!" While she was speaking, we could hear the cheers coming from adults and children alike as the Monster Truck was getting ready for a tour.
Visiting Rooster Cogburn Ostrich Farm
So, if you are planning a trip anywhere near Tucson or Tombstone, you and your family are sure to enjoy a fun side trip to the Ostrich Farm. If you are a hat-maker, the bonus is that you can pick out plumes on the spot. If you can't be there in person, ordering high quality plumes at only $4.00 each is a great bargain, and you are sure to be pleased with them. If you would like to dye your own plumes, Recollections will be publishing another article called "Accessories to Dye For", that will tell you how.
The web site for the Ostrich Farm is http://www.roostercogburn.com. They are located between Tucson & Phoenix at Picacho Peak, AZ. I-10 & Exit #219. GPS : 17599 E Peak Lane -Picacho, AZ.