Documents released in 2018 give us a glimpse into the royal, rebellious life of Queen Victoria's daughter, Louise.
Princess Louise, later known as the Duchess of Argyle, was born in 1848 to Queen Victoria and Prince Albert. She was not known for being the perfect picture of royalty, as her parents were. Queen Victoria blamed her personality on having been born during a revolution, saying, "She was born in the most eventful times and ought to be something peculiar in consequence."
She may have been peculiar, but she was certainly unconventional. Louise was known for being a talented artist and a supporter of the feminist movement who went against her mother in her insistence on public support for the cause. Rumors flew during her life about her suspected affairs and an illegitimate son.
While there is much still unknown about her life, files released by the National Archives give a few more details about her estate. When she died in 1939, at 91-years-old, she left £239,260, 18 shillings, and sixpence, worth more than £70m today. More interesting, however, is that she left an unpaid bill of 15 shillings to the cigarette shop R Lewis Limited.
While it was no secret amongst her friends that Louise smoked, she hid the habit from her mother as Queen Victoria despised her smoking. The Queen hated seeing her sons smoking and would have certainly hated seeing one of her daughters lighting a cigarette. It wasn't until her brother, Edward VII, became king that she could join in enjoying a cigarette in the smoking rooms of the royal palaces.
Smoking in the Victorian era: a no-no for women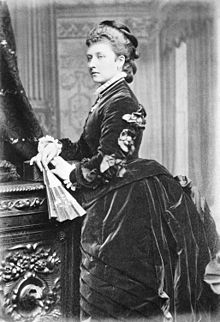 In the 18th century, snuff was popular with the aristocratic and middle classes, while smoking was popular in taverns with working-classmen. Early in the Victorian Era, one might find aristocrats enjoying a glass of port and a cigar after dinner. Prince Albert was an avid smoker himself, even though he too would not smoke in front of his wife, the Queen.
Smoking was an activity done only by men, and never done in the presence of a woman. This led to designating smoking rooms where men could smoke without offending any of the women in the house. These rooms become spaces where men would retreat and entertain themselves after dinner. Remember seeing this often depicted in Downton Abbey?
Women weren't seen smoking until the 1880s when cigarettes became more popular and smoking was done more regularly outside of the smoking rooms. The Edwardian Era not only allowed Princess Louise to smoke more openly but also paved the way for other women to start smoking as well. As it became more popular to smoke in public for both genders, certainly hated both women and smoking. Even as it gained popularity, however, it was actresses and "new women" smoking.
Smoking cigarettes became more popular still during World War I when tobacco was included in rations for soldiers. In the 1920s, cigarette companies began advertising to women. Celebrities graced the pages of magazines and newspapers, showing smoking was glamorous.
During Louise's lifetime, women smoking in public went from taboo to there being lighter, milder cigarettes made specifically for women.
Learn more about Princess Louise in Lucinda Hawksley's biography, Queen Victoria's Mysterious Daughter: A Biography of Princess Louise.
by Faith Briggs
Updated March 7, 2022 by Janice Formichella
Create a Princess Louise look of your own with these Victorian gowns:
More women's history stories:
15 Facts about Ka'iulani; Hawaii's Last Crown Princess
5 Madams of the Wild West and What Made Them Famous
Emilie Flöge: a woman to be remembered