Minnesota Opera Back Story
Minnesota Opera's roots were planted in 1963, during a time when the Walker Art Center branched out through the development of performing arts, film, and education programs. Throughout the 1970s, Center Opera, part of its performing arts program, became known as a progressive, "alternative" opera company that focused on producing new works by American composers. After merging with the St. Paul Opera in 1976, Minnesota Opera's focus shifted to include more "traditional" repertoire.

More than 50 years later, Minnesota Opera is one of the largest and most distinguished opera companies in the United States. It is known for its world-class artistry and innovative productions. Each production is born and raised in three renovated warehouses at its Minneapolis campus, located on Mississippi riverfront. The buildings house scenic and costume shops, rehearsal facilities, and administrative offices. Productions are presented at the Ordway Center in St. Paul.
Bel Canto
The new millennium saw Minnesota Opera incorporate an artistic vision inspired by early 19th century Italian Bel Canto ("beautiful singing") values, which emphasize intense emotional expression supported by superb technique. Today, these artistic values are seen in every aspect of the company's programs, from repertoire selection and visual design to casting and artist training.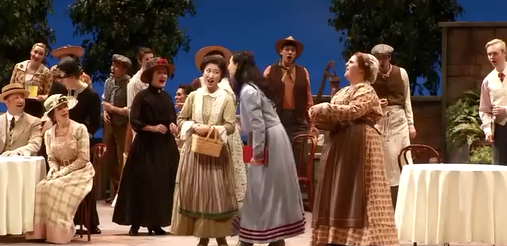 The 20014-2015 season's offerings include "The Elixir of Love," by Gaetano Donizetti, one of the most endearing Italian comic operas. Set during the 1800s, it is the story of a love-struck country bumpkin who sets out to win a feisty socialite's heart, aided by a "magic" potion and a doctor of dubious credentials. Recollections is honored to have been selected to produce a costume for this production.
Community Programs
There is something for everyone interested in this form of artistic expression at Minnesota Opera. Behind the Curtain explores the music, history and production of each opera is explored through informative discussions with members of the cast and creative team, which is led by their Head of Music, Rob Ainsley. One hour before the curtain rises, a free, fun and informative half-hour session known as Opera Insights provides an overview of the characters and music, historical and cultural context for the opera and highlights to watch for during the show. Taste of Opera offers a pre-dinner show and relaxed conversation with experts from the world of opera. Young singers in grades 4 – 12 have the opportunity to participate in the year-long Project Opera ensembles, Summer Opera Camp, and Imagine Opera, where the magic of taking an opera from the score to the stage provides a richly engaging experience. There are also programs designed for teachers interested in bringing opera into the classroom or the classroom to the opera.  To find out more about the Minnesota Opera, please visit http://www.mnopera.org/.
Information gleaned from the following sources:
http://www.mnopera.org/about/history/
http://www.mnopera.org/season/2014-2015/the-elixir-of-love/
http://en.wikipedia.org/wiki/Walker_Art_Center