Victorian dresses changed throughout the Victorian era, which spanned from 1840 to about 1901. Beginning with full skirts and patterned cloth and ending with the bustle, the entire Victorian Era included many different styles and variations of dress. The bustle style appeared in the 1870s, and was the result of the crinoline of wider dresses being drawn to the back of the dress to allow for greater movement and freedom. Steel frames supported the crinoline in the back of the dress, and after a while, the dresses were just made with bustles instead of crinoline dresses being made and then refined into bustled dresses.
The beginning Victorian dresses with bustles featured fullness in the front and also in the back of the dress. These dresses were all about fullness—there was roundness in the actual dress, and also in the hairstyles of the era. This style vanished around the late 1870s and early 1880s, with the new style being a slender figure. These dresses were tight fitting and had a train along the back. But, around 1883, the bustle style dress without the crinoline became a hit again. This came out of nowhere, since the old bustle styled dress was out of fashion for so long. But, the new bustled dress was styled differently than the ones of the previous era. These did not feature fullness in the front and back—there was an apron style in the front that lay much flatter than that of the previous dresses. The new bustle dress was sort of a combination of the two previous Victorian dresses. It had the bustle in the back, with the narrowness and tightness of the slender style.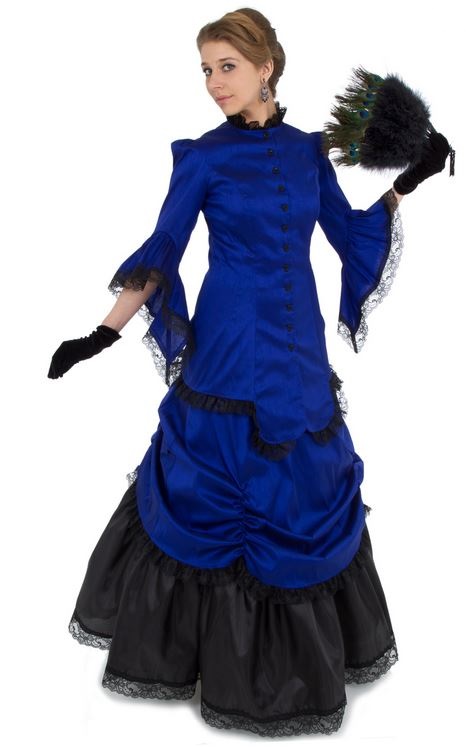 Bustles typically needed support in order to maintain their height. Women wore steel mesh cages and springs around their waist to keep the bustle in place. These were uncomfortable to be certain; however, women were willing to sacrifice comfort for fashion. The bustle movement lasted until the late 1890s, but had virtually disappeared with the end of the Victorian Era. At this point, first-wave of women's liberation was in full swing, and dresses reflected the freedom that women were beginning to gain. Free flowing skirts without steel cages or wires came into vogue, and the more constricting silhouettes of the past disappeared.
Here at Recollections, we can fit you in a bustled dress that will not only be stylish but will also be much more comfortable than those of the Victorian Era! We have all types of Victorian dresses, and our bustles are perfect for all of your tea parties, costume parties, and reenactments. Take a look at our bustled dresses. We know you'll be pleased with what you see—in fact, you may have trouble telling the difference between our dresses and the historic museum pieces. So get started building your wardrobe of Victorian dresses today!