The Hannah Swensen Mysteries is a Hallmark film series about a baker who solves mysteries when she isn't mixing up sweets. With the help of her detective fiance, the two fight for justice in their small town, with a few messes along the way. The series is a Hallmark fan favorite, and it has just returned with a new film, Sweet Revenge. And keep your eyes out! The movie features dresses from Recollection's Regency line. This week I had the opportunity to chat with the show's costume designer, Tina Fiorda to ask her about her work designing costumes for films.

Have you watched any Hannah Swensen movies?

Charlies Angels, period costuming, and finding Recollections
Although Tina dressed Hannha Swensen and her mother in Regency-inspired dresses for this film, the bulk of her work has been in more contemporary works. However, she has had the opportunity to design costumes for a handful of films from one of my favorite fashion era, the 1970s. I couldn't wait to get all of the fun vintage details!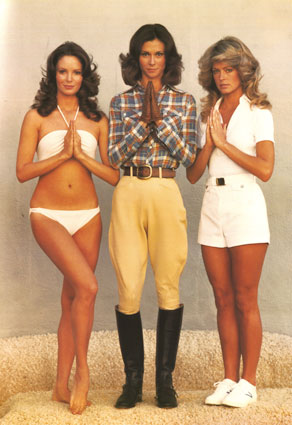 Tina has done costumes for the films The Lost Wife of Robert Durst, Behind the Camera: The Unauthorized Story of Charlie's Angels, and Britney Ever After, which all involved period costuming. Tina said that what is fun about doing period pieces is that she gets to shop in vintage stores and specialty shops rather than department stores. She said that the Charlie's Angels piece was great because she and her team got to go to a large thrift shop near where it was being filmed in Canada. The store receives items from many retired members of the community who donate their actual 1970s pieces. Imagine how fun it would be to go digging through those racks to find costumes!

Designing a Regency costume for Hannah Swensen (played by Alison Sweeny) and her mother Delores (played by Barbara Niven) to wear was a bit different. Although the film is set in the present time, the two characters put on a Regency-themed book launch party when Delores releases a book set in the Regency period. Because Delores has a regal personality, the costumes had to be just right.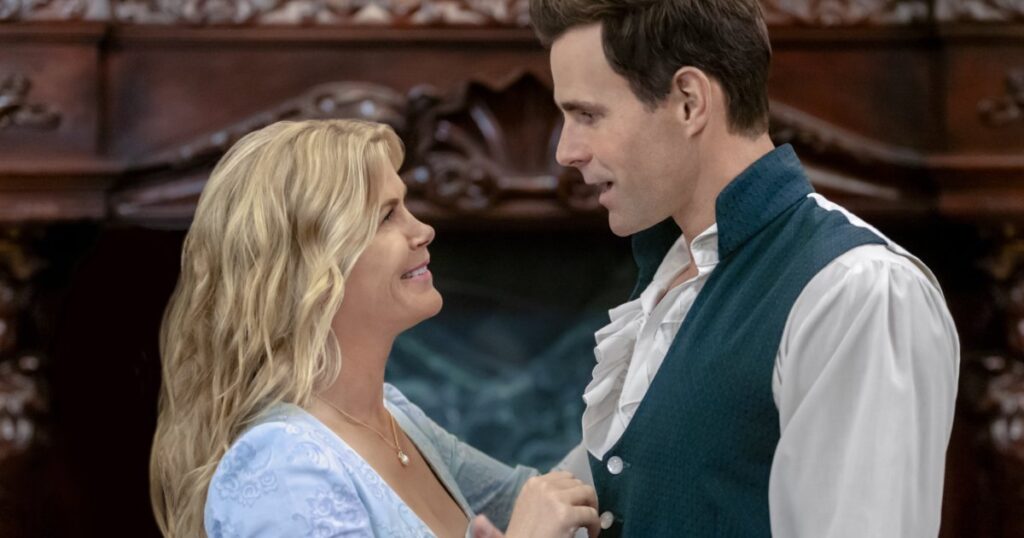 Tina hadn't been familiar with Recollections prior to designing costumes for Sweet Revenge, but when she went looking for Regency-inspired dresses, it was an easy choice. She said that Recollections has the best selection of high-quality dresses and that it is a great place for a costume designer to shop because she was also able to get hats, fans, and gloves to match the dresses.

My favorite thing (of many!) from my chat with Tina is when she told me how thrilled the actors were with their dresses. "They were thrilled," she said. "They loved their dresses. I pulled the dresses out and we did a fitting and they were beautiful. Both Alison and Barbara fell in love with the dresses immediately. It was a big sigh of relief for me."

Learn more about how costume designers use Recollections! Read our interview with Murdoch Mysteries designer Joanna Syrokomla.
Building a character through costumes

I love to hear what goes on to develop the perfect look for a character. Tina said that she spends a lot of time and thought learning about each character and their background. She learns about their personality, their psychology, their socio-economic background, and their career, before beginning to develop a look for them. She combines this study with conversations with the director to learn about their vision for the character.

In the case of baker and sleuth Hannah Swensen Tina said: "she is a baker so she's practical and her character is very practical. She solves mysteries and she's down to earth. She's very methodical. This is just my take on it, but it seems she would solve mysteries the same way she bakes a cake. She has ingredients that are logical, and you figure it all out."

While costume designers used to put together large physical theme boards to collect ideas for each character, she now uses Pinterest to gather inspiration and develop costume concepts. When I asked her what advice she would give to our readers who love to put period costumes together she said she would advise the same thing. Going from site to site online can be ineffective, she said, whereas with Pinterest, once you begin creating boards you will get pin suggestions to go along with the theme, making the entire process easier, and more fun.

And effective it needs to be. I was surprised to learn that the prep time for most of Tina's films is only three weeks.

Christmas costuming
Little did I know that I would have the opportunity to speak to a costume designer who has a bit of a specialty designing costumes for Christmas films! When I looked at Tina's IMDb, I was so excited to see that she has done many holiday films including A Glenbrook Christmas, If I Only Had Christmas, Christmas Pen Pals, My Christmas Dream, and Once Upon a Christmas.

One reason Tina does so many holiday films is that she works so closely with the Hallmark network. I had to ask though: is there something about Christmas movies that she particularly enjoys, or is it just part of the job?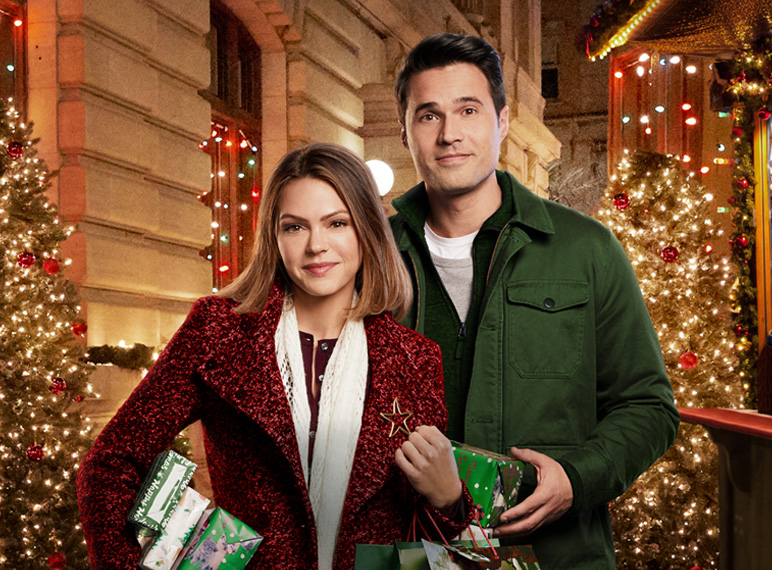 "They are fun to do because they are so colorful. It's a nice time of the year when family gets together. It just has that family togetherness about it. You see the energy of the Christmas story in the script. And then you go to set and you see what the set decoration does with the sets. And the props department with the props. The color and the twinkle, and it's just very special."

Are there any specifics about selecting costumes for Christmas? Tina says that it is really all about the color: "We're always looking for Christmas colors. Reds, greens, silvers, those are the colors that really promote Christmas. And a lot of twinkles. Furs, gloves, hats, Christmas sweaters."

Doesn't that sound like so much fun? Although it is a joy, it is also fast-paced. Her team begins prepping for a movie that will begin filming September 15, wrap October 5, and hit screens in December. Want to see what she puts together? Watch for The Nine Kittens of Christmas to add to your Hallmark Christmas movie marathon later in the year.

And a costume designer's tips on putting your own Christmas look together? Go for great colors and textures including sparkle and faux fur. And for Mrs. Claus? Make sure to get the apron just right.

Thank you for your time and talents, Tina! We are so glad to have you as a Recollections customer!
Do you love Hannah Swensen's Regency dress? Add one of your very own to your collection!