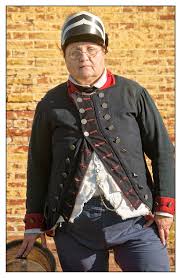 When Olga Leake, a high school special education teacher, was asked to teach history for the first time, she started studying. The more she learned the more captivated she became with the fascinating stories from America's past. In 2000 a student's family invited her to attend a Civil War reenactment at the Colonial Pennsylvania Plantation. While watching the uniformed men on the battlefield, she knew right away that she was hooked and would become a reenactor herself!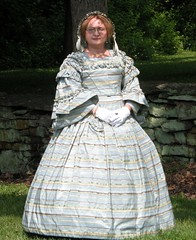 Olga became a camp follower first in Civil War reenactments and later in American Revolution reenactments. She wore Civil War Era and Revolutionary dresses while campfire cooking for the soldiers. Period authenticity is important to the reenactors, so Olga researched authentic foods prepared for the soldiers such as hard tack, Johnny cakes, Lincoln white cake, soups, stews, and more Civil War recipes. American Revolution recipes were a bit more difficult to find, but this 1700's corn bread recipe , and these open fire cooked pumpkins and ash cakes recipes may have been used to feed the Colonial soldiers. In addition to cooking in cast iron skillets and dutch ovens over smokey campfires, Olga's camp follower chores included cleaning, sewing, and laundry duties.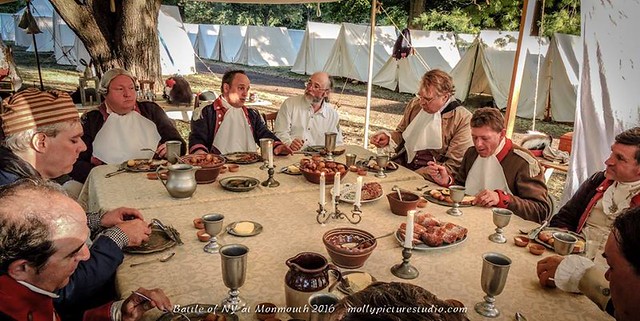 Although Olga was thrilled to be a part of the reenactment camps as a follower, she was often left behind cooking and cleaning while the men were reenacting battles on the field. When the men returned to camp, she listened to them excitedly describe the details of each maneuver. They became a band of brothers on the battlefield, and she wanted to experience that special bond. She began taking photographs of the soldiers during their battles to occupy her while they were active on the fields. Those up close images made her long for the camaraderie the men shared even more.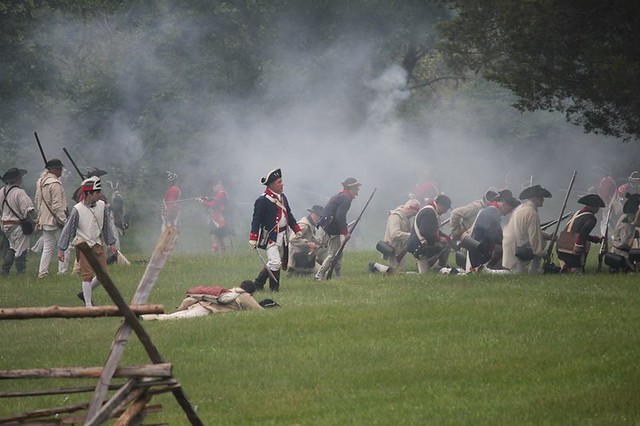 While volunteering at Ft. Mifflin in 2004, Olga began dating a reenactor in the 3rd PA Regiment. He sadly passed away suddenly, but knowing many of the regiment's members, she was welcomed her into their company. With open arms Olga became an official Continental soldier, one of the guys. When in uniform she says she sits like a guy, speaks a bit roughly, and when reenacting on the battlefield, her mind knows it is acting, but her instincts feel real. She has been a member of the 3rd PA Light Infantry since that time. They participate in many annual battle reenactments including Bound Brook, Brandywine, Monmouth, Germantown, Red Bank, Hope Lodge, Williamsburg, and more.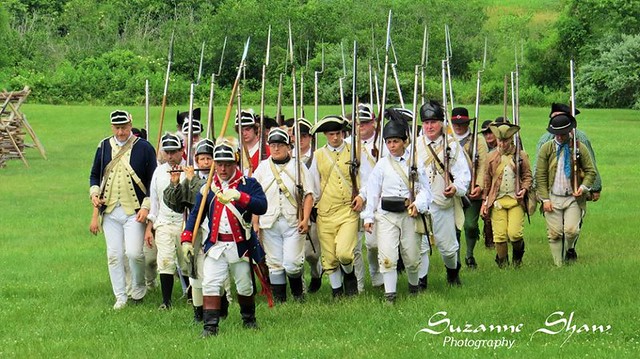 Olga's life is immersed in history. Since retiring from teaching, she continues her volunteer work at Ft. Mifflin as a tour guide/educator. She describes how rewarding it is when children come to her at the fort wanting to learn about our American history and thank her for all that she does. She adds with a laugh, "I love watching young people come to love history, plus there are no discipline issues, no papers to grade, and no problems to deal with, either!"
Although Olga's reenacting may be divergent from most women of America's past, she does not allow this to sideline her, but instead follows her dreams and lives them, one ardent battle at a time. In the words of Olga herself, "It's not a hobby – it's an extreme alternative lifestyle and I do it for the ladies who would have if they could have!"
Resources:
https://www.americanrevolutionphotos.com
http://www.hmisite.com/impressions/american-revolutionary-war