Liberty Hall Museum is located on the campus of Kean University in Union, New Jersey. One of Union County's best kept secrets, it was built in 1772. It was the home of William Livingston, a signer of the Constitution and New Jersey's first elected governor. The grounds are made up of 23 acres of manicured landscape, making it the perfect oasis amid the urban landscape of the greater New York area.

Originally built as a 14-room Georgian Style home, it has gown into a 50-room Victorian-style mansion. It is open to the public from April to December, and by appointment from January to March. The museum is listed on the National Register of Historic Places and is a National Historic Landmark.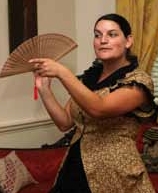 Liberty Hall recreates history through the experience of the Livingston/Kean families. Extensive collections of antique furniture, ceramics, textiles, toys, and tools, and the stories passed down through seven generations of the Livingston and Kean families give us a glimpse into the evolution of a changing nation.

This gem is a treasure trove of American History. Enjoy English parterre gardens that include some of New Jersey's oldest trees. Victorian-era fashions for women are featured and you can enjoy tea on the glass-enclose porch.

Liberty Hall offers its own special events, too! Unique historical experiences from Dining on the Titanic, a Great Gatsby Party, a 1940s USO Style dance party, a Downton Abbey Luncheon, and special holiday events dot the calendar along with recurring events such as ongoing exhibits, afternoon teas, yoga, a farmer's market, and picking your own apples at harvest time.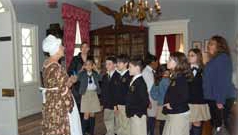 The museum features events for children, too. A few of those include a junior farmer's club, Dr. Seuss birthday breakfast, a children's afternoon tea and fashion show, birthday parties, and annual Easter egg hunt. There is also programming for schools. Children can experience New Jersey's transition from a colony to a state, or explore five distinct generations of childhood. The Firehouse tour encourages participation in an old-fashioned bucket brigade, and play as a firefighter as the exhibit promotes safety education.

So, you can see there is always something for everyone going on at Liberty Hall Museum at Kean University! To find out more about the museum, please visit http://www.kean.edu/libertyhall/