Are you attending a Dickens-themed event? Whether you are participating in a Dickens Fair, are part of a Victorian caroling group, or are part of a Dickens production such as A Christmas Carol, it's important for a lady to know how to dress the part! We're here to wrap it all up for you in a big beautiful Victorian bow.
Share Your Dickens Event
We want to know about your Dickens event or group. Post in the comments section below (include a link, if available, so we can all visit!). We'd love to feature your event in an upcoming blog post.
First thing's first: Victorian underpinnings
So, where to start your character for a Dickens event? Obtaining the proper silhouette for the era begins with underpinnings.
"made of silk, cotton, or wool they came in vertical stripes, horizontal, stripes, checks, plaid tartan and windowpane in both small and large prints." Even though they were never seen, these colorful leg coverings created a little excitement for the wearer.
"The hoop skirt gained a foothold in the mid-1850s and eventually replaced the large number of petticoats formerly worn." (Women's Costume) The hoop was worm by mid and upper-class women during the Civil War era. Check with your group to see how wide your skirt can be. You want to make an impression but still have room for others.
Want to learn more about crinoline? Check out our blog post: Crimes of Fashion
Onward to the Dress
Outerwear and Accessories
Want to make sure you get just the right bonnet for your event? Read up on the different types here: Bonnets Through History: Can You Tell Them Apart?
Let us inspire you! Browse our collection and start getting your dream Dickens outfit put together.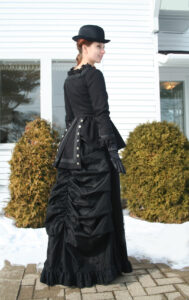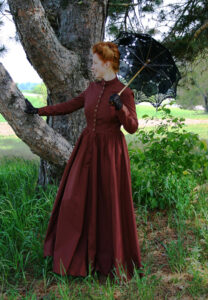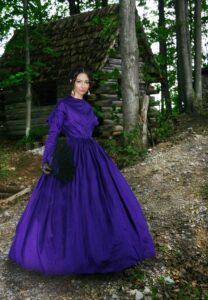 Going to an Edwardian event? Things changed a lot between the Victorian and Edwardian eras. Prep for your event using our guide: Preparing for an Edwardian-themed Event. 
More about Victorian fashion:
The Rise and Fall of the Bustle: A Short History 
Staying Warm in the Victorian Winter
Victorian Riding Habits: More Than Meets the Eye
A Short History of the Hand Muff, One of History's Cutest Accessories