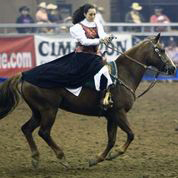 By Sue McDonald
Recollections' faithful client Shawn Yospin wasn't exactly born in a barn, but that's where she spends much of her time, as she currently lives in a barn on the same farm in Central Virginia where she grew up.  "My parents live just up the hill from me and my horse lives downstairs", she says.
Shawn loves to wear Recollections clothing, but the really interesting thing is where she wears them. Shawn is an avid member of a select group of equestrians who enjoy the sport of mounted shooting. Mounted shooting involves the rider and horse racing through a pre-determined course as quickly as possible while managing to shoot a series of balloons positioned at several points along said course. She began participating in mounted shooting about six years ago, and has been traveling to participate in  competitions ever since.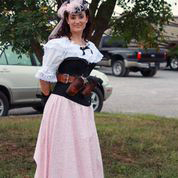 Several organizations across the USA promote mounted shooting, and among them is the CMSA (Cowboy Mounted Shooting Association) of which Shawn is a member. "We shoot targets from horseback using single action pistols, rifles and shotguns like what would have been used during the days of Wyatt Earp and Wild Bill Hickok." Shawn says, "I primarily compete in Virginia and North Carolina, but have traveled as far south as Mississippi and as far west as Texas and Oklahoma for competitions.  I mostly compete east of the Mississippi river, though."
Most organizations that promote the sport also encourage the competitors to dress in costume. "We have the choice of wearing traditional cowboy clothes which includes jeans, long-sleeved collared shirt, chinks/chaps and a hat or we may wear period appropriate attire that would have been worn in the later
1800s." says Shawn, "I much prefer to wear skirts and dresses, though.  We don't have to be historically accurate to the extent that historical re-enactors do, so we have a little more leeway in what we wear and can be a little more creative and also mindful of safety.  I almost always wear a skirt or dress to compete and have built up a rather extensive wardrobe of outfits.  When I was a kid, I used to play "Little House on the Prairie" and even had my mom make me some outfits, so I definitely take every opportunity to dress up, although I still only get to dress up for my CMSA competitions and Halloween."
Shawn say when she started competing, Recollections was actually one of the first sites she found, and she still wears the first skirt she bought – a pink bustle skirt.  "It's perfect for the competitions because it's very full and has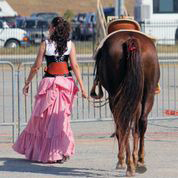 flounces to weight it, allowing it to drape beautifully over my horse.  I usually wear it with the bustle up and pair it with a peasant blouse and a corset, with pantaloons and/or petticoats underneath.  The outfit enables me to move freely, but still gives the impression of a lady in the old west."  While she sometime buys from "the odd vendor she finds on eBay and Wild West Mercantile, Shawn prefers the clothes from Recollections.
She occasionally supplements her wardrobe with vintage items she finds, as well as a few homemade items.  "Riding horseback and shooting guns in dusty arenas for 2-plus days every weekend can be kind of hard on clothes, so I am always looking for new items that look good, are original, and aren't too expensive to ride in" she reports.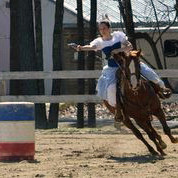 For her competition riding, Shawn says the ideal outfit is a very full skirt, usually a hoop skirt, paired with a corset and a peasant blouse is what works best for her. "The skirts have to be full enough to drape over the horse and not show too much leg, and the top has to be loose enough that I can easily pull my gun quickly and aim at the target without being constrained.  The corset isn't full boned, but does help protect my waist from the gun belt, which works best when worn tightly around the waist.  The other reason I prefer dresses is that competitors are allowed to wear short-sleeves with dresses but not with jeans.  When competitors wear jeans, they are required to wear long sleeves, buttoned at the wrist, chinks or chaps, and a cowboy hat.  That's fine in the spring and fall, but too hot for summers in the south, in my opinion.  Also, I've discovered that it's much easier to layer up with dresses and still be able to move than with jeans.
Getting on a horse when wearing long johns, jeans and chinks is a little hard to do!  I don't compete much in the winter, but when I do, I have a corduroy habit from Recollections that I can wear with long underwear, turtleneck, cape, heavy stockings, pantaloons and several petticoats.  I can still move around and the skirts help trap the horse's heat, keeping me nice and toasty."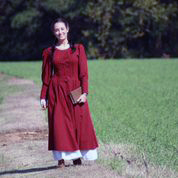 Shawn describes herself as "kind of shy and quiet, so I'm a little slow to meet people but people love my outfits and are always coming up and talking to me about them." She says "Sometimes, when I meet those same people later it takes them a minute to recognize me.  I hear "Oh, you're the girl in the dresses!" quite often.  I've become known for my outfits and when I go to shoots, folks are always asking me what I'm going to wear!"
When she first got into shooting, Shawn says that not as many women were competing as are today, but many of them did wear dresses.  As more women got into the sport, Shawn says that "bling" took over and not as many women wear skirts as before. 
"That's starting to change, though, and now more and more women are starting to wear dresses.  Women are always asking me about riding in skirts, wanting to know how comfortable it is and how safe it is.  For me, I've found skirts and dresses are definitely more comfortable than jeans.  And, while I've seen competitors get hung up on belts and chinks, I've never seen one get hung up on a skirt."
When asked if she had any "words of wisdom" for others who might be interested in mounted shooting, Shawn's response was "Go for it!  It's the most fun you can have on a horse and it's even more fun when you look good doing it!  Just know, that it is addictive, once you get into it, you're hooked for life!"