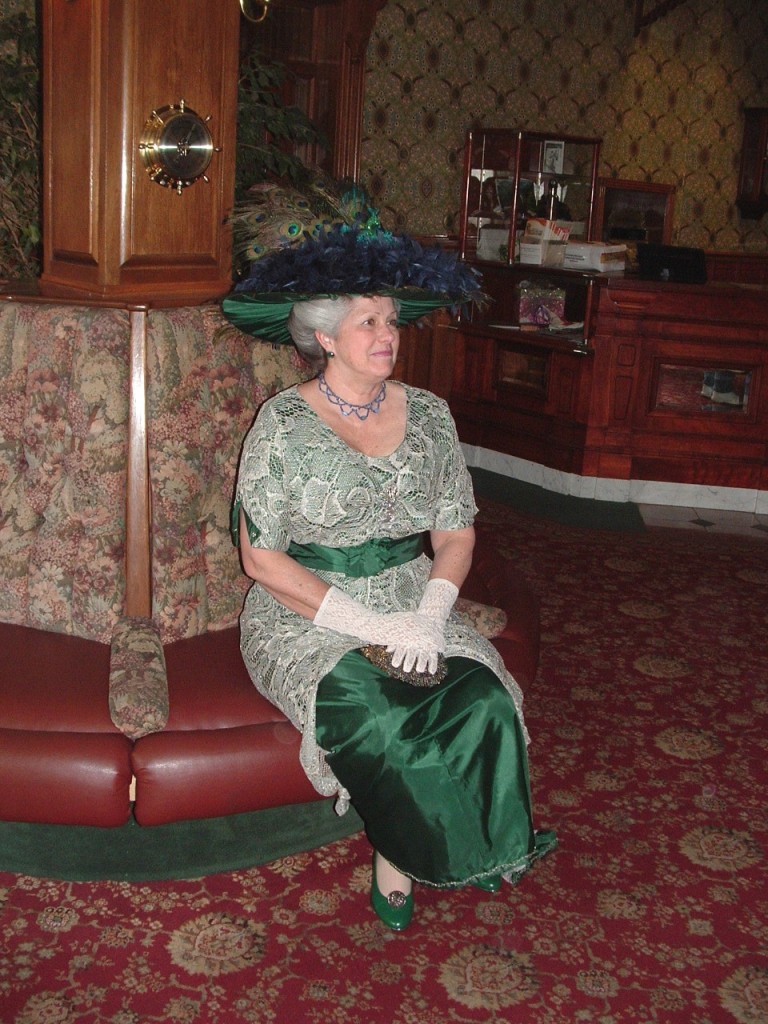 It is so easy to fall in love with a beautiful romantic outfit. We memorize the lovely description, order our new ensemble, but tend to ignore the trailing text that says something like, "Our model is also wearing a hat, gloves, and boots." Then when we put on our new clothing for the first time, we wonder why it isn't quite as wonderful as the picture. We thought you might like to read about accessories – all those items that play a supporting role in creating the romantic look we all want to achieve.
Where this writer lives – in Prescott, Arizona – there are several clubs, guilds and societies who dress in period attire. One group recently had a day-long "workshop" which focused on the different aspects of putting together a Victorian or Edwardian costume. There were several presenters, and each focused on a particular aspect, like hats, hairstyles, Civil War dressing, Victorian outfits, Edwardian period attire, and through to the 40's. Partly, this was to help newer members become familiar with the different periods of dress, but even those of us who have been wearing period attire for years agreed we all learned lots of good information. It fell to me to present the different styles of hats through the ages. After going through a brief "hat history" which spanned everything from Romantic Era bonnets through huge Edwardian headwear, I was surprised by two very basic questions. One lady asked, "So, can we wear any hat with any outfit?", and another asked, "How does a hatpin work – especially if you have short hair?" I realized that I should have started with far more basic information than I had.
Unless you are wearing period attire in a judged competition, it is not necessary to obsess over every small detail of your outfit. In competition, we need to be sure of the year our style of out was popular, and all of our accessories need to conform to the same time period. Details like plastic buttons, shoes with composite soles, and the fiber content of our costumes all come under close scrutiny. When dressing to please ourselves, we aren't nearly so worried about what is period-correct, but only how to achieve the overall "look" we want. Recollections has gone to great trouble to present entire outfits, which are always photographed with all the "underpinnings" and accessories that make the look come to life. Part of the reason each outfit works so beautifully is the behind-the-scenes knowledge about the styles for a particular period, and how each was accessorized.
Let's start with the two questions that were asked at the workshop. "Can I wear any hat with any outfit?"  The fact is that some ha
ts work better with certain outfits; much the same way as you automatically know which shoes to wear with jeans or with a business suit. For most of the Victorian period – we're talking bustles and skirts with trains here – hats tended to be smaller and "neater" then later periods. They had small brims, and sometimes were what we call "perch" hats, because they perch on top of the hair, rather than fitting down over the wearer's head. Recollection's Black Teardrop hat (Code: EM19038TQ) is a lovely example of a Victorian-style perch hat. At the turn of the century, when we get into the Edwardian period, we see those fabulous huge hats that we associate with "My Fair Lady" and the famous scene at the horse races. These hats, like Recollections Black and White hat (Code: EM20013), were worn with long, slender, lacy dresses of the period. Think "wide dress = smaller hat", "narrow dress = big hat". The more pragmatic question of how to keep your hat on your head is solved with a hatpin. Even a very large hat can usually be secured with just one hatpin. The pin will go through one side of the hat near where the crown joins the brim, then through your hair – hopefully through some portion that is very "solid"- and then should just barely go through the other side of the hat. If you have longer hair, you can pull some of it up onto a secure knot at the top of your head for the pin to pass through. A friend with very short hair uses one of those foam rollers. She secures the roller to a bit of hair at the top of her head, and then runs the hatpin through the roller when securing her hat. Hatpins come in different lengths. Shorter pins are used for smaller hats, and longer ones for the large hats. Your hairstyle is also important, but we will cover that topic in depth very soon with our "Creating a Romantic Hairstyle" article.
In addition to a hat, no respectable lady would appear in public without also wearing gloves. She wore gloves for every occasion. Formal evening events call for longer gloves in satin like the White Shirred Gloves  or fine leather; for daytime events shorter lace gloves like the Ivory Crochet Gloves  are usually fine. Gloves are worn at all times unless you are eating.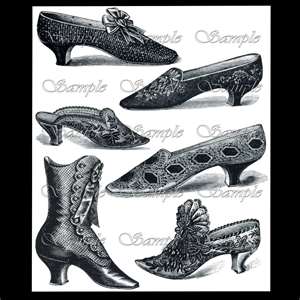 Your shoes are also important – even with a long dress. It ruins the entire effect to see sneakers peaking from beneath a long hem! Recollections has a lovely selection of Victorian-style footwear. If you can wear a small heel, we love the curved look of the period-correct "Louis" heel, as seen on the Victorian Boot .  A shoe with this heel will go with all of your Victorian and Edwardian outfits.
If you are planning to be outdoors, you should always carry a parasol. In Victorian times tanned skin was the sign of coarse breeding, and ladies went to great lengths to avoid exposing their skin to the sun. A pale porcelain complexion was highly desirable, so the parasol was a necessity as well as a fashion statement. As they had a "language of the fan" and "language of flowers", Victorians also had a "language" for their parasols. For example, carrying your parasol elevated in the left hand meant "Desiring your acquaintance." Recollections offers a rainbow of lovely Battenberg lace parasols, as well as the flirty Ruffled Parasol ) to go with any outfit.
For traveling around town, we modern ladies simply must have somewhere to carry necessities like car keys and cell phones. A purse or reticule solves the problem nicely. Do you know the difference between a purse and a reticule? A reticule usually has a drawstring closure, while a purse has a frame with a clasp. For evening events, consider something with lace or beads (or both!) like Recollections' new

Black Velvet purse

.  For daytime outings, a plainer purse or reticule would work as well, like the

Calico Handbag

  which is offered in a variety of pretty calicoes. If you are on an actual trip, you would carry a carpet bag like the

Tapestry Carpet Bag

 as these roomy bags were used by both men and women throughout the Civil War and Victorian periods. Probably one of the most fun (and problematic) decision you will make about your attire is the question of what jewelry to wear. Cameos are always a popular choice, and Victorian ladies would not only wear them at the neckline or the shoulder of their bodice, but also loved them as earrings, on a ribbon as a necklace or bracelet, as well as an ornament for their hair or their hat. We love the sweet

Cameo Bracelet

  which would be lovely on any wrist.   In addition, they loved lockets of all descriptions, like the

Jet Austrian Crystal Heart Locket

.  Usually a locket would contain a tiny portrait or picture of a loved one, or perhaps a lock of hair. Victorians were not shy about wearing multiples of an item, and might wear two or three different necklaces or bracelets at once.Underneath it all, you must wear the proper undergarments to get the correct "profile" for your outerwear. A well-fitting corset is far more comfortable than you might imagine, and you will be surprised at how feminine you will feel when wearing one. It shouldn't be laced so tightly that you can't breathe properly, but it should be snug enough to create a smooth line under your bodice. Victorians wore at least two petticoats – and often more – under their elaborate skirts. Thanks to modern fibers and construction methods, we can usually wear just one petticoat. This item is necessary to prevent your skirt from looking "poor" due to lack of support. This is especially true for civil war gowns, which must have a crinoline or two to underneath them in order to retain their proper shape.

We hope all this talk about accessories has you thinking about new ways to dress up your favorite ensembles! If you have never spent time browsing the "Accessories" or the "Jewelry" section of the Recollections site, we invite you to step in and browse to your heart's content.