by Sue McDonald
In 2004 musician Donna Munafo and some friends formed a group who wanted to share their music in a way that would encourage unity among Christians, and share the light of God with the world. They christened themselves 4ever1. Eleven years later, most of the same musicians are still with the group and sharing the music they love. As word of mouth spread, they have been invited to play at countless churches in New Jersey, Connecticut, Massachusetts and New York.  They have shared their music in prisons, nursing homes, homeless shelters, town parks, festivals, fairs, amusement parks and more.  Their primary mission has always remained the same – to connect and unite Christians and bring joy to others. They also credit social media. Donna says, "…this has been a huge asset to us as we have grown to over 65,000 fans on our page."
In 2012, Donna wanted to find a way to share the old Christian Hymns through story and song.  She wanted to resurrect these timeless classics through modern musical arrangements, along with a story behind the songs and authors.  In addition, she wanted the group to "dress the part" so that they could take our audience "back in time".  On their search for gowns, they discovered the Recollections website.  The other vocalist in our group, Sonia, and Donna were excited to see such a variety of beautiful gowns at reasonable prices.  They took their discovery of Recollections as a confirmation to move ahead with their vision.
When asked what the best thing was about doing her music with this group, Donna didn't hesitate. "This is easy….I love making people smile and bringing joy to others, especially to our elderly population.  At our events, prior to the band starting, Sonia, my mother Donna, and I all parade around in our gowns, greeting everyone that comes.  The smiles and comments on our gowns are always such a highlight to our events.  We make people smile just by wearing them."
Donna says that one of the most fun results of them dressing in costume was when they were performing at a local fair. She says, "We went to a local fair to present our Hymns & Stories.  We were at the Altamont fair in Upstate NY playing in an historic chapel within the fairgrounds.  When we were through playing, we strolled through the grounds in our gowns.  We ended up on the antique section where others who worked at the fair had old fashioned displays with furniture, horse and buggies and the like.  Needless to say, we fit right in.  People thought we were part of the display!  We soon had a line of children for photos and laughed so hard that day.  What a joy these gowns have brought to not just others, but to us!"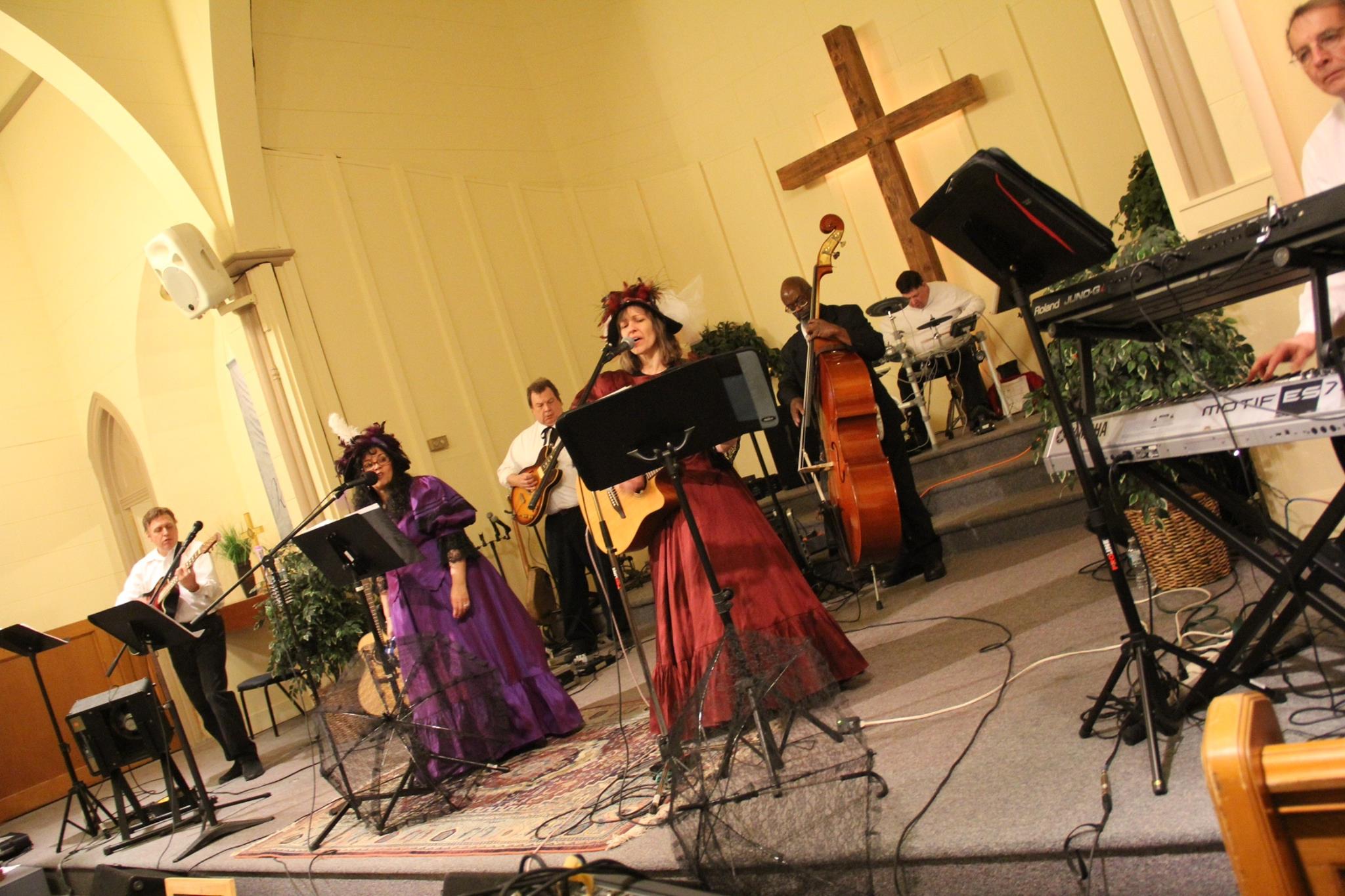 When asked for a bit of advice she would pass on to others who might be inspired to do something similar to what 4ever1 is doing, Donna says, "If you want to bring joy to others and have fun while doing it, go to Recollections and purchase an outfit….then go to a local fair, a nursing home, a Victorian stroll, or anywhere.  It's such a fun thing to do, and people are drawn to the gowns!  It's because these gowns are beautiful!  But I also believe it's because it takes people back in time….to a simpler place….the good old days.  Oh how I would love to live back then.  These gowns help us feel like we are, if only for but a moment."
4ever1 has multiple short clips of their performances on U-Tube, but thought our readers might enjoy this one at: https://www.youtube.com/watch?v=zBJQ6v8eoQg
where she has put together a few short video clips to give a little peak into their HYMNS & STORY events.
For individuals or organizations interested in having 4ever1 at their event, you can contact Donna Munafo at 4ever1 Music Ministries:
E-mail -?donna@4ever1music.com
Website -?www.4ever1music.com
Facebook –?www.facebook.com/4ever1music