We love to celebrate Christmas in July! This is an especially fun summer to do it, as many of the traditional summer vacation activities aren't taking place or are looking a lot different from what we are used to. Why not put on a Christmas in July pandemic party to mix things up a bit at home? It would be a great way to create some special memories in this most unusual of summers. It may even help to cool things down a bit too if you throw in some great Christmas-themed chilled cocktails.

A great Christmas in July party is about a lot more than putting on a Spotify playlist of Christmas. As a party planner at heart, I've put together a list of ten fun things to include in your party. If you host a Christmas in July party please send us your photos and we may use them in an upcoming post!

Before you get started, check out our blog post on the history of Christmas in July.

Color-coordinate some chilled drinks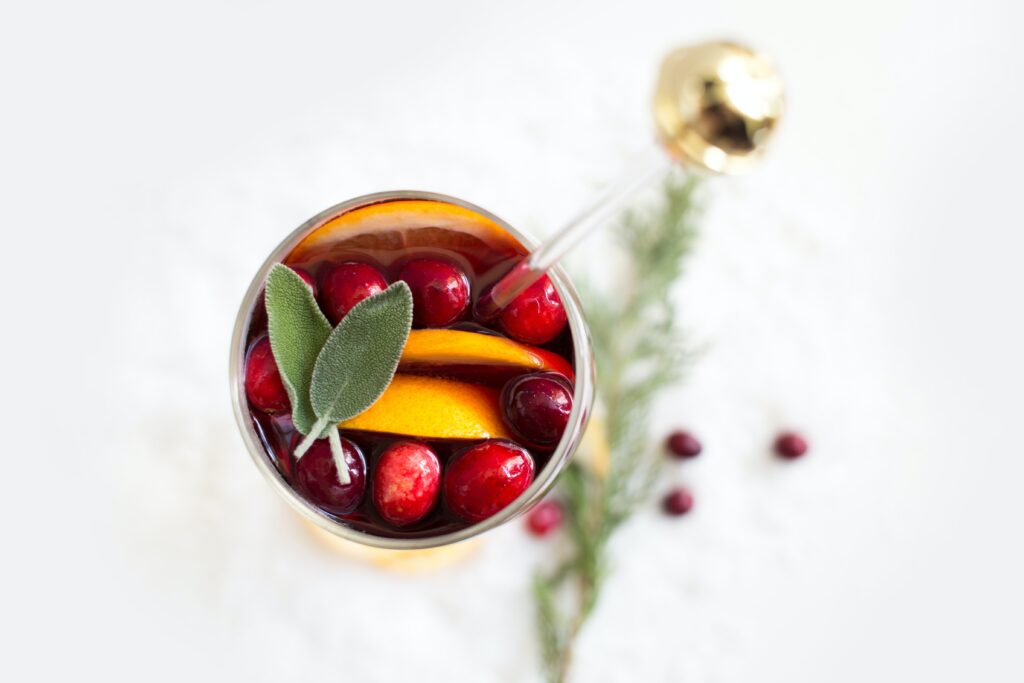 This July is a HOT one in America. No Christmas in July party will be complete without some icy red and green cocktails. Get really creative with this! Here are a few fun recipes that I found that your adult guests will love.

Want something fun that is non-alcoholic? Try a Grinch Punch!

Set the mood
Creating ambiance is one of my favorite parts of throwing a party. Make sure that you have music on in the background so that a vibe is set without impeding on the much-needed conversation. Here are a few playlists I recommend:
Dolly Parton and Kenny Rogers: Once Upon a Christmas
Emily Row: Victorian Christmas
Add a crackling fire to your party without the unwanted heat by heading to Netflix and playing "Fireplace for Your Home" while people mingle.

Pull out all of your Christmas tableware
Now you don't have to pull out all of the Christmas decorations for a good Christmas in July party. In fact, many of the traditional holiday decor creates a heavy/cozy feel that you won't be going for. But if you have a favorite set of holiday dishes, cups, mugs, or serving trays, use them to add to the theme. Try to use some in an unexpected way – the quirkier, the better!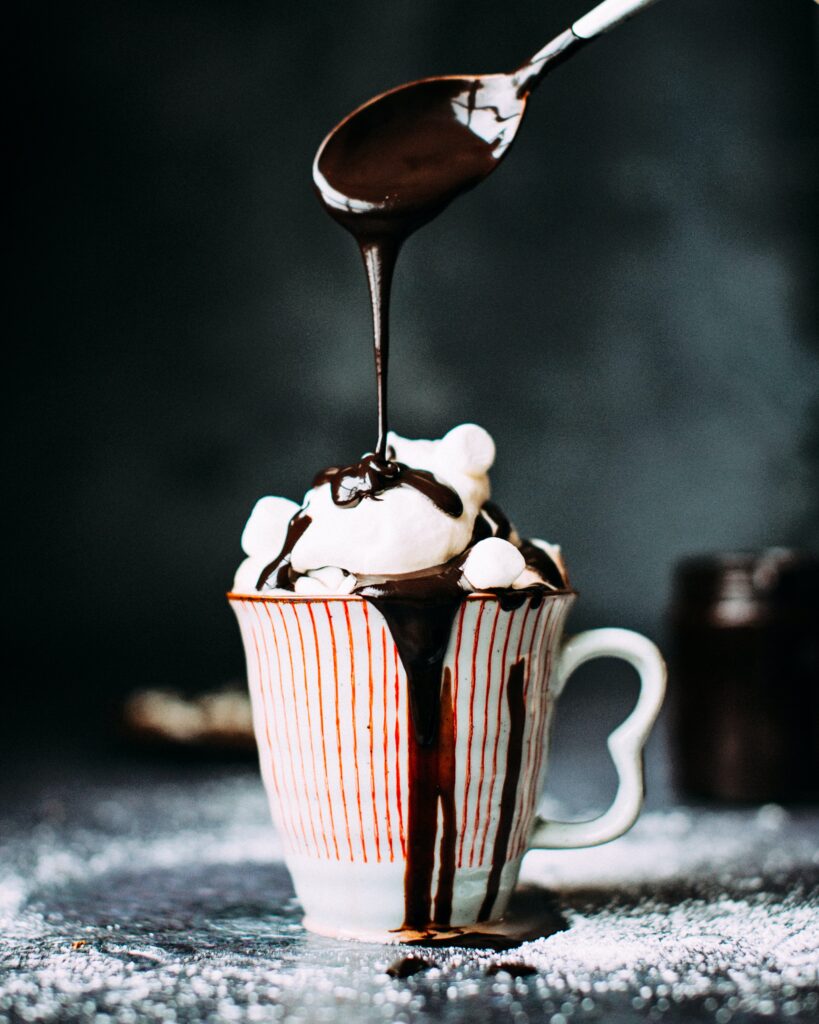 Frozen hot chocolate bar
A frozen hot chocolate bar is a fun way to add some Christmas themed decorations along with a treat that many people will not have tried before. It's also an activity for the kids and a great way to add fun to the gathering for guests of all ages. Plus, on a hot July day, it is going to make you the hostess with the mostess for sure.

If you want to go all-out check out this video from Hallmark Channel on creating a whimsical look for your bar. Pinterest boards abound on ideas as well. Here are some ideas that I love:
How to Master Frozen Hot Chocolate
How to Set Up a Hot Chocolate Bar

Decorate gingerbread cookies – in swimwear
This was one idea that was new to me and I LOVE it! If you have little ones, they will be occupied for ages. However, I have found that grown-ups can really get into certain activities typically reserved for children, so don't discount this if your kids are grown.

The key to this activity is to provide summer colors to decorate with and to create a few prototypes for your guests to see and get the idea. Then, let the creativity take over, and be sure to take a lot of pics!
Check out this post from Solvang Bakery for some fun ideas.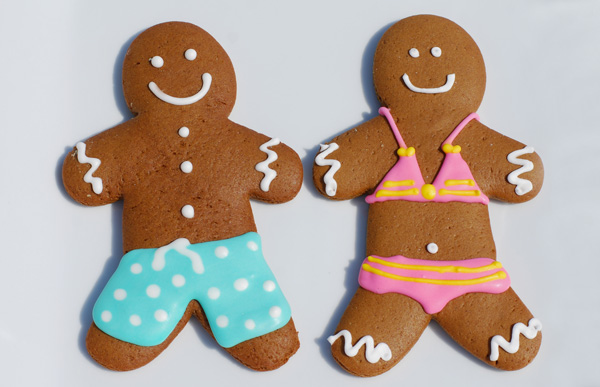 Decorate that 7-layer dip!
I lived in Australia for many years and always brought a good 7-layer dip to any Christmas potluck that I was invited to. After all, the holiday season is during the summer down there. A classic 7-layer dip is going to pair well with chilled cocktails and plus, who doesn't love it? Take it a step further by using the ingredients to add a cute Christmas tree to the top layer. I guarantee this will be a hit.

Put on a Christmas movie!
I spent last Christmas with my family and absolutely loved it. I realized after that we hadn't had enough time to fit in all of our favorite holiday movies. Can you relate? Putting on a favorite Christmas movie at the end of the night can be a fun way to keep the fun going. Or, if you're feeling low key, turn your party into a movie marathon.

Having a Christmas movie on in the background can also be a fun way to create ambiance.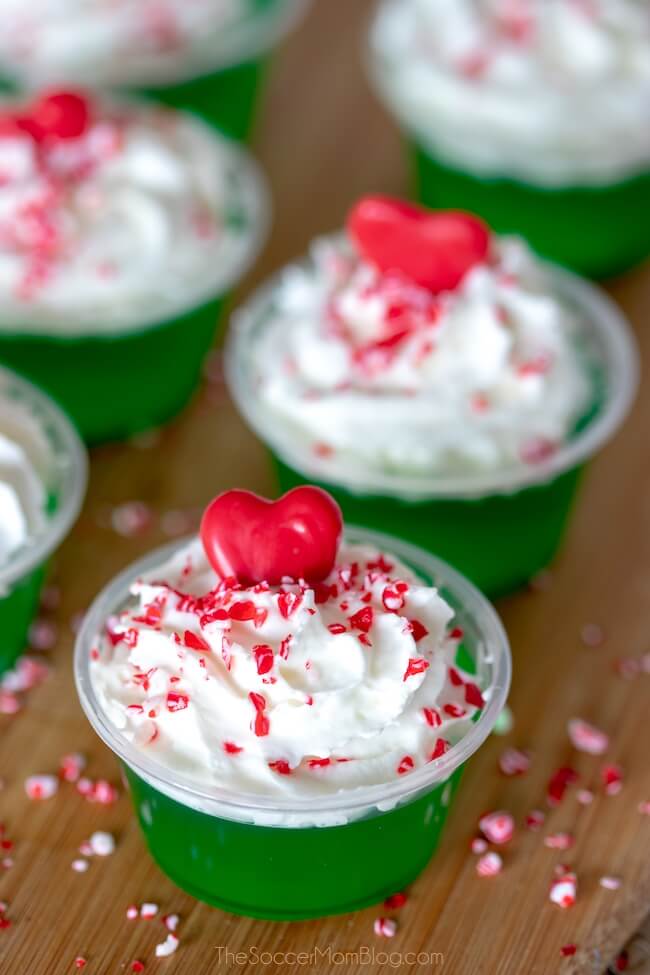 Jell-O shots!
I can't resist! Jell-O shots are super fun, super colorful, super refreshing. It won't be hard to create some Christmas-themed shots that everyone will love. They will be a fun party treat even if you leave out the alcohol. Here are some fun recipes I found:
Twinkling bonfire
Gather all of the fairy lights you have and get creative! Nothing says "magical holiday" like twinkling fairy lights. Why not stack a pile of wood in your fire pit and create a mock-camp fire by circling some logs with your lights? This will be a fun detail that everyone will enjoy once the sunlight dims a bit.

Turn your memories into decorations to enjoy in December
We all know that this year and this summer will be remembered for a variety of reasons, some of them that aren't necessarily "good." If you plan a Christmas in July party I urge you to really enjoy it and to do something that will help you remember it. Why not take your photos and have them turned into Christmas tree ornaments to use in December? Or take some silly photos to use for your Christmas cards? The fact that you've created a fun pandemic experience for those close to you deserves to be remembered!
Be Safe!
We hope that you will enjoy your Christmas in July party and that you do it in a socially-distanced way with just a small group of loved ones. Even a small group will enjoy a themed party and that chance to do something different during this long summer.