SASS Background
The Single Action Shooting Society (SASS) preserves and promotes the sports of Cowboy Action Shooting ™ and Mounted Shooting. SASS is a truly global organization; there are affiliated clubs in the United States, Canada, Australia, New Zealand, and Europe. Members share a common interest in preserving the history of the American Old West and competitive shooting.
Affiliated clubs host championship events at the local, state, regional, national, and world levels. All sanctioned matches follow strict rules and procedures to ensure safety and consistency in each competition.
 Cowboy Action Shooting ™
Cowboy Action Shooting ™requires contestants to compete with the same type of firearms used during the days of the Wild Wild West. Revolvers, rifles, and shotguns are used in the course of a competition and are staged in the "Old West" style. Timed events are encapsulated within a particular scenario, sometimes from a famous incident or scene from a movie. Contestants test their mettle against steel targets.
SASS Mounted Shooting
SASS Mounted Shooting combines elements of the old-time Wild West Show exhibition with elements of barrel racing, pole bending, reining, and many other equestrian skills, then adds single action revolvers and balloon targets to the mix. The events are timed and points are deducted for errors and missed targets. Scenarios include Old West 'stages' or special random patterns. Mounted Shooting is the fastest growing equestrian sport in the United States.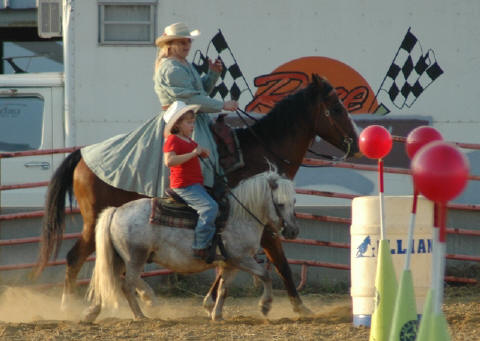 SASS Membership
Members of the Single Action Shooting Society participate in "The Spirit of the Game." This means contestants fully participate in the competition; dressing the part, using the appropriate competition tools, and respect the traditions of the Old West.
Members are required to adopt a shooting alias. The alias must a character from fiction or a profession from the Old West, or Hollywood Western film genre. It also can't duplicate or be easily be confused with another alias. This can be challenging, but the SASS Alias registry is updated daily to help new members.
Proper costuming is just as important as proper firearms at SASS sanctioned events. Once a member has an approved alias, a character develops. Members wear garments made in the Old West style that reflect their character's persona or personality. Recollections' Old West collection has many garments inspired by the time and culture.
Information and Photos:
Information for this article was gleaned from the Single Action Shooting Society website. Find out more about the SASS at: http://www.sassnet.com/.
Photos are from the SASS Facebook page: https://www.facebook.com/sassnet?fref=ts