by Donna Klein
At the beginning of World War I, women were still wearing hobble skirts, which allowed for very little freedom of movement. But, as women took to the workforce to fill the void of the men who were off fighting the war, it became evident that the style of the day was not conducive to the positions women were filling.
War Crinoline during World War I
During times of war, austerity measures included the amount of fabric used in clothing construction, but in 1915, fashion bucked the trend and the war crinoline was updated for the 20th Century. Hemlines went up for the first time and very full, bell-shaped skirts that fell to the mid-calf became popular. The skirts were so full that they required the wearing of petticoats underneath; something that had not been done in quite a few years! According to Edwardian Promenade, the favorite fashion slogan of 1916 was 'The war is long, but the skirts are short!' However, by 1917, the war crinoline was out as the sobering reality of the lingering war won out over the optimism of a quick end that was prevalent in 1915. But, the war crinoline is credited with helping fashion sever its ties to the 19th century.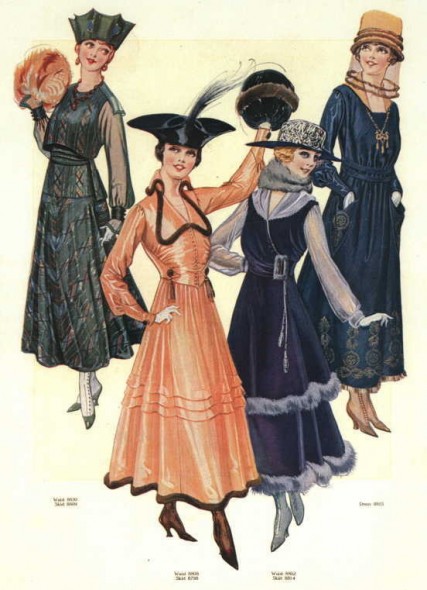 Pants!
Women also wore pants or 'breeches,' as they were known. There was a more relaxed attitude toward gender-specific clothing, as women often needed to dress much like men to do the jobs that needed to be done. Women were also participating in sports more by the mid-1910s, and fashion followed with the first one-piece bathing suits that were actually designed for swimming, although competitive swimmers were the first users. Skiing also went from a practical activity to a popular sport, and skirts were not practical for the sport. Women started to wear knee-length skirts over knickerbockers when they took to the slopes.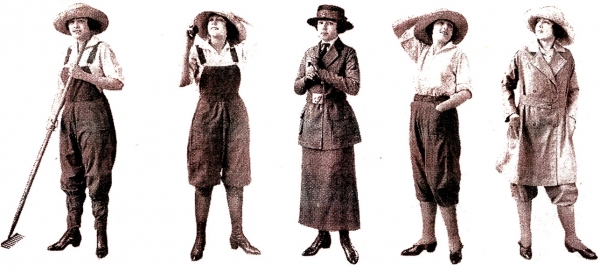 The Military Look
The military look became stylish around this time and was reflected in everything from ensembles to hats to outerwear. It was at this time that the trench coat was introduced using a chemically processed fine cotton gabardine that was originally used in for farm workers and approved for military use. The trench coat has enjoyed modest popularity since. It is very identifiable with its wide collar, extra fabric at the top of the back, epaulets, and a belt.
Sources
http://mentalfloss.com/article/56443/11-fashion-trends-world-war-i
http://hubpages.com/style/Women-and-Fashions-of-the-World-War-I-Era-Clothing-of-1914-1920
THIS is New York Fashion Week — as it might have been in 1915