Immerse Yourself in TeslaCon
Everybody likes a party, but Eric Larson, aka Lord Hastings Robert Bobbins III, Prime Minister of England, has taken the fan convention concept to a new level with TeslaCon. He was bored of the traditional fan convention and used his talents to reimagine the experience. Some fans refer to him as "the Disney of Steampunk." (Wimmer)
A Quick Primer
If you are not familiar with steampunk Josh Wimmer offered this description during a 2012 interview with Eric Larson for the Isthmus website: "an offshoot of science fiction that re-imagines the Victorian era as it might look and sound if everyone had access to futuristic technology. Gentlemen wearing top hats, tails and monocles, and also carrying laser pistols. Ladies flaunting corsets, parasols, and a cyborg arm… steampunk has myriad subgenres (gothic horror, Wild West, Civil War, etc.), and the whole point, really, is for fans to let their creativity run wild."
What Makes TeslaCon Different?
Eric Larson talks about this at the event's website. 'Layers of immersion' are used to tie each three-day convention together. It starts with a story and time period that is exclusive to each year's event. Everyone knows the story ahead of time; the actors, the crew, and even security conduct themselves in a way that "creates a sense of believability to take the immersion to a whole new level." Interaction is character-driven. Even the presenters have a part in the story and vendors are encouraged to participate.
In a 2012 Interview with Kellie Wirtz for the Wisconsin Sickness website, Larson described the experience as follows: "I want my patrons to feel as though they are in charge of their own experience and how they relate to the world I create." He certainly doesn't do it alone and is quick to thank all of the people who help to fulfill the vision each year.
Stories center around Lord Bobbins and how he confounds his nemesis, Dr. Proctocus. Past stories include '20,000 Leagues Beneath the Aether' (2011), 'Journey to the Center of the Earth' (2014), and 'The Wild, Wild West' (2015). This year's event takes attendees to Paris for the 'La Grande Exposition Scientifique.' It holds a lot of promise for a weekend that will not soon be forgotten. There will be music, and fashion, and tea, and dancing… lots of dancing.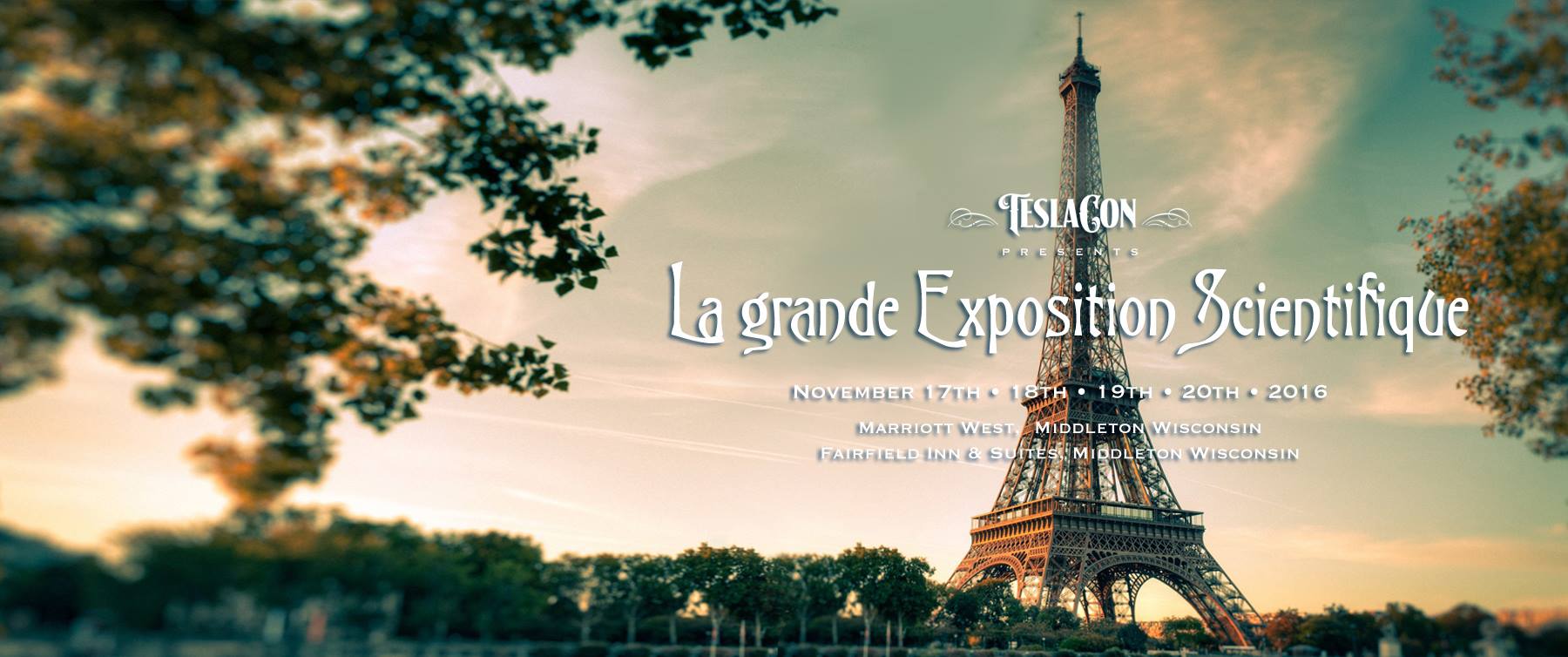 When and Where?
TeslaCon takes place the third weekend in November, which makes this year's event November 17-20. It takes place at the Marriott West and the Fairfield Inn & Suites in Middleton, Wisconsin. Tickets are reasonably priced and must be purchased by June 30.
What to Wear?
Here are a few suggestions from Recollections:
Victorian Lace and Taffeta Dress
– Donna Klein
Credits
"Steampunk Hands 2016 – Teslacon." Airship Ambassador. N.p., 19 Feb. 2016. Web. 21 June 2016.
"Immersion." TeslaCon. N.p., n.d. Web. 21 June 2016.
"Teslacon." Teslacon. N.p., n.d. Web. 21 June 2016.
Wimmer, Josh. "Party like It's 1899: TeslaCon Brings Steampunk Culture to the Masses." Isthmus. N.p., 2012. Web. 21 June 2016.
Wirtz, Kellie. "TeslaCon 3: An Interview with Its Mastermind Eric Larson."Wisconsin Sickness. N.p., 2012. Web. 21 June 2016.