Despite being the story of a man down on his luck who is contemplating suicide, It's a Wonderful Life is considered a feel-good Christmas film for all ages. While I think it has more adult themes than we give it credit for (the black and white tends to cast a quaint impression on a lot of grown-up content from the past), it is a holiday tradition that I think we should all keep. Its messages of doing good, forgiveness, starting over, and having hope are ones that I think are truly important at the end of each year.
I think that it is a film with a lot of substance. And like many Hollywood classics, it's got a fun history to it as well. It also has a bit of lore that has become a part of its story that isn't all that accurate. I have enjoyed learning about It's a Wonderful Life over the past few years and have some great conversation starters for you before you sit down to watch this year.
It is considered one of the best films of all time
As a lover of history, it is a delight to me to see so many classic Hollywood films still on the top of critic's lists of best films. And It's a Wonderful Life deserves to be on any list if you ask me. It's got a rich plot, immaculate set design, remarkable talent, and a character arch that any writer would strive for. It is considered to be one of the best films of all time by:
American Film Institute's 100 Years…100 Movies (it has made the list each year)
#1 on the American Film Institute's 100 Years…100 Cheers: America's Most Inspiring Movies
100 All-Time Greatest Movies by Entertainment Weekly (#6)
The 100-Best American Films by the BBC (#46)
Hollywood's 100 Favorite Films by The Hollywood Reporter (#20)
And more!
It was also highly acclaimed in its time, despite not being a box office hit (I will cover this below). In 1946 it was nominated for five Academy Awards including Best Picture.
It is a lesson in persistence (but it wasn't a "total flop")
Have you heard that It's a Wonderful Life was a "total flop" when it was released? While this has become a part of the lore around the classic film, it's not exactly the case. After all, "total flops" don't often end up being nominated for five Academy Awards. The real story is that it had just "fair" success the year of its release. This could have been due to it hitting theaters just five days before Christmas (I will never understand that). It ranked 26 for the year, not a flop, but not a massive success.
The slow-burn of the film from "okay" to "one of the best films of all time" is quite appropriate. From conception to finding it's way to AFI's top 100 films lists, It's a Wonderful Life is a story of persistence and of underdog success. The movie is based on the short story The Greatest Gift by Philip Van Doren Stern. When Stern failed to sell the story he made it into a 25-page Christmas card for friends and family. It ended up in the hands of David Hempstead, an RKO producer and (long story short), was purchased by the company.
As you can see, sometimes it pays to believe in your dreams!
Shot during a hot California summer (but not necessarily a "heatwave")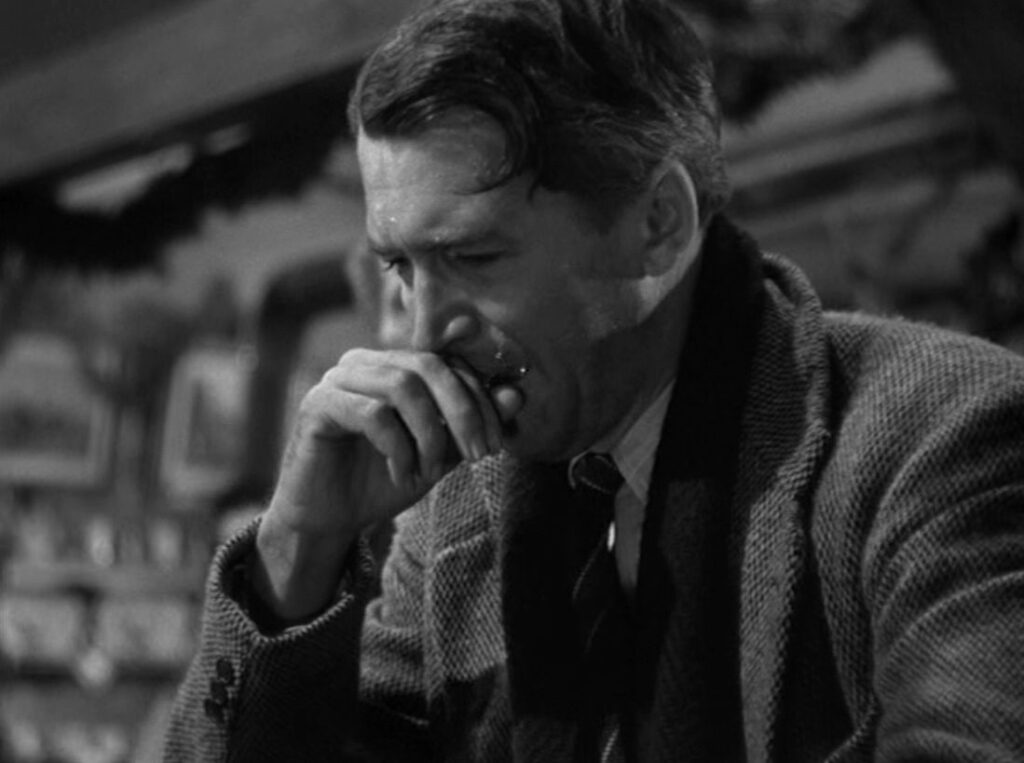 One of the many heart-wrenching moments of the film is when poor George Bailey gets to the end of his rope and contemplates ending his life by jumping off the bridge. Remember how much he was sweating as he cried about the state of his life and the rapid pile of bad luck that had come his way? I always thought it was for dramatic effect, but really, the film was shot in the middle of the summer in Encino, California. We're talking 90 degree days and a cast wearing winter clothing. So, yes, they were pretty sweaty. It is often said that director Frank Capra had to give the cast and crew a day off to recover from shooting in such conditions.
The damage was real!
Another iconic scene from the film is that of George and Mary enjoying each other's company after the dance. They go to what would become the "drafty old house" and flirt while trying to throw rocks through the windows. And of course, Mary aims high and breaks a window. AND – she really did. Donna Reed was a good shot, and special effects were unnecessary.
And the scene where George gets hit in the head by his pharmacist employer so hard that his ear bleeds (talk about "ouch!!")? I have read in many places that this was also true to life. The hits were real, and the blood unintentional.
I'm glad for child labor laws that would prevent such on-camera stunts today!

The Seneca Falls connection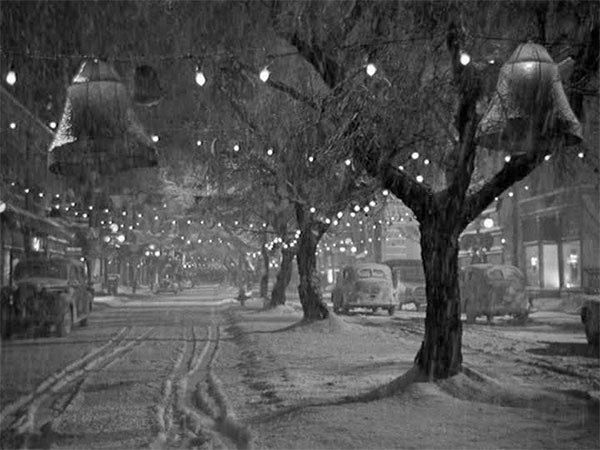 Our women's history enthusiast readers will enjoy hearing that Bedford Falls was inspired by the town of Seneca Falls, also the location of the famous 1848 women's rights convention. I have been to Seneca Falls and can absolutely see the resemblance!
While no official statement was ever made by anyone from the production company about Seneca Falls being the inspiration for Bedford Falls, those who believe it base their conviction on strong circumstantial evidence. The famous bridge is the same, the shop-lined streets are the same, it has the same winter wonderland feel to it in December, and director Frank Capra is known to have spent time there in the 1940s. So sure is the community that It's a Wonderful Life is based on the town that a museum exists to memorialize the film.
Will you be watching It's a Wonderful Life this holiday season?
More holiday reading:
Victorian cocktails: the Golden Age of mixology
The Fun History of the Poodle Skirt