by Donna Klein
continued from part 1 …
The Suffragette Gets Radical
By 1903, the women's suffrage movement saw a lot of talk but little action in Parliament. She left the ILP, and in October helped found the Women's Social and Political Union (WSPU), which was only open to women and focused on direct action (not just words). Its focus was to win the right to vote for women and they took some radical stands. On May 12, 1905, a bill for women's suffrage was filibustered, which led the WSPU to loudly protest outside of the Parliament building. Police had to be called in to force the protesters away from the building.
She was arrested for the first time in February 1908. She tried to enter Parliament to deliver a protest resolution to the Prime Minister. Charged with obstruction and sentenced to six weeks in prison, she used the time to observe and speak out about the conditions of her confinement. She saw getting arrested as a way to publicize women's suffrage. She was arrested seven times before women's suffrage was approved, oftentimes while she was speaking or marching in protest. Emmeline staged hunger strikes to improve conditions while in prison.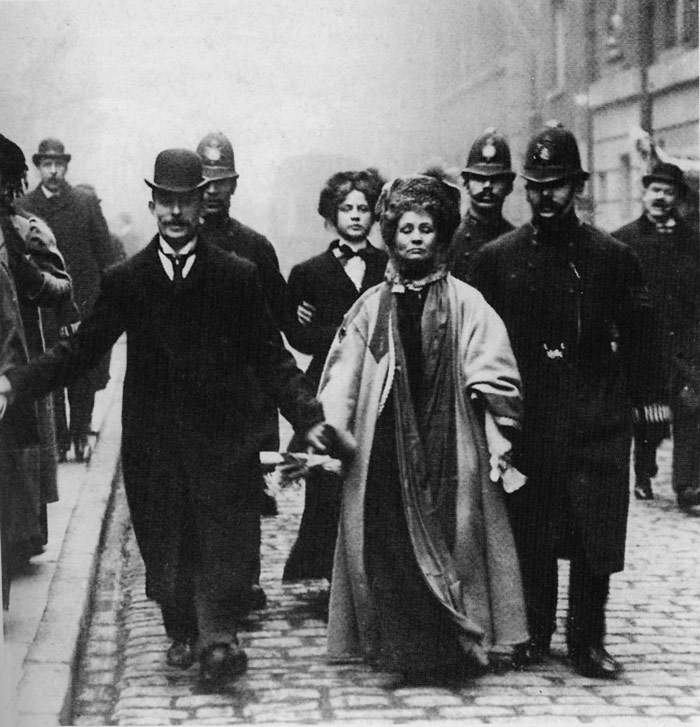 The WSPU protests grew increasingly violent; smashing windows, using acid to burn "Votes for Women" into golf courses use by Members of Parliament, and the slashing of Velasquez's painting, Rokeby Venus, as a protest against Pankhurst's imprisonment. However, when World War I began in August 1914, Emmeline and her daughter, Christabel, persuaded the WSPU to halt all militant suffrage activities, as they considered the threat a danger to all humanity and the British government needed the support of all of its citizens. This resulted in the release of all WSPU prisoners, and the organization worked on behalf of the war effort.
In 1918, the Representation of the People act granted voting rights to all men (previously, men had to prove they were paying rent or owned property in order to vote) and granted voting rights to women over the age of 30. Emmeline and her daughter, Christabel, formed the Women's Party, which was only open to women. The party worked for equality in other areas such as marriage laws, equal pay for equal work, and equal job opportunities for women.
Emmeline Pankhurst joined the Conservative Party in 1926 and ran as a candidate for Parliament two years later. She cited her war experience and her experience in the United States and Canada as a public speaker for her change in views. Years of touring, lectures, imprisonment and hunger strikes led to ill health and she had to abandon her campaign. Emmeline died on June 14, 1928, at the age of 69.
This is just the tip of the iceberg of the Emmeline Pankhurst story. She helped women see that they are half the population in the world and inspired them to be strong and relentless in their efforts for equality. She gave women a voice that resonates to this day. Although the movie "Suffragette" is a fictionalized story that highlights women's struggle for equality, it provides a glimpse into this brave woman who stood up to the status quo and refused to back down.
Credits
Information for this post was gleaned from:
http://www.biography.com/people/emmeline-pankhurst-9432764
http://emmelinepankhurst23.blogspot.com/