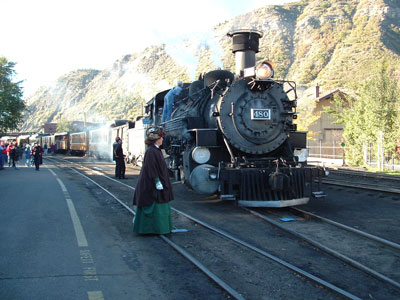 The mountain air is crisp in the early October morning and we can see our own breath as we make our way into the historic train station in Durango, Colorado. Today we (about 200 Victorian-clad time travelers) will board a special run of the Durango and Silverton railroad as one of the events during the three-day Durango Heritage Celebration. A small group of us have reserved seats aboard the "Nomad Car", which is the most elaborately-decorated car on the train. The tourists are going a bit crazy with their cameras, as the entire depot is being taken over by folks who look as though they have stepped out of the last century. At small table located just outside the depot a line of passengers are busy buying "gold" dollars. Those who have been here in prior years know that our train is likely to be robbed during our trip, and the gold dollars will go into the train robber's bags. Proceeds from these "stolen goods" will later go to support a local charity.
The huge black engine is already in place, and billows of steam erupt into the cold air as the engine warms up prior to our departure. Top hats, Stetsons, and elaborate bonnets of all descriptions top off talmas and frock coats, and an excited mood of anticipation energizes the crowd waiting to board the narrow-gauge train. Finally it is time, and everyone moves toward the cars as calls of "All Aboard!" carry across the length of the station. Uniformed conductors stand by at the small portable steps at each car, ready to assist ladies carrying carpet bags and managing long skirts as they climb aboard.
Once we settle into our car, we have time to admire the elaborate appointments. Drapes of red velvet edged with gold tassels are elaborately arranged at the windows, and small oil paintings adorn the dark-paneled walls. Everywhere brass hardware is shined to a rich finish. We introduce ourselves to fellow travelers in the car, and get skirts and carpet bags settled so everyone has space on the velvet-covered seats. Soon, the train starts to move and gently rock from side to side as we pull away from the station. Because of how close the train's wheels are to each other (narrow gauge) this rocking is at first slightly alarming. Soon, however, this rocking motion becomes part of the overall experience.
Almost immediately all evidence of civilization is lost behind us and we are traveling through woods and fields carpeted in deep green. On this particular morning, we round a long curve and discover we are near a wide river, and a deer is swimming across it. We all watch as he makes the furthest bank, and climbs out dripping onto the shore. We are so entranced with the scene that none of us remembers to pull out our cameras. Suddenly wild yells and gunshots shatter the peaceful scene, and out the windows we watch as a half-dozen riders brandishing guns overtake the train and force it to stop, as we are boarded by train robbers! They come through each car, waving guns and collecting "gold" from the passengers, who are all anxious to comply.
After the robbers de-train, we are once again on our way. Normally this run would take its passengers clear to Silverton, but for this special ride, we only travel about 20 minutes before it is time to turn back for Durango. The entire train is run onto a siding, and we soon see our engine go back past us on the other rail. After coupling back to what had previously been the last car, we start our return trip back to the Durango station. The magic lasts until we de-train and step out of the depot and back onto the main street in Durango. I later discover that one of our friends has kept one of the gold coins from each year that they have made this trip, and resolve that I too will keep a memento when we attend this October!