Memories of a Tea-Time Tradition
As we've been looking at the history of tea and how the tradition of tea time started, I was reminded of a time when I was a young girl some decades ago. My little sister and I would often visit with our neighbors, the Walker sisters and their father. Miss Anne and Miss Lillian would invite us for 'tea' on the front porch and a walk through the rose garden. We didn't realize the roots of this little 'ritual' at the time, but I suspect our tea time was something that was passed down from their grandmother, a woman of the Victorian era, to their mother, who passed it along to them. Since summer was when the roses were in bloom and the time when we could linger for as long as they wanted to entertain us, these are quite fond memories.
Since my sister and I were too young to drink tea, our summer afternoon tea often included ice cold lemonade, but the Walker sisters often drank their tea hot and strong, saving iced tea for only the warmest of days. The table was always covered in a fine white linen and lace. At the center, freshly cut yellow roses (for friendship) stood tall and proud in a crystal vase; their delicate fragrance wafting on the breeze. There was always something sweet and something savory to accompany our liquid refreshment, too. We were never required to dress up for our afternoon gatherings, but Miss Anne and Miss Lillian wore pretty dresses with floral designs and simple, but elegant jewelry.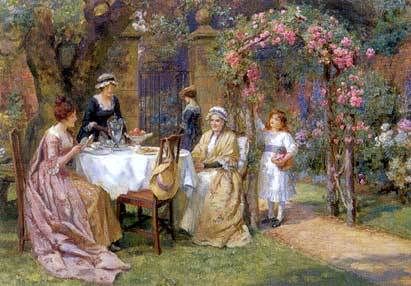 Fast Forward
Summer is a great time to host a Victorian tea party. Even with modern twists, many parts of a traditional Victorian tea can be retained. Handwritten invitations are a nice touch and a nod to tradition, but are not essential to hosting a successful tea. Traditional foods, whether sweet or savory, did not take healthfulness into consideration, but a mix of good and 'naughty' foods should be able to help you strike a balance that is tasty. Above everything else, it is a social occasion that is centered around the drinking of tea!
Victorian Tea Goodies
Here are links to a few recipes that would be right at home at a Victorian tea today.
Cucumber Sandwiches (What's Cooking America)
Watercress Tea Sandwiches (What's Cooking America)
The above recipes also include a great tip on successfully making your sandwiches ahead of time!
Cherry Scones (What's Cooking America)
Almond Cakes (cookies) Godey's Lady's book 1863 (The Pantry)
Our Victorian Styled Ensemble is a perfect fit for a summer garden tea party!
Let's bond ladies, over tea!
–  Donna Klein