The Founding of the Loudoun Ballet Company
Less than 30 miles from our nation's capitol is Loudoun County, Virginia. The county was carved from Fairfax County in 1757 and named for the Fourth Earl of Loudoun, John Campbell. Today, the county the third most populous in the state of Virginia, but it has retained its picturesque charm. The Loudoun Ballet Company calls Leesburg, the county seat, its home.
The Loudoun Ballet Company is the first regional youth ballet in the area, founded in 1978 by former Artistic Director, Sheila Hoffmann-Robertson. Ms. Hoffman-Robertson formed the company so her students at the Loudoun School of Ballet would have regular opportunities to perform in front of audiences. The Company incorporated as a non-profit performing arts organization in 1988, which allowed for growth not possible as a privately funded entity.  In 994, the Company transitioned to professional status. Today, the Loudoun Ballet Company is gaining both national and international recognition.
The Loudon Ballet Company Today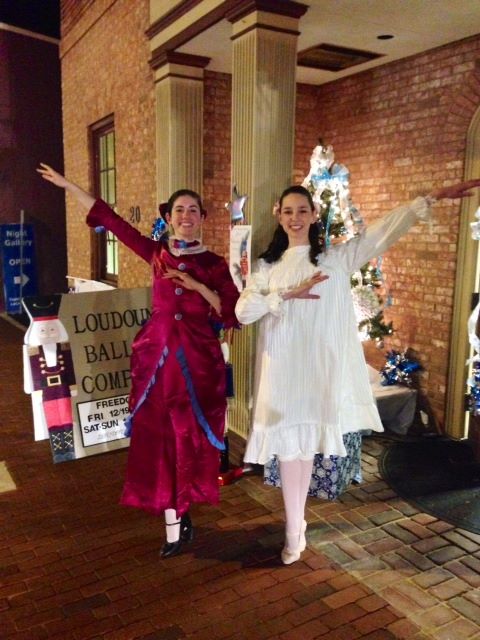 The Company continues to thrive under the guidance of Artistic Director, Maureen Miller. Its vision is to develop, support, and nurture classically trained dancers by offering them a professional dance experience. The Company not only offers a professional dance experience regionally, but also nationally and internationally through touring. The young dancers receive practical theatrical experience in a professional dance environment.
The Loudoun Ballet Company's season is nine months long, running from September to May.  Each season begins with a children's story ballet. The Nutcracker is performed each winter. A full-length ballet performance is presented each spring. The Company holds open auditions each spring for youth age 13 through 19. Dancers must be enrolled in a minimum of five hours of dance classes each week and have at least two years of pointe experience. An Apprentice Program began in 1998 to offer aspiring ballet dancers an opportunity to develop the required technique and performance skills to pursue a professional career in ballet. All members of this program are upper-level students from the Loudoun School of Ballet.
If you live in the greater Washington, DC area, or are fortunate enough to have this talented group of young people visit your area, consider taking in a performance of the Loudoun Ballet Company. This talented group of young people appreciate your support!
Credits
Photos are courtesy of the Loudon Ballet Company; http://www.loudounballet.org/
Information gleaned from:
Loudoun Ballet Company; http://www.loudounballet.org/
Loudoun Ballet Company Presents "The Nutcracker"; http://www.leesburgtoday.com/community_life/loudoun-ballet-company-presents-the-nutcracker/article_35bb84c6-20f7-11e1-9712-0019bb2963f4.html
Loudoun County, Virginia; http://www.loudoun.gov/