Oh, what fun it is to sit down with a good period drama. Downton Abbey, Somewhere in Time, My Fair Lady, Hello Dolly, Anna Karenina, etc. all provide glimpses into what was worn during their respective time periods. But, what about contemporary cinema of the day? When film was a new medium, many contemporary movies depicting everyday people were made. Archive.org is a wonderful place to find public domain movies from the dawn of the technology. Here is a sampling.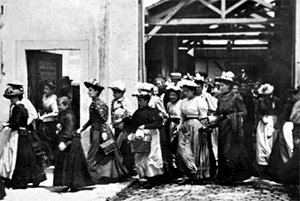 Auguste and Louis Lumière invented the first commercial projector in 1895. By the end of the year, they presented the first public screening of a motion picture in the first movie theater, the Salon Indien in Paris. Many of Lumière's first films were documentaries depicting everyday life. (AMC Filmsite) Archive.org has more than an hour of Lumière films from 1895 to 1905 strung together with a pleasant soundtrack. It is interesting to see what factory workers and other everyday people wore and how they interacted.
Edwin S. Porter was an early filmmaker. He made a series of comedy shorts that were one part story and one part travelogue. Rube and Mandy at Coney Island is a funny sample that depicts the couple in various places around the iconic New York landmark. Steeplechase Park, Luna Park, and a side trip to the Bowery are featured in this 12-minute short film. If you want to see what everyday people did for fun and what they wore when they having it, this is a sweet little gem.
Before Hollywood was Hollywood, film companies started moving to the area in 1910. Around the same time, movies were being made in New York and New Jersey. Alice Guy-Blaché was a pioneer in the field. She was the first woman to own and run her own film studio. Solax Company Studio operated out of Flushing, New York from 1910 to 1912. The company operated out of Fort Lee, New Jersey from 1912 – 1914. (AMC Filmsite) Her film, Falling Leaves, from 1912 is loosely based on "The Last Leaf" by O Henry. There are plenty of opportunities to observe what everyday people wore during this time period.
Recollections is inspired these early filmmakers and their ability to bring a slice of contemporary life during the late Victorian era and forward to us more than 100 years later! Visit our catalog to take a look at our inspirations!
– Donna Klein