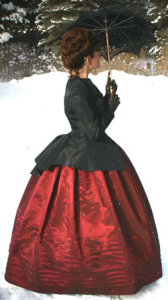 Winter seems the favorite time for Dickens Fairs and other Dickens-themed events. Who does not have the image of rosy-cheeked Dickens carolers, gathered in the soft glow of a gas lamp on a snowy evening while they sing lovely carols from long ago? If you are attending one of these events, and would like to add to the "flavor" of the period, then please consider dressing the part. Even if you are not a paid performer, everyone who gets into the proper spirit of the costuming makes the event that much more special to everyone attending.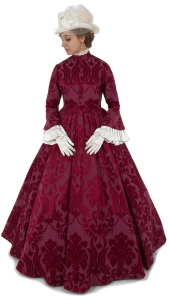 Charles Dickens's writing spans most of the mid-to-late 1800's, which puts the clothing styles of the period solidly within the Victorian, as Queen Victoria reigned from 1837 until 1901. As might be imagined within a 60-year period, clothing styles – especially for ladies – saw several distinct styles come and go. Dickens-themed events usually target the period when the high empire waist of the Romantic era had passed, but the iconic bustled style had not yet emerged – about 1842 to 1863. The "sweet spot" for setting the stage for a Dickens period event includes fitted bodices paired with very full long skirts supported by hoops or full petticoats for the ladies. For gents, a high-collared shirt, worn with a bow tie or puff tie, pants with suspenders (braces attached to the pants via buttons), and a frock coat with a top hat should do nicely. Spats worn over the shoes for both ladies and gents are a nice touch as well. Since most of these events take place in winter, everyone should feel free to add a scarf, shawl, bonnet, and mittens to their attire to complete the look.
Recollections offers several options if you are planning to "dress in the period". For example the Lady Anne Gown would work nicely – especially made up in lush jewel-toned damask. The Tempest Ensemble offers simple lines and great detail with velvet cuffs and collar adding to the winter feel. Also, go to the "Civil War Ensembles" to find many suitable dresses, including the elegant "Black Taffeta Jacket and Skirt", or the fringe-trimmed plaid "Piper Ensemble". Almost any choice you make from this category will fit right in! Recollections also can help outfit your gent; just go to the "Menswear" pages, and put your guy into a high-collared Jasper Shirt, a Puff Tie, a vest, and our Emerson Frockcoat, and he will be turning all the ladies' heads.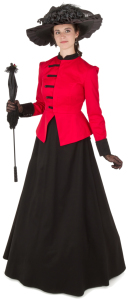 If you want to make your own attire, consider some of the offerings from Truly Victorian (www.trulyvictorian.com) Look in the pattern catalog at "Romantic and Civil War Patterns". You will find several options for bodices and skirts that you can combine to make your outfit unique. Just remember to keep it very modest – a low-cut ball gown bodice is not the look you want.
Looking for someplace to attend a Dickens event? If you are on the West coast, you simply must look into "The Great Dickens Christmas Fair and Victorian Holiday Party", which will be held November 22nd through December 21st at the Cow Palace Exhibition Halls in San Francisco http://www.dickensfair.com/general/general-information. They also have a wonderful section on costuming guides to help you fit in seamlessly to the event. The costume guide is at http://www.dickensfair.com/involved/vendors-performers/costumeguide. On the East coast, please consider the Holly Dickens Festival in Holly, Michigan. This one will be happening on weekends starting November 29 through December 14th where this festival has been delighting visitors for over 30 years. If you can't make it to either of these events, you can look online for a Dickens Festival where you live. So get set, have fun, and send us your pictures!