The Origins of the Tournament of Roses Parade
What do you do when the "flowers are blooming and the oranges are about to bear" and it's cold and snowy in Chicago and New York? Well, if it is 1890 in southern California, you have a "festival to tell the world about your paradise!" – Charles F. Holder (Rose Parade)
The first Tournament of Roses Parade was the brainchild of Professor Charles F. Holder and Frances F. Rowland of Pasadena's Valley Hunt Club. They wanted to promote Pasadena as a place to live and play to their friends on the northern East Coast. The inspiration came from the Nice Carnival in France. It featured a battle of the flowers and the men thought a similar event would "highlight the city's Mediterranean climate and perhaps encourage a new wave of health and leisure-seekers." (The Rose Parade's Aristocratic Origins)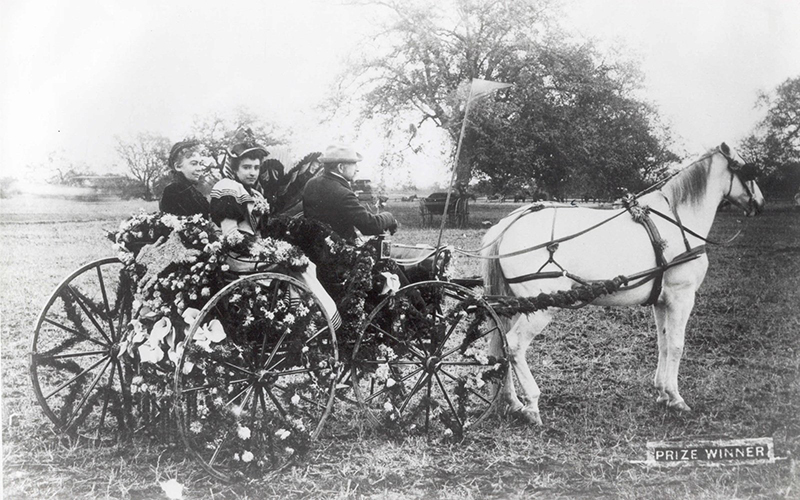 Holder was a California transplant from Massachusetts who was a passionate naturalist. It's only natural that he would bring us an enduring legacy of flora and fauna through the Rose Parade. He was president of the Tournament of Roses Association from 1890-1891 and the parade's grand marshal in 1910. (Charles Frederick Holder) Rowland was the first grand marshal.
The first Tournament of Roses Parade was a lot different from the one we enjoy each New Year's Day (unless January 1 falls on a Sunday). The first 'floats' were horse-drawn carriages that were decorated with freshly clipped flowers from members' home gardens. (The Rose Parade's Aristocratic Origins)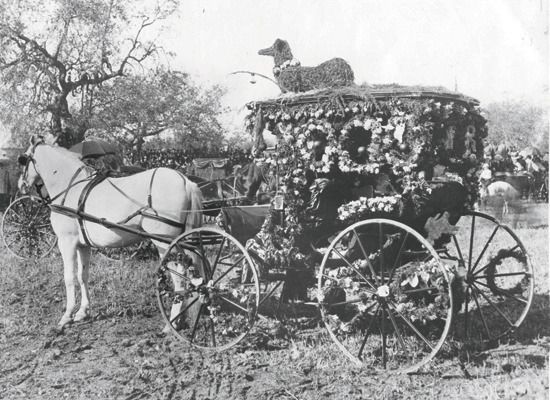 Following the parade, members enjoyed an "afternoon of chariot races, jousting, foot races, and tug-of-war." (Rose Parade History) Other events included a bicycle race, polo played on burros, and an orange race where "contestants raced down a line of fifty oranges, spaced two feet apart, and put them one by one into a basket." (The Rose Parade's Aristocratic Origins)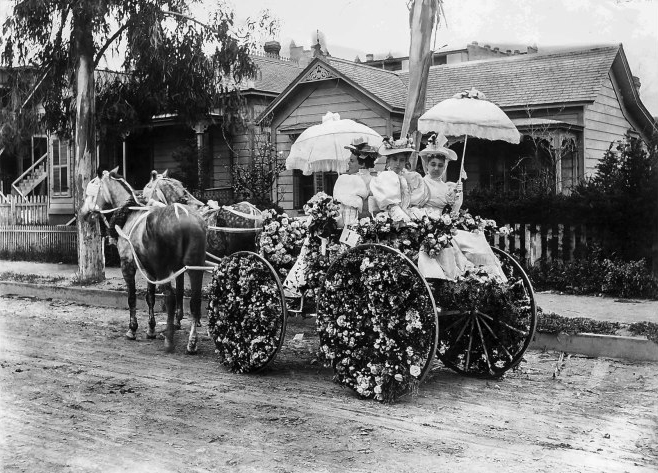 Why is the parade held on January 2 if New Year's Day falls on Sunday?
The exception to the rule started in 1893 because the organizers neither wanted to disturb horses hitched outside Sunday church services nor the parishioners worshipping inside. The tale relates that this agreement with God assures that rain will not spoil the parade and the ensuing events. Although it has rained on the parade in the past, it is truly a rare event. (An old rule may save the Rose Parade from getting rained on)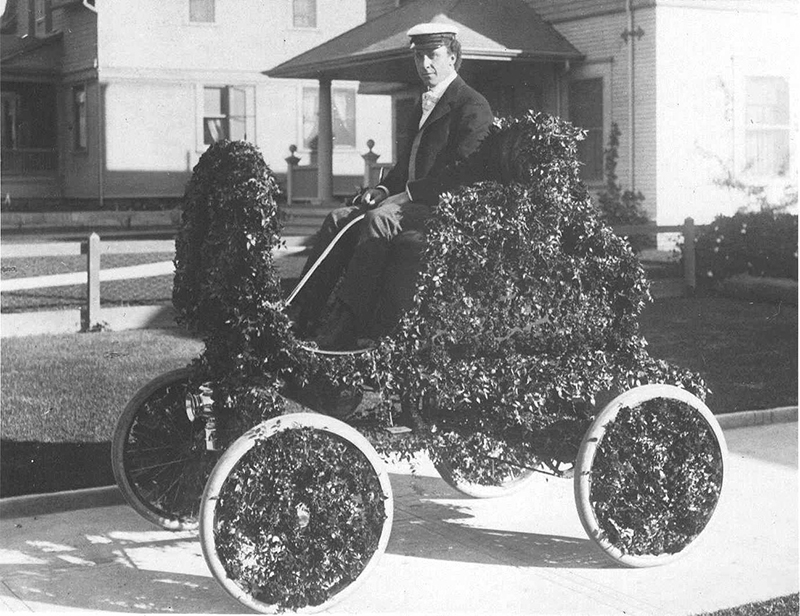 The tradition grows
The parade quickly added marching bands and motorized floats. The Pasadena Tournament of Roses Association was founded in 1895 as the event grew too large for the Valley Hunt Club to handle. It wasn't too much later that reviewing stands sprouted up along the parade route.
The first football game associated with the parade was played in 1902 (known as the "Tournament East-West football game"). It is thought of as the first Rose Bowl even though the next game wasn't played until 1916. The game has been played each year since then. (Rose Parade)
The Tournament of Roses Parade has been a staple of New Year's Day every year since 1890. It endured the Great Depression and gave hope during World Wars I and II. How many floats, equestrian units, and marching bands will be in the 2020 parade? I guess we'll have to watch to find out!
Want to see more fantastic photos from the early years of the Tournament of Roses Parade? Check out Before the floats: Carriages of the Rose Parade.
When you're watching on New Year's Day, watch for the contingent representing the centennial of Women's Suffrage. You'll see some Recollections fashions and suffrage sashes on display! Honora is one of our most popular suits for suffrage events.
Featured photo credit: Jan. 1, 1915: An ostrich named Cloudburst pulls Virginia Moon in her L.A. Ostrich Farm entry in the 1915 Rose Parade. (Los Angeles Times)