Where to start? I have just returned from this year's Costume College, put on by the Costumer's Guild West, and held at the Warner Center Marriott in Woodland Hills, California. Nearly 400 attendees, dressed in every type of costume imaginable (and some highly unimaginable) gather each year at the end of July. We come to teach, learn, share, create, and display all things related to transforming ourselves from everyday people into characters, creatures, and players on every stage possible. It is difficult to explain just what Costume College (or CoCo to the initiated) is, and I usually just give them the current schedule – a lovely bound 77-page book – which lists the classes and events presented and let the contents shed light on the annual 4-day experience.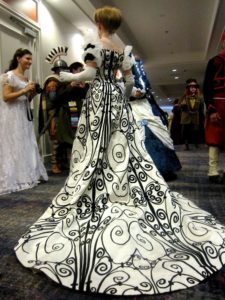 On one level, Costume College is social, with special events scheduled throughout the days the college is held. There is always one main theme – this year it was "Counter Culture", which featured all sorts of historical rebels. On Thursday evening, the theme for the pool party mixer was "It's a Mod Mod Mod Mod World!" (a nod to the bonus track, or sub-theme of "The 60's"). The Friday night social was titled "Run Away to the Circus", where costumed characters dressed as weight lifters, clowns, and fortune tellers, ringmasters, and even a furry lion. Before the gala on Saturday night, many participants hit "The Red Carpet" to show off their outfits. Even if one is not attending the dinner gala, everyone is welcome to be announced and be seen and photographed. The Saturday Gala was titled "A Midsummer Night's Fantasy " – a dinner and dance populated by people in truly fabulous costumes. The room was full of all sorts of Shakespearean nymphs, dryads, faeries, and woodland sprites. One lady was dressed in a show-stopping reproduction of a Worth gown, which included miles of hand-applied braid in black against a white background. Another lady was dressed as a peacock with a huge tail that could be raised into an enormous fan or left folded to trail behind her as she moved. One costumer was dressed as the Bard himself. Sunday morning brought "Breakfast with an Artist", where some appeared in their smocks and berets, while others came as works of art themselves. Sunday afternoon saw the "Steampunk Explorer's Tea", which was populated with a large array of erstwhile time travelers. Entertainment was provided in true Victorian style by a lovely soprano, accompanied by a gent playing the piano, as she sang several tunes including one of the new (and very risqué) songs by Mr. Scott Joplin.
But dressing up for the various events is hardly all – or even most – of the event that is Costume College. Each year some 150-plus classes are offered covering a seemingly impossibly wide variety of topics. Everything from mundane-seeming sessions, like how to sew a tiny hem on sheer fabrics, or how to properly press a garment under construction, to the more exotic making armor for your next cosplay outfit, or how to launch your own costume/crafting business. All sessions (many of them are free of charge) are offered in the form of lectures and workshops throughout the four-day event. I attended a class on making a mockup hat form using craft paper – the instructor made a complete mockup of a Civil War period hat – and then showed how to modify it – in less than 20 minutes. I also attended a class on using an embroidery machine to embellish period costumes. Both have inspired me to come home and give the new techniques a try. Almost without exception, the quality of the instruction is first-rate, with many instructors providing hands-on workshops or wonderful handouts that include suppliers for materials as well as techniques.
In addition to dressing up and attending classes, the Costumers Guild West also provides many opportunities to help out by letting attendees volunteer to staff the information desk, check tickets at various events, and fill in wherever an extra pair of hands are needed.
Costume College also offers opportunities to teach. This was my third year to attend, and my second to be an instructor. This year, I did one workshop on making a "beaded bead" hatpin or pendant, and another on how to construct a buckram hat frame. While the guild is careful to stress that this is not an opportunity to make money (instructors are encouraged to keep class fees low), the teaching experience is very rewarding. Students who come back later to tell you how much they enjoyed the class, or how much they love their new hatpin, make the entire experience completely satisfying.
While the vast majority of attendees are women, many men also participate in Costume College. This was the first year that my husband – after hearing me rave about CoCo for two years – decided to attend. As we made the journey from Prescott, Arizona to Woodland Hills, California I was a bit concerned about how he would like the experience. I didn't need to worry, as Dale is a jack-of-all-trades kind of guy, and quickly fell into the rhythm and excitement of the weekend. I believe the highlight of the event for him was when one of the folks who run the college told him that she would love to see him come back next year to teach making Steampunk costumes and accessories, after seeing his outfit at the Steampunk Explorer's Tea. I believe he has caught the 'bug' and is already planning accessories and costumes for next year.
For those who are interested in seeing what all the excitement is all about, it is not too early to look into the Costumer's Guild West. The web address is http://costumersguildwest.tumblr.com/ I would recommend joining the Guild, as the annual membership fee of $30 will save you twice that amount on the enrollment fee for next year's Costume College. An additional benefit is getting "Squeals", their monthly newsletter. If you are fortunate enough to live anywhere near Los Angeles, the guild participates in dozens of events each month. For example, they participate in literary presentations, private museum tours, and Japanese and English teas. All of these events offer opportunities to wear you historical, sci-fi, or fantasy costumes. I hope to see you next year at Costume College!
– Sue MacDonald