In our continuing celebration of the holidays, we're inviting you to participate in our 'Caption This!' New Year Greetings 2017 contest. New Year greetings were very popular during the Victorian era and they were downright weird, sometimes! We compiled 10 vintage New Year greetings for you. Have fun and Happy New Year from Recollections!
Rules
Caption one or caption as many as you would like. You don't have to caption each photo to win.
One winner per greeting.
You can only win once.
Each winner receives a $50 gift certificate (not including tax and shipping, if applicable).
Please note the photo number with your caption in the comments section below.
Please include your first name and last initial, and your city, state/country.
All comments are moderated before being posted to the blog.
We're looking for funny captions in Victorian vernacular that can be easily shared in a public forum (keep it reasonably clean, please).
Contest ends on January 3, 2017, at midnight (Eastern Standard Time).
If there is a tie, names will be placed into a random drawing to determine a winner.
Winners will be notified by email.
1. Children decorate for the holiday

What are they thinking? What could they be talking about? Choose from one or engage in conversation…
2. Cherubs as bartenders

The moon is smiling… is that because this isn't the first bottle of champagne? What else could the moon be thinking? What could the cherubs be thinking?
3. Bee rampage!

This is a joyous new year? What are the children thinking? What about the bee?
4.  Out with the old and in with the new
What is Old Man Time thinking or maybe saying to the Baby New Year? What does the baby think of all of this?
5. Hunting down the new year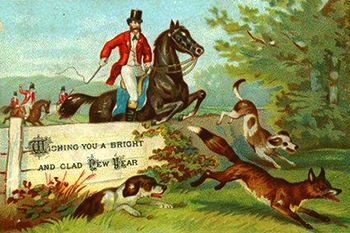 What a way to start the new year!?! Caption the dogs, the fox, the horse, and/or the man!
6. Old man moon and the cherubs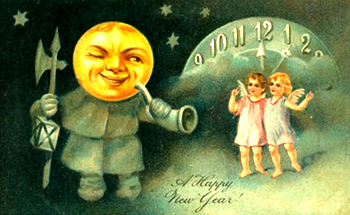 With a twinkle and a wink, what kind of advice could old man moon have for the new year cherubs? What are the cherubs thinking of all this?
7. Winter birds
What are these birds talking to each other about? What are they thinking?
8. Man wakes up to a boy on his knee
What would you think if you woke up this way?
9. Have a piggy new year!

Bah, humbug! Who cares about the new year?
10. A beetle looks to the future

Perhaps, this one is the creepiest greeting in the lot…
In Conclusion
Remember that comments are moderated so check back to see everyone's captions. Don't forget to tell us the number of the photo(s) you are captioning. And lastly, include your first name, last initial, and where you are from. Have fun!
– Donna