100% Satisfaction Guarantee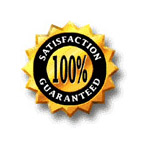 We want you to be 100% fully and completely satisfied when you do business with us. Whether you are a first-time customer, or a loyal long-time customer, we want you to order from us with confidence.
Recollections makes every effort to assure that the products we sell are of high quality materials and workmanship and that our customer service is exceptional.
With the exception of the crinolines, hoops, boots and some accessories, all products have been designed by Recollections and made by the employees of Recollections. We have been designing and making historical clothing for almost 30 years and take pride in our work and ability to make our customers happy.
We're not perfect (although we keep trying). If we make a mistake, tell us, and we will do everything in our power to make it right for you.
And if for any reason you are not 100% fully and completely satisfied with your purchase of any of our garments or accessories simply contact us within 10 days of receiving your order.

We will replace any item for you, or refund your full purchase price – your choice. Click here for return instructions.
Our customer service professionals are ready to help. Call us at 1-800-452-5925 Monday through Friday 8am – 4pm Eastern Time or email us at sales@recollections.biz.
What our customers say:
Hi Susan,
I was so excited about my beautiful new clothes from Recollections that I couldn't wait for a special occasion to wear them. I've already worn the white batiste blouse and red twill vest with my black jeans and boots. I received compliments all day long on both the blouse and vest. Tomorrow is my day to work at the San Antonio Stock Show and Rodeo. Our booth is next to the Wild West Shootout and I can't wait to show off my outfit with the twill skirt and petticoat. I can't wait to dance in that dress! When it's time to go in to the rodeo and concert, I'll trade my skirts for black jeans and still make a statement.
I appreciate that the garments are very well-made, I am impressed with the quality and workmanship of every piece. The Ladies did a wonderful job!
Best Wishes,
Tammy

More testimonials from our customers.

BBB Reliability Report for
Recollections Inc.
A BBB Accredited business since 02/21/2006
BBB Rating A+