Are you planning on sending Valentine's this year? I am of the opinion that Valentine's Day is for everyone, not just lovers. Getting a pretty Valentine from a friend or family member is such a fun surprise and a great reminder that someone is thinking about you. If this sounds like something you might enjoy doing, do you know what you are going to say? And would you change what you said according to someone's profession? Manuals like Richardson's New Fashionable Lady's Valentine's Writer and Richardson's New Fashionable Gentleman's Valentine Writer provided scripts for Valentine's cards that took the guessing game out of the task.

Richardson's manuals provide great insights into a society largely separated by class and social status, with much assumed about a person based on their profession. They provide scripts for both crafting a letter on Valentine's Day and also how to respond to one, depending on how one felt about the person. They suggest that being clear on one's intentions was highly prized, but that tact and open-mindedness might not have been.

From how to approach a milliner to how a butcher should write Valentine, Richardson's New Fashionable Lady's Valentine's Writer and Richardson's New Fashionable Gentleman's Valentine Writer are both specific and humorous.
Before you start to write you Valentine's this year make sure to take a look at these Regency guides.

Today we will look at how men were instructed to approach women in the 18th century, according to their profession. Next week we will take a look at the expectations of Regency females on the holiday.
A Gentleman's Guide to writing a Regency Valentine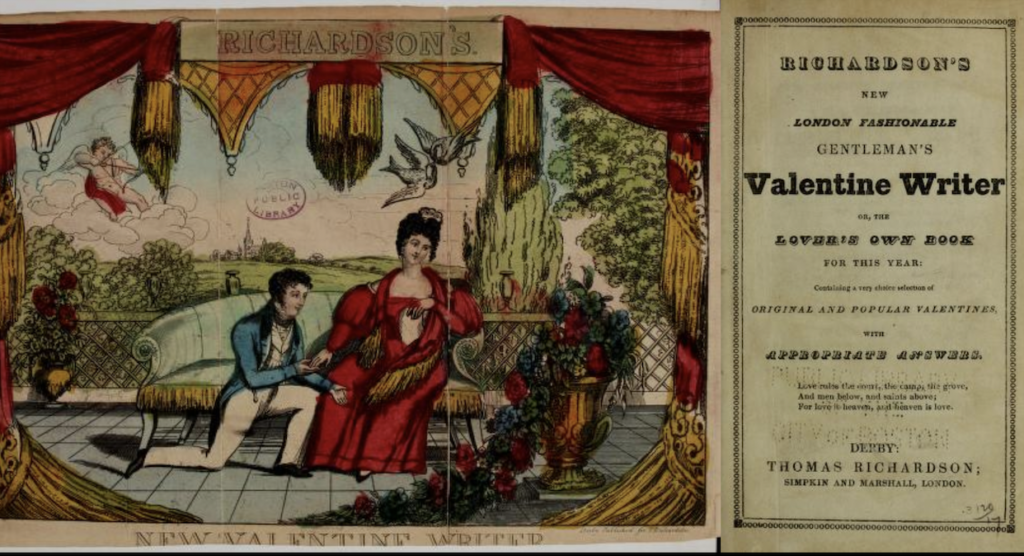 Richardson's New London fashionable gentleman's valentine writer, or, The lover's own book for this year : containing a very choice selection of original and popular valentines with appropriate answers was published in 1828. I have not yet been able to find much information on author Thomas Richardson himself, but clearly, a lot of effort went into composing the various scripts found in the pages of this charming book on Regency Valentines.
It is hard to know how closely the scripts were followed or how seriously the manual was taken. As we saw in Flirting With a Hand Fan, some courtship-related guides published in the 18th and 19th centuries were intended for novelty use. Even if that is the case, the unapologetic guide to writing Valentine's shows that there were strict expectations for people depending on their class or social status.

Here are some of my favorite scripts from Richardson's New London fashionable gentleman's valentine writer.
From a Gentleman

Think not I love with feeble flame;
Think not my love untrue
And think, if I am aught to blame
In too much loving you
To a milliner

Note: This is one of the few scripts for writing to a woman according to her profession. This is obviously because it was one of the few visible female occupations in the early 1800s. It is a letter to a seemingly innocent milliner seething in hatred. This led me down a bit of a rabbit hole trying to figure out what the perception of milliners was at the time. I wasn't able to determine that there was an overly negative one, though one article I read suggested that they were associated with the working class and middle-class distress about women taking men's jobs.

Forgive me, pale Miss, if you think I am rude,
But your mein and you manners declare you a prude;
With finicking fingers you coil up the lace,
Your caps and your ribbons, with ill-contriv'd grace;
O! Who but a fool would e'er venture to take,
For a bride such a trumpery gingerbread cake;
Yet whose humble conceits, without twopence to spare,
Would lead her to think she's a match for a mayor.
From a tradesman to his Valentine

If you'll my partner be for life,
My Valentine I shall regard;
But you must be a frugal wife
Because the times are very hard.
I'll give you what is good I vow
And always strive to make you glad;
But no extravagance allow,
Because times are very hard.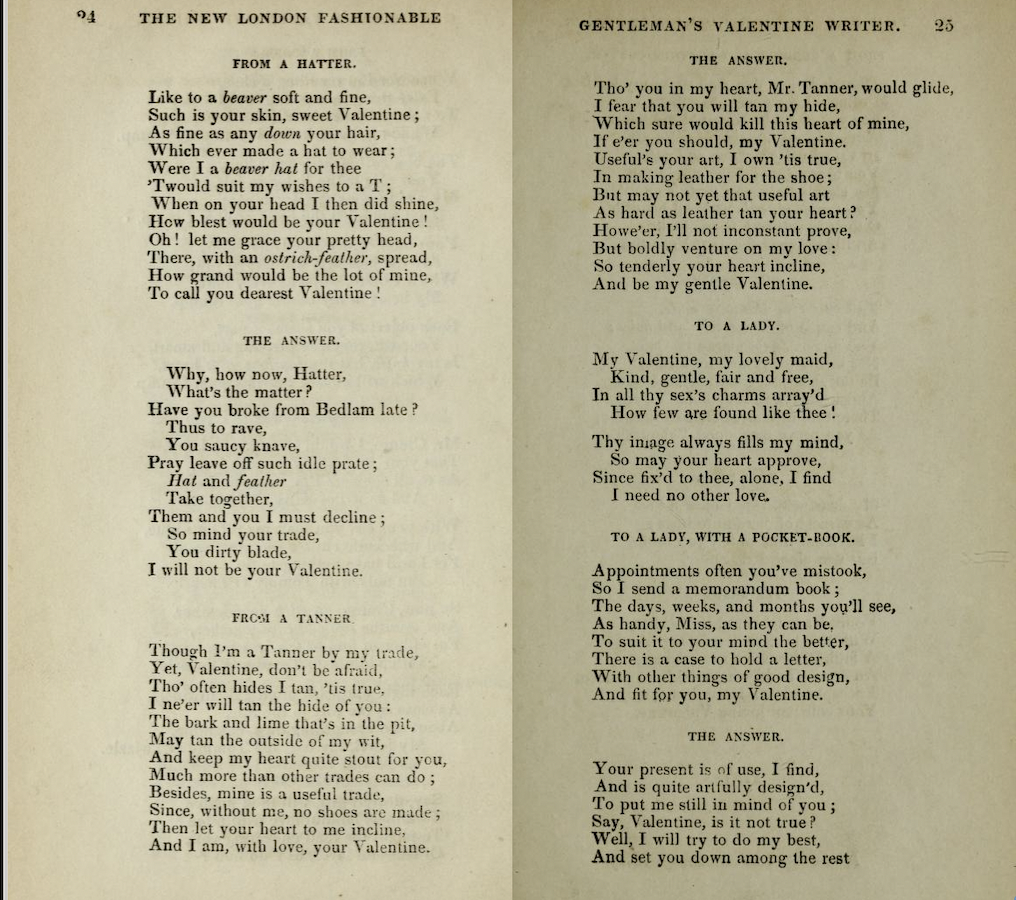 From a person of low occupation to his favourite lass

Altho' my occupation's mean,
I wish my girl to know,
On Sundays I am very clean,
And seem more high than low.
They frequently are found more coarse,
Who think themselves for fine;
Take me for better or for worse,
And be my Valentine.

Though written to a male audience, the book includes suggested responses for the female recipient to use. I am including just one example here. This is how Richardson suggests the female both accept and reject the "person of low occupation":
Answer of compliance

The high and low, all, 'tis allow'd,
From Adam do arise;
And therefore, I am not so proud,
The humble to despise.
The lowest man may be sincere,
And wherefore should he pine?
I therefore am resolv's to cheer
My humble Valentine.

Answer of rejection

You look too high I must declare,
More modest pray appear;
And seek a Valentine elsewhere,
Within your proper sphere.
A servant wench your vows may hear,
A bar-maid may incline;
But look not higher, or, I fear,
You'll get no Valentine.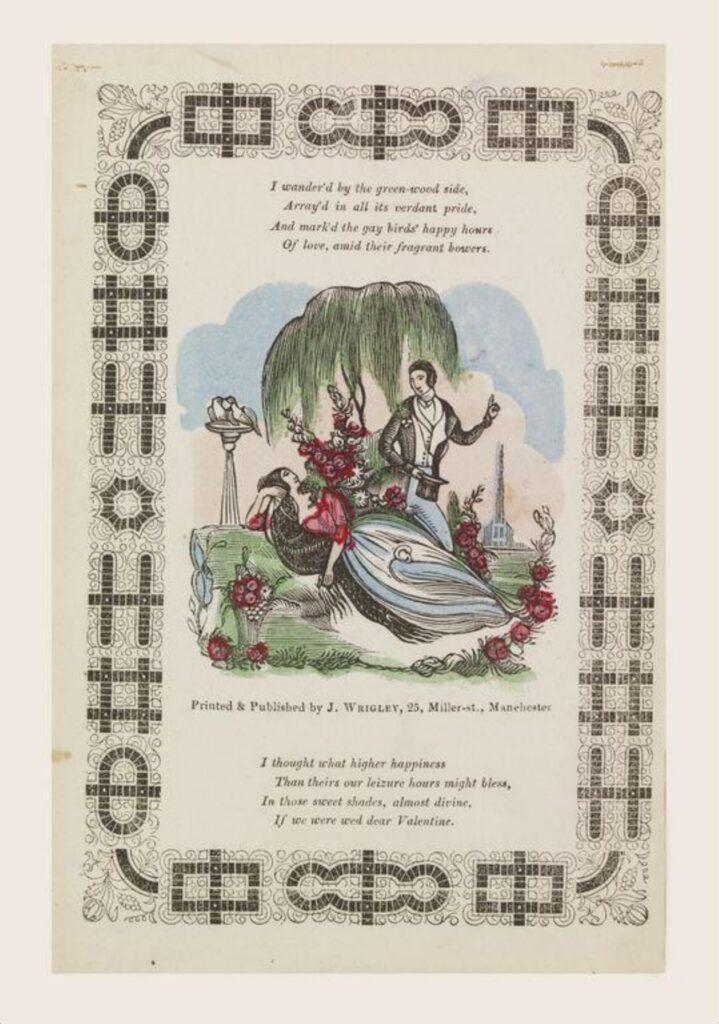 From a mechanic to a lady

Note: in the early 1800s a "mechanic" would have referred to any man employed as a manual laborer by a household.

Tho' for Valentine some scorn
A mechanic, 'cause he toil,
She had better ne'er been born,
Who for that withholds or smiles.

Handicraft great judgment shows
'Tis of skill a certain sign;
'Stead of cocking, then, your nose,
Bemy loving Valentine.
From a painter

My pencil I would take in hand
To paint a face so fair,
But all the skill I can command
Is useless I declare:
My blended colours when I view
And think upon thy face,
Carmine and pearl, at sight of you,
Must hold a distant place;
Yet if your portrait you will find,
Then with my wish comply,
Come hither, and, to ease my mind,
You'll find it in each eye;
But far more perfect in my hear,
Is that dear form of thine,
Then let me share an equal part,
With thee, sweet Valentine.
From a maltster

My barley is fine, and good my kilm,
In making malt, none has more skill,
And though my horses oft are blind,
My love to you is not, you'll find;
What, tho' my granary is well fill'd
As any malster e'er beheld;
Yet, what is all this store to me, Unless that I could purchase thee?
Come, then, and all my malt command,
I'll put the staff into your hand,
My barley, every grain, be thine.
More romantic history
The unexpected romantic history of bobbing for apples
Victorian letter writing rules
The history of mistletoe: from naughty Georgians to a Victorian courting custom