Thank you for playing our 25 Women of the American Revolution Crossword Game. We have our winners! They will be announced on Wednesday, July 5th. Enjoy your 4th of July festivities!
It's a crossword without clues. Instead, we are filling in selected letters each day until someone submits all the correct words. Think of it like one of the games they play on Wheel of Fortune. Yesterday, we filled in all the U's, S's, and A's to give you a good start. We received a few entries. Only first guesses are counted. Guesses in parentheses next to first guesses are disregarded. Spelling must be accurate. Thank you for playing the game!
Hyphens separate the first name from the surname. The women we chose for this game are not household names (most likely). You may need to do a little digging to come up with the names (or not if you are a history buff).
The first person to submit all 25 of the correct names at one time wins a $50 gift certificate. The next two people who submit all of the correct names each win a $25 gift certificate. Submit clues through comments section following this post (moderated and not revealed until the end of the contest) or email. Timestamps are coordinated and will be used to determine winners.
Clues
Additional clues are added daily at noon Eastern Time (USA). Bookmark this blog post and return each day for a new graphic and update on the day's new letters. Yesterday's image contained the letters (U, S, and A). Today, we're adding D-G-J-K-O-P-W-X-Z. Click on it to bring it up in a new tab. Save it to your device to inspect more closely. We apologize for the lateness of uploading today's image and any inconvenience it may have caused. A glitch in the program we use wasn't allowing the graphic to update.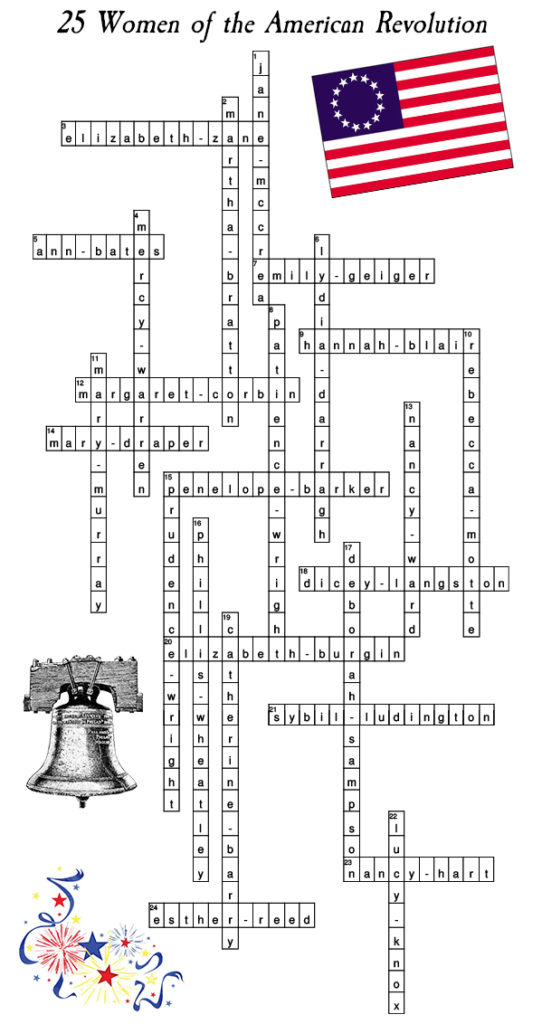 Answers
Keep track of your answers using the key below.
Across
3.
5.
7.
9.
12.
14.
15.
18.
20.
21.
23.
24.
Down
1.
2.
4.
6.
8.
10.
11.
13.
15.
16.
17.
19.
22.
Thank you for being a Recollections customer! Thank you for playing our 25 Women of the American Revolution Crossword Game. Good luck and have fun!
– Donna Klein