[0] Items:

$0.00

(

0

)
|

Polonaise Sets


History of the Polonaise

It is hard to ignore the romance of this flattering style, and Recollections has gathered a nice collection of gowns for you to peruse and perhaps make your own!

The Polonaise is a coat-like dress, originally worn by Polish women, and was very popular in the 1770's and 1780's. It is a fitted bodice with a full skirt attached. Generally left open at the front, the skirt is gathered up to the waist on either side of the back, creating three distinct drapes of fabric.

The Polonaise enjoyed a huge revival 100 years after it was first popular because of a rather unusual event. Upon the death of the author Charles Dickens in 1871, his belongings were auctioned off. Among them was a portrait of Dolly Varden, a character he had created for his novel Barnaby Ridge. It seems that Ms. Varden was quite the coquette – beautiful, spoiled, and very fond of colorful clothing. Dolly was quite popular with Victorian readers, and "the Dolly Varden look", based on a description of her green and pink polonaise was quite popular. The sale of the portrait helped to renew the demand for the style.

The Polonaise was meant to imitate the popular trend of dressing like a "simple peasant". Gathering up the overskirt was thought to emulate the Polish peasant girl tucking her long skirt up into her waistband to keep it out of the muck as she went about her chores. Originally intended as a summer dress to be worn with a bustle, the style soon became popular done up in elaborate silks with many embellishments.
Polonaise Sets Products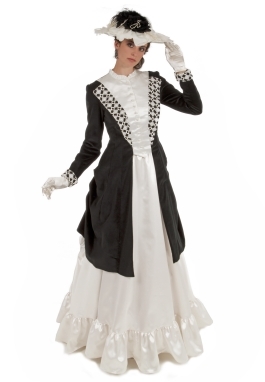 $459.95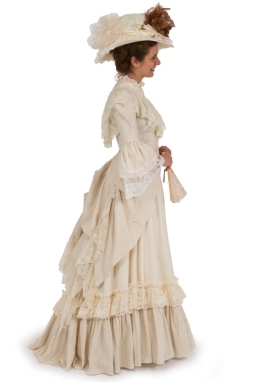 $389.90
$329.95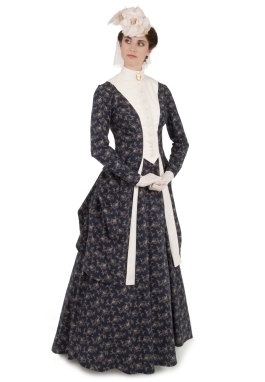 $274.95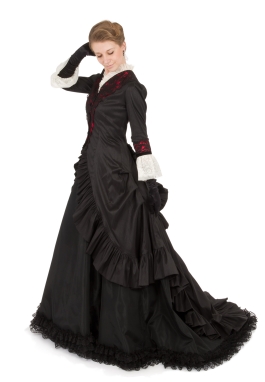 $479.95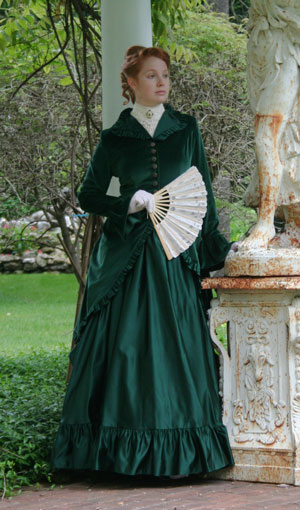 $599.90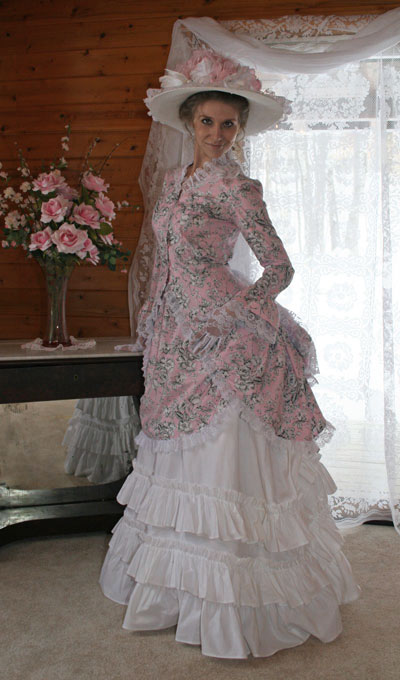 $389.90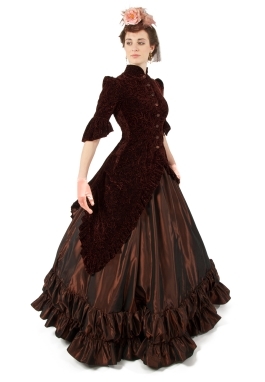 $469.95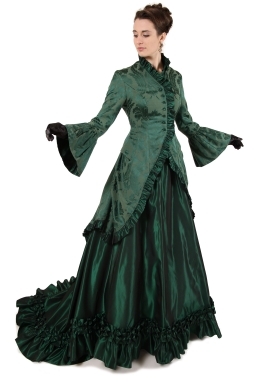 $399.95






Recollections © 2014
Close
Size Chart
English
/
Metric
XS
S
M
L
XL
XXL
XXXL
XXXXL

2

4

6

8

10

12

14

16

18

20

22

24

26

28

30

32

BUST

33

34

35

36

37

38

40

42

44

46

48

50

52

54

56

58

WAIST

24

25

26

27

28

30

31

33

35

37

39

42

44

47

50

53
What size should I order?
Most people find that our sizing runs generously. If you are undecided with which size to order, it is best to order the smaller size, or give us a call to assist you (1-800-452-5925). You may also email us at sales@recollections.biz with your measurements (bust and waist) and we can help you choose the nearest size.
An exception to the generous sizing is the type of ball gown that requires boning in the bodice and that supports a heavy skirt. Many times this style is also "off-the-shoulder" and requires a firm fit to stay up. These styles tend to not run as generously as most of our other garments because of this. But please, give us a call if you are uncertain.
In most cases you should take your bust and waist measurement to determine your size. Please wear the undergarments that you intend to wear when you do your measuring. For example, take your measurement over the type of brassiere or corset that you may be wearing.
Measure the fullest part of your bust around and the smallest part of your waist.