[0] Items:

$0.00

(

0

)
|

Early Victorian


Ladies fashions during the Victorian Era are divided into three distinct fashion periods; the Early Bustle (1869 – 1876), Natural Form (1877 – 1882), and Late Bustle (1883-1889). Here, we will discuss the Early Bustle – or Early Victorian – period.

In 1837 the young (18 years old) and lovely Queen Victoria ascended to the throne, and introduced new ways of dressing that set the tone for ladies of style and status for the next 60 years. Indeed women all over the world tried to emulate this much-adored queen.

The Early Bustle period (1869-1876) followed the Civil War (1861-1865) and many of the characteristics of that earlier period can still be seen in the clothing. Ladies wear was characterized by tight-fitting bodices, which had long, pointed seams at the front. All boning and seams were planned to emphasize a small waist. The bodice usually had a very high neck, and the very full sleeves of an earlier time were replaced with long closely-fitted sleeves. The sleeve was "dropped" from the shoulder a bit more than we are used to seeing today, and there was very little fullness at the sleeve head. These bodices were worn with separate, very full skirts. A bustle was worn under the skirt, as well as two or more petticoats. There was usually an overskirt as well, either in the form of an apron-like drape across the front of the skirt, and/or an elaborately draped and pleated overskirt which covered the back of the skirt. The skirt itself was usually embellished with layers of ruffles, rouching or other trims.

As in the entire era, a tiny waist was of great fashion importance, and a 15-inch waist was considered ideal. With sleeves growing narrower, skirts expanded and draperies of all sorts were added, as well as supporting structures, including bustles and crinolines to retain the larger shape. It was thought that this extra bulk contrasted with the waist to make it appear smaller.

Following Victoria's lead, fashion was at once modest and elaborate. At the time of her arrival, slow methods of communication meant that styles changed slowly over several years, but later in the Victorian age, improved communication meant that styles began to change much more rapidly, as every woman wanted to be clothed in "the latest" styles.

Step back to an age of romance and gentility, as you enjoy the romantic fashions presented here!
Early Victorian Products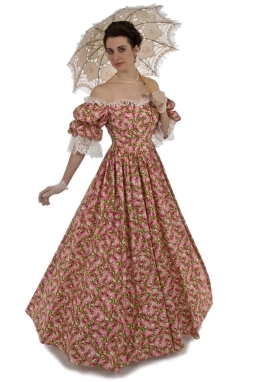 $199.95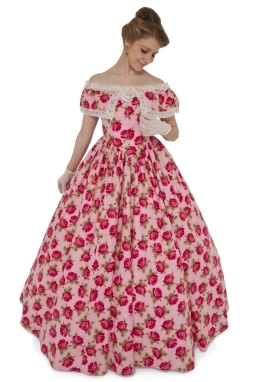 $189.95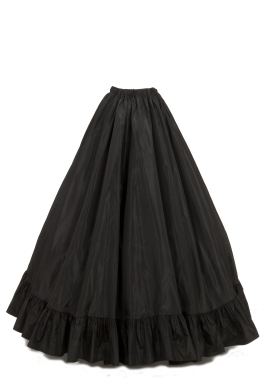 $119.95

Recollections © 2014
Close
Size Chart
English
/
Metric
XS
S
M
L
XL
XXL
XXXL
XXXXL

2

4

6

8

10

12

14

16

18

20

22

24

26

28

30

32

BUST

33

34

35

36

37

38

40

42

44

46

48

50

52

54

56

58

WAIST

24

25

26

27

28

30

31

33

35

37

39

42

44

47

50

53
What size should I order?
Most people find that our sizing runs generously. If you are undecided with which size to order, it is best to order the smaller size, or give us a call to assist you (1-800-452-5925). You may also email us at sales@recollections.biz with your measurements (bust and waist) and we can help you choose the nearest size.
An exception to the generous sizing is the type of ball gown that requires boning in the bodice and that supports a heavy skirt. Many times this style is also "off-the-shoulder" and requires a firm fit to stay up. These styles tend to not run as generously as most of our other garments because of this. But please, give us a call if you are uncertain.
In most cases you should take your bust and waist measurement to determine your size. Please wear the undergarments that you intend to wear when you do your measuring. For example, take your measurement over the type of brassiere or corset that you may be wearing.
Measure the fullest part of your bust around and the smallest part of your waist.